Vehicle:
Audi A2 1.4TDi 90 Sport '04
Length of ownership:
12 months
Pictures: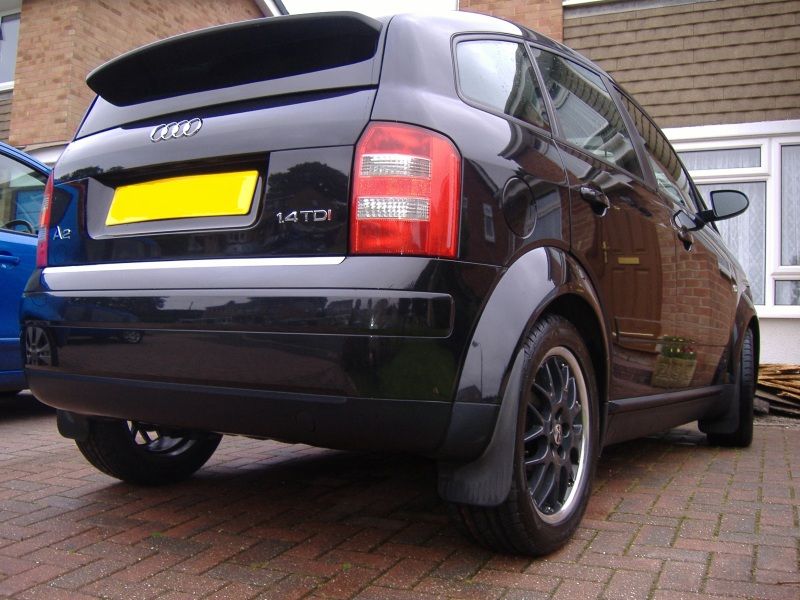 Running gear:
The driven wheels are in the wrong place.
As I'm foolish I specifically wanted the "90" over the "75". Amongst other things it gains a revised block and pistons, Variable Vain Turbo and rear disc brakes.
Book figures: 88bhp @4,000rpm, 170lb/ft @1,900-2,000rpm,
0-62mph: 10.9Sec, Top Speed: 118mph
Remapped Figures:
[email protected]
,279rpm, 242.3lb/ft @2,141rpm
Anyone reading this, please step back from your monitor, I'm about to wave my dick around.
To the best of my knowledge, with the exception of a guy who's put a 20v 1.8T in his, I have the highest power to weight of any A2 in the UK.
I can get the traction control to shit itself if I mash the throttle in 5th at 80!
Gearbox is slick enough, with a short precise throw. The 90 model benefits from a higher ratio box than the basic 75bhp model, but also gets a Dual Mass flywheel. Boo.
Idle is quite high (presumably to aid balance with the loss of a cylinder) but remains still and quiet except when cold (what diesel doesn't). There's a gentle thrum a motorway speed, but not enough to disrupt conversation. It even lets out a little grunt at around peak torque. Mmmm, sporty!
Suspension:
In a word, poor!
For a car so well thought out, the suspension was a major oversight.
As the "Sport", my particular model came as standard with 17" wheels and "Quattro GmbH Sports Suspension" (don't let the Quattro bit fool you, its lies).
<Sad git alert>
Unfortunately, Audi, as well as 90% of manufactures nowadays, think suspension is all about firm, firm, firm. They think wrong
.<Sad git alert>
Whilst it's very chuckable, being a tallish car, there can be a fair bit of roll under a variety of conditions. Let's be honest, it ain't no sports car, but the ride isn't even compliant.
Too wallowy to be sporty, too crashy to be comfortable, it sits in void that I can't imagine caters for anyone…
The consensus amongst owners is that the SE with its Standard suspension and 16" wheels is the best compromise to what is probably the worst thing about the car. Due to a variety of circumstances, I quickly changed to 16's anyway, which has improved the ride quality.
205 width rubber is more than enough for something like this, and with a Whiteline ARB set to be the next purchase, and Bilstein Shocks/ Weitec springs (all of which I've tried against others) set for when the standard stuff gets tired, I have it just how I want it.
Interior:
It's been a long time since I've had flat seats, and never again. Hence one of the main reasons for choosing the Sport was the seats with their deeper sides and electric lumber support.
Pedals are central with a well placed, realistically sized footrest so getting comfortable isn't a problem.
Room in the back is cramped, but certainly no more do than any other car of its size. I have the optional 3-seat bench as opposed to the standard 2 individual seats, so it can be a little narrow across the shoulder and anal areas. Leg room on the other hand is as good as an A4 (itself no mondeo etc). The floor is lower offering a more natural position. Talking of which, the rear seats can have the back rest tilted to any of 3 positions.
Another reason for the sport was to get the trip computer (DIS).
Despite costing as much as an equivalent A3, kit was still low (as you might have expected) for a car that cost £17k.
Thankfully mine was spec'd with a CD player (yes, that's right. Cassette as standard), Climate control, 5-seat option, as well as Leather/Alacantra trim which is nice, and a few other superficial electrics!
If there is one criticism of the interior, it is that for a couple of years Audi tried using a soft touch coat on their facia. Having had been owned by two women before me, the temperature buttons on the climate control have been annihilated. Hardly the end of the world, instead of a '+' and '-', I now have two 5p sized patches.
Besides that, as I have a light grey interior it can get grubby in places. Call me dull, but you just can't go wrong with black!
Reliability & Running Costs:
Tax is £30, Insurance group is 13 (5/6 on the old 20pt system) and set me back £300 last year and is about to fall below £250 for this year, whilst average fuel consumption has been around just over 60mpg.
As far as general servicing goes, with the odd exception it's all polo/fabia/Ibiza stuff so serviceable parts are cheap, as contrary to popular belief, Skoda don't charge less for the same part than Seat, do VW, do Audi etc
On a longlife service, intervals can be as high as 30,000 miles as well.
Audi offer a 12year warranty against corrosion on the aluminium, so should be no worries there.
The main causes of concern on the diesel model relate specifically to the 90 version in the form of the VVT and DMF, both of which had been replaced with in the year before I bought it!!
The only addtional cost to date, was a new AFM at £150
To summarise, cheaper than
<insert name here>
's Mum!
Good Points:
100bhp and 200lb/ft per ton at the wheels when I want it (not bad when you consider it has just 6 valves!)
80+mpg on a run.
No worse than 50mpg in town or flat out on the motorway.
Exterior dimensions of a Polo, with bigger interior dimensions than a Golf.
Audi lost money on everyone they sold.
Exclusivity.
Well ahead of its time.
The deserved smugness that comes with owning an Audi.
Comfort.
Quality of fit/finish.
Bad Points:
Light steering, the driven wheels are in the wrong place, the ride quality, the general smugness that comes with owning an Audi, the driven wheels are in the wrong place, the fact that the traction control re-engages over 40 and can't be disengaged to speed drops below 30 meaning I can't turn it off for a journey aggghhh!
O', and the driven wheels are in the wrong place.
Summary:
It's different, cheap, quick enough for me at the moment, comfortable and has appreciated in value since I bought it.
If for instance I'd spent my budget on a Fiesta Zetec-S Diesel, with a re-map it'd have been about as quick, would have cost about the same to run, probably had a similar spec, BUT, it'd be more cramped, not nearly as nice a place to be in, would have cost me around an extra £1.5k to buy, of which all of that and more would now have been lost in depreciation.
I guess that means I'm happy with my choice, which is just as well since I it was a 500+ mile round trip to pick it up.