Something I've been mildly looking into recently, and a topic popped up on one of the Honda forums the other day, thought people may find it useful. Especially this time of year on track.
Obviously things were mentioned like oil coolers, surface areas, bonnet raisers, vents, watter wetter, etc. But here's some interesting stuff: (could not quote properly as they do not use phpBB but thr quotes are from multiple people, not just one person)
Quote:
Quote:
Quote:
i have bonnet raisers already lol, i will look into that if its gonna be a cheaper option

I've been told that they don't actually help with letting heat out of the engine bay. Not quite sure if it's true though!
It's unlikely they'll work to any great degree, the top of the bonnet/bottom of the windscreen is a high pressure region so hot air from the engine bay will have a hard time exiting there.
Keeping a turbo car cool is all about air flow management. The best way to keep engine bay temps down is to have a vent along the front of the bonnet, directly over the turbo. The airflow here has just been accelerated heavily over the nose of the car so the air pressure is low, which will actively scavenge hot air out of the bay from directly above the turbo. It will also reduce engine bay air pressure which will improve the efficiency of the intercooler and radiator.
Something like this is perfect.
Maybe have a look at fitting an air dam under the front bumper too, again to reduce air pressure under the car to aid evacuation of hot air under the car.
Quote:
Quote:
This is why Ive mounted my intercooler off to one side. My turbo has nothing infront of it now, so air hits it nice and cold.

You've reduced the efficiency of the radiator and intercooler by doing this. Airflow will take the path of least resistance if at all possible, so airflow that would otherwise be flowing through them is now flowing round them. You should filling as much frontal area as you can and blocking off any routes that any air could be diverted around if you want them to work as efficiently as possible.
Quote:
Here's a good illustration of why bonnet risers are not effective.
The colour of the streams indicates air pressure, red is high, blue is low, green is atmospheric. Red areas make good entry points and poor exit points for airflow, visa versa for blue. Lifting the rear of the bonnet exposes the bay to a high pressure region which will make airflow out of the bay very inefficient.
This also shows why a vent on the front of the bonnet is far more effective as it is situated in a blue zone, directly above and behind the entry point in the high pressure region.
Quote:
Cooling the exhaust manifold is not important, you want to retain as much heat in it as possible to aid gas flow. If you're worried about engine bay temps then get some heat shielding (metal/ceramic/wrapping) for the manifold and work on getting airflow out of the engine bay by creating exit points in low pressure regions. The more air you can actively suck out the more effective your cooling systems will be.
In addition to venting the front of the bonnet, a small airdam/splitter under the bumper will create another low pressure region directly under the radiator: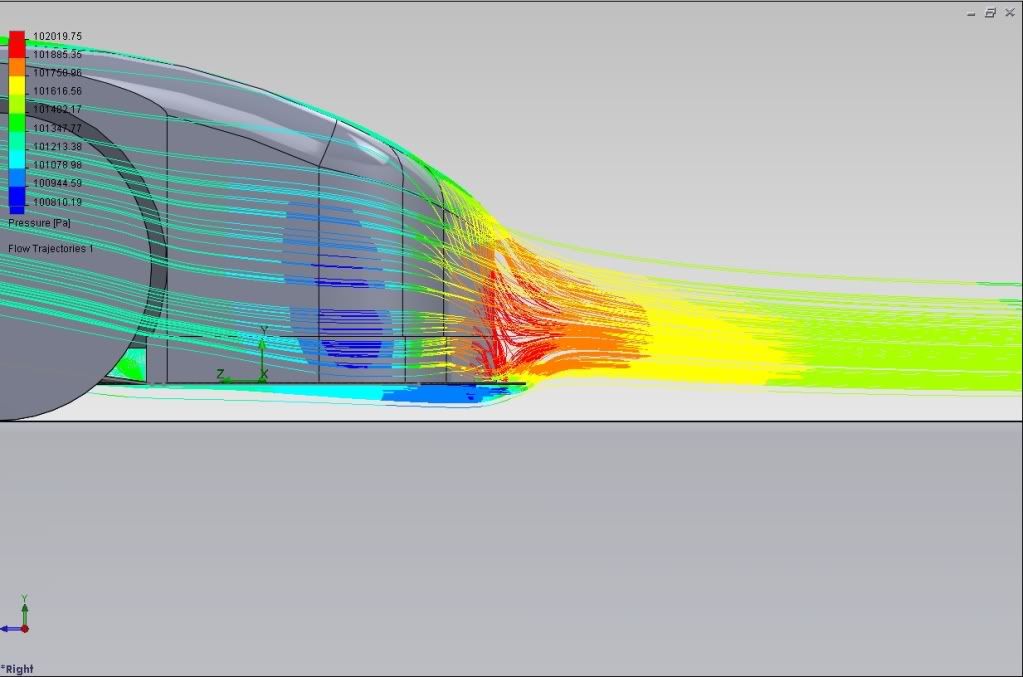 (That low pressure region on the side of the bumper could make a good exit location for a small oil cooler, completely separate from the engine bay.)
On the flip side, any time you direct air into the bay that is not aimed at cooling anything in particular (air filter, radiator, water/oil/intercooler etc) you are raising the engine bay air pressure which makes it harder for air to enter where it is really needed.
Quote:
All done =]. Just need some mesh to stop shit pounding into the rad.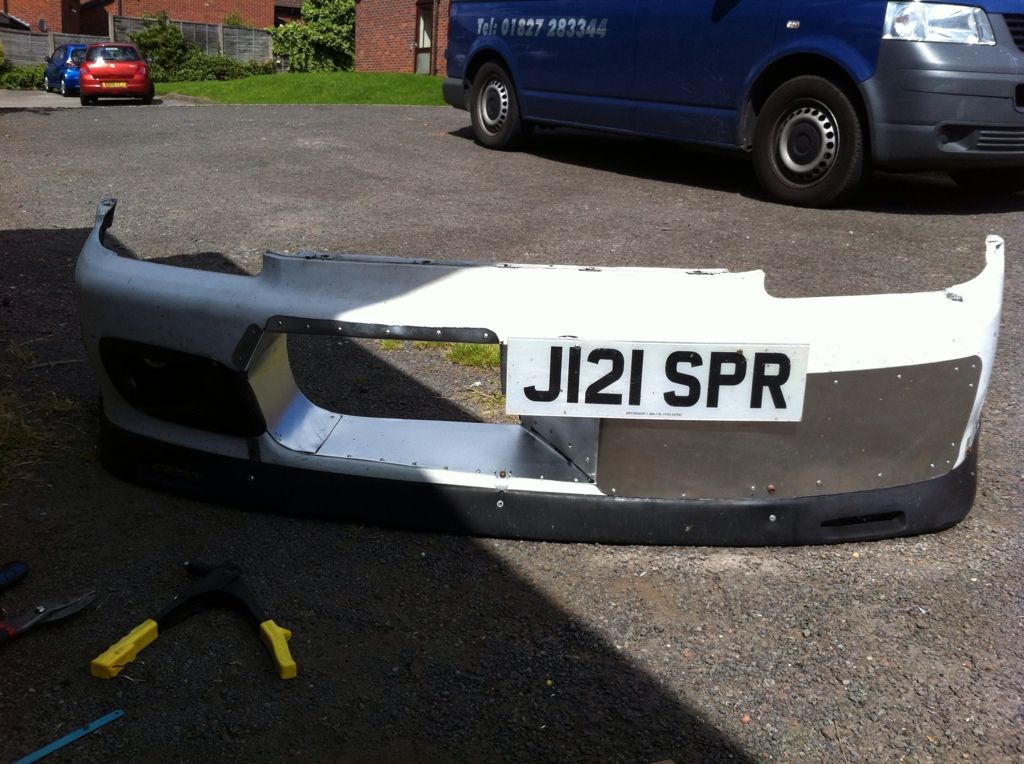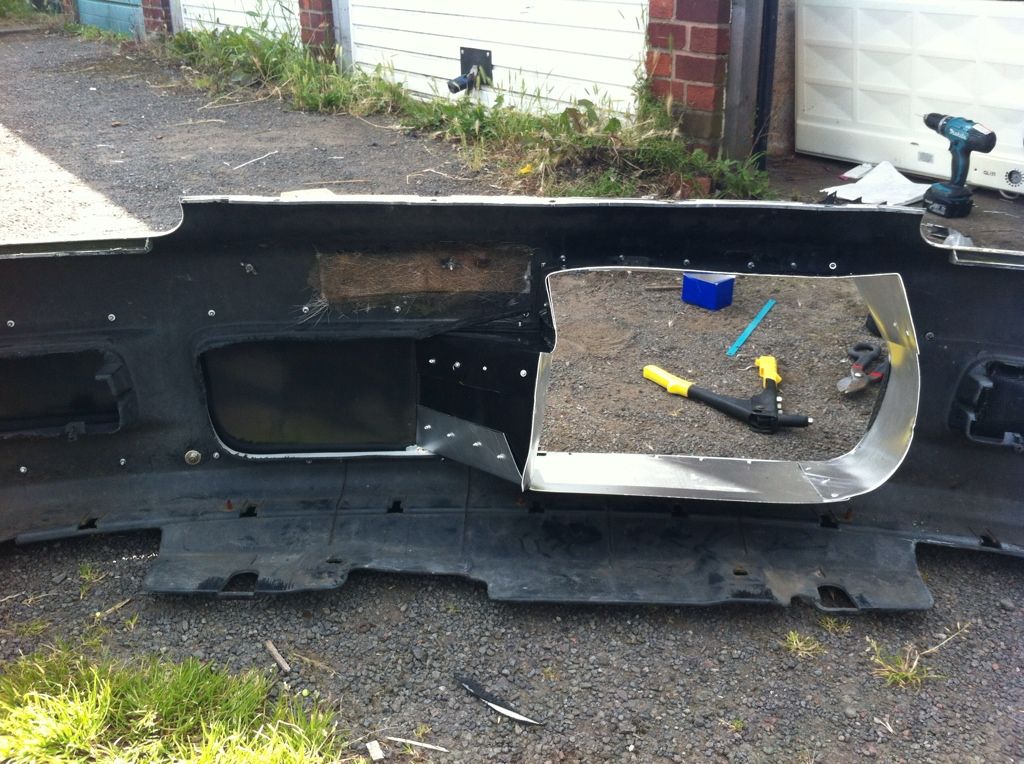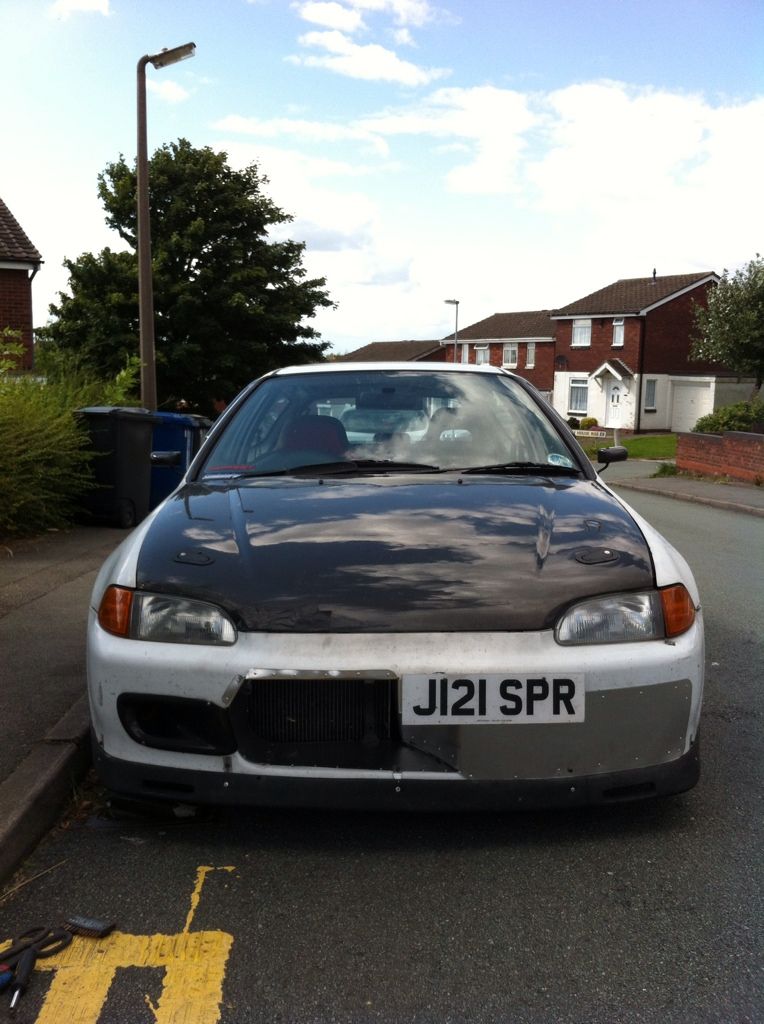 Quote:
Well done mate, ideally the hole to the rad wants to be smaller than the rad, then increasing gradually to the rad size, this reduces the pressure and velocity and actually promotes better cooling efficiency. So if your rad area is 80cm2, the opening wants to be about 70cm2 and tapering to the 80 in 150mm or so. The opening edge wants to be shaped and radiused to match direction of airflowairflow as in cozys diagram. As air will be travelling diagonally up from bottom of bumper leading edge. Sorry if that makes no sense, then after the rad a Cowling venting air out from bonnet area as Cozy suggested. Do it like that and it will really increase cooling efficiency and reduce drag too.

Hope that gives people a bit more advice if they are having heating issues.
Ry