Should I go for a panel filter replacement or open air filter?
When you are opting to replace the standard air filter, you are spoiled for choice on not only the route you can take, but also the products available. The most popular brands to go for are K&N, PiperX, and Green, all of which have proved themselves in the world of air filters and induction, and whichever one you go for will not disappoint.
However, once you have decided which brand you want to upgrade to, you then have the choice of replacing the standard filter with a panel filter, or going for the full induction kit. Both have their plus points and negatives, so it's down to you as to which you go for.
Let's start with the panel filters. A good panel filter will improve the amount of air passing through your air intake system, and reward you with better throttle response, whilst keeping the standard airbox. This is the easiest method as the only thing you need to change is the air filter. By going with this method, you also prevent the issue of heatsoak which is the major problem with open air cone filters. As far as an improvement in induction noice goes, you won't really see or hear any noticeable difference. Should you wish, however, you can modify the standard airbox by drilling a series of 5mm holes underneath where the filter sits, and ideally opposite the engine so as to prevent heatsoak. This will improve induction noise slightly.
Next, you have the choice of an open air, cone filter. These are a little more commonplace on modified cars, and offer slightly better gains in terms of bhp and induction noise. But, the main problem with the cone filters is the fact that if there is no additional protection by means of some kind of heatshield, the cone filters can suffer dire heatsoke problems, especially in the summer on hot days. Should you find yourself stuck in traffic, the heat build up in the engine bay can seriously compromise the effectiveness of the filter.
An attempt to combat this can be achieved with a combination of further modifications. The first is to surround some of the air filter with a heat shield blocking off the hot air generated by the engine. This is usually a custom job so not a lot of people have tackled this problem, although there are a few examples to be found if you look hard enough. The second thing that should be done is introduce the air filter to a cold air feed. This is achieved by using a length of flexible piping (the K&N kit comes with this) which can be routed from the front of the car and directed to the filter itself. This ensures a constant cold air supply to the air filter when driving.
There are many ways to mount the cold air feed to maximise the amount reaching the filter. The first and easiest is the direct it to the bottom of the engine bay, pointing forward, to draw up cold air. Then you have the option of removing the passenger side fog light, and using that as the point for cold air to enter. A very good finish can be achieved and it sometimes looks almost factory fitted. The same can be said for those who have Morettes fitted - by removing the inner light, this is then a superb point to mount your cold air feed.
An added bonus of buying a K&N induction kit is the addtional crossover pipe supplied. This is a curved rubber intake pipe which connects your MAF to the inlet manifold, and offers slightly better air travel on it's way to the inlet. The standard pipe has near enough a 90 degree bend for the cold air to negotiate, as therefore is restrictive somewhat. However, should you wish to buy either a Green or PiperX cone filter, the K&N rubber pipe can be found to accompany these aswell. Please note that you should not to use the ERST cross over pipe as that restricts air flow to a degree.
Typically you'll see a few flat spots ironed out with an aftermarket filter of any kind though, which should make your power curve somewhat cleaner.
Power figure wise aftermarket filters will increase your BHP ever so slightly, though the change in torque increase/decrease can differ from car to car with an open air filter compared to a Replacement filter. As ever though, it is only slight, and nothing to worry about in the grand scheme of things.
Please see below for part numbers. Many Thanks to mattyboy for providing us with this.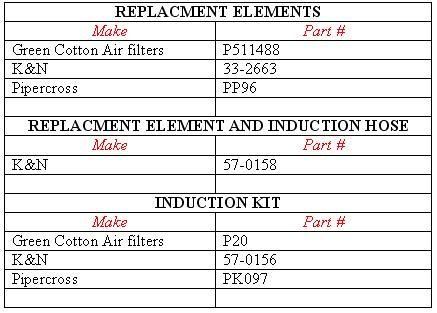 Further information can be found within these links:
http://en.wikipedia.org/wiki/Air_filter
http://en.wikipedia.org/wiki/Cold_air_intake
http://en.wikipedia.org/wiki/Ram-air_intake
If you have any questions, or wish to offer your own thoughts or experiences on this subject, then please reply.
The FSi Team
Copyright 2008