woodsy_mv6 wrote:
Percy wrote:
Can you honestly say that it wouldn't be better that instead of an underpowered 2.0 you had say 3 models:
1.6 120-130bhp insurance 7-9
1.8 145-155bhp insurance 12-14
2.0 175-185bhp insurance 15-17
Since when do manufactures give a toss once the car rolls off the forecourt.
It's a cost thing.
Use an existing 2.0 block, and keep it safe and de-tuned.
What compression ratio does the ST run?? Bet it's a darn sight lower than the Clios.
Not sure on exact ratios but i think you're right woods
Woods has a point though running a safer setup is bound to improve reliability and renaults aren't well known for their electrics so i suppose it would be something to watch
I wouldnt have called it de-tuned (the ST engine) but its not actually tuned much at all, the standard 2.0 is 145PS and the ST version is 150PS
Another point there though is the fact that like the new fiesta, the old fiesta will have sold mostly the 1.2, 1.6 versions
Whats more its been proven that the 2.0 Duratec can be NA tuned for 190HP anyway so Ford if they so wished could make a Fiesta to match the top clio if they wished but either don't want that image or don't want to spend the money
Either way new citroens and peugeots are damn ugly these days, and now with the new fiesta ford are going for the idea, i can't tell a corsa from a fiesta, micra,207 or any of the other superminis
At the end of the day get a fiesta ST and put a K&N on it like mine had and thats 164bhp, nearly 40 more than your C2 job done, no need to argue then
Whats more whens this New ST gonna turn up?
And wheres the fiesta185 vs clio182 comparison
_________________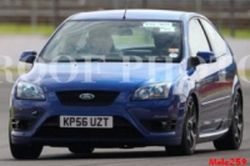 FACT wrote:
Ford is not a decision you make to like, its a passion you grow up with.