I will testify for Meilacks Fiesta ST at least he's got a good one this time that stays in one piece

I've never had any major issues with Ford's ive had and they're now our families cars for that reason
After having my Fiesta ST i will testify that they pull all the way to the red line
My graph should be around here somewhere ill dig it up the one where everyone said my fiesta ST wouldn't produce good results then it produced 164bhp
Although your C2 had a nice interior percy i don't like the outside looks compared to the ST although the blue colour is quite nice
I know i first looked at the new fiesta and thought it was ugly and ford was following the frenchies into a bad styling dilemma but i think it definately grows on you, mine with its bodykit was actually quite nice
But the new fiesta is about more than just the outside, as a car as a whole its brilliant, try a test drive its such an improvement overall on the mk6, hence why they sold like hot cakes
Chassis is begging for more power though as Ry said a 180/190bhp version would blow away the competition im in no doubt about that, just look at that s2000 car, immense!
Ford have got the Focus RS out now crack on and get the Fiesta ST/RS out now!
Oh and Percy on your latest post Adam was on about his blue ST was shocking build quality and his Red ST now is much better, he wasn't on about your C2
or the top gear comparison
Funny enough that C2 |VTS vs Fiesta ST comparison has just been on TV and they handle about the same but the fiesta had better brakes and extra 25bhp hence why it won, if the C2 had the same power and better brakes it would have been different, but then i look at the Fiesta with the stripes in blue and i know which one i want
Oh and my Fiesta ST went back once because i was being fussy about a bolt on the door as i wanted the door moved about 2mm up so it was perfectly inline but thats all

_________________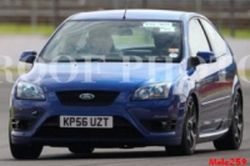 FACT wrote:
Ford is not a decision you make to like, its a passion you grow up with.