Percy wrote:
Zetec S is 118bhp but only has a 0-60 of 9.6seconds, not sure what they have done there.
9.3 seconds mate, did a timed run in my bog standard red Zetec S (Ford Fair) on paper
New Fiesta Zetec S weighs 940kg, old one weighed 1120kg
New chassis made stronger but lighter by ford helped drop the pounds
Pumaspeed one is pushing about 150bhp atm, absoloutely flies
And apparantly the mountune upgrade offered through Ford dealers (like old fiesta) apparantly gives ST performance, one online does 0-60 in under 8 seconds
Should of kept mine but hard times called for hard decisions
And that picture i
big time my god Ryan trust you!


_________________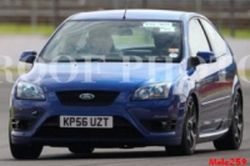 FACT wrote:
Ford is not a decision you make to like, its a passion you grow up with.