Pics will come shortly.

My dad is selling his k reg pejero.
Details are breif ATM as its not my vehicle but will get any info you need.
its 2.3 or 2.5 turbo diesel.
The milage is in kmph but I think its roughly 110mph of motorway miles as my dad just used to get to work.
Car isin good condition for age, full of electric and remote c/l and alarm.
It has no tax or mot due to my dad taking it off the road because I gave him my corsa as its cheaper to run and the whole new no insurance declare SORN law.
There is an issue with the brakes, they work well and I mean really well but hold abit of pressure so maybe servo realated. Other than that it's perfect.

Due to lack of the above and the servo issue I think £800 is reasonable as they do go for more however open offers as its just sat there taking up space blocking my si in lol.
This is a good car with all the extras for off road with the high/ low gearbox and rear wheel/4wheel drive.

Edit: its short wheelbase.
_________________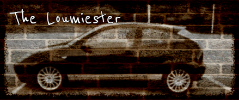 The Loumiester wrote:
Ford is not a decision you make to like, its a passion you grow up with.