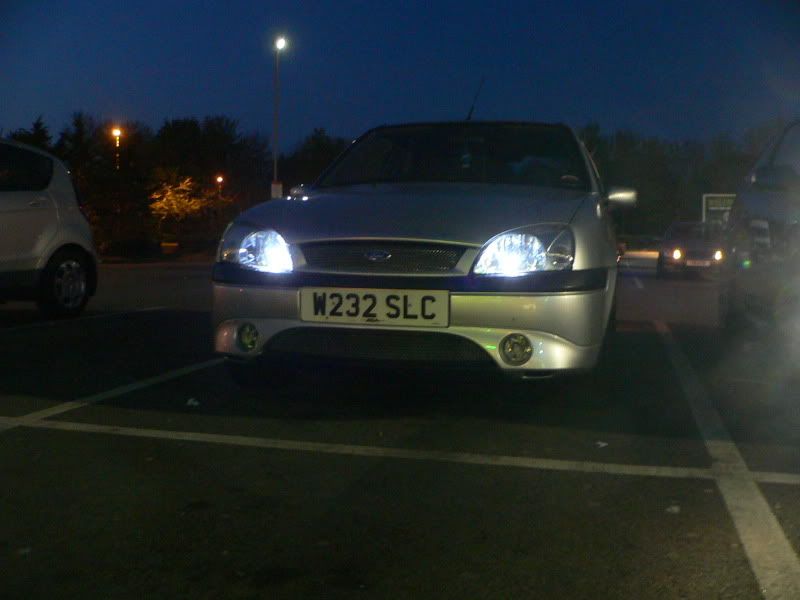 History of Car:
Date Mileage Service History
22.03.08 72470 New clutch, slave cylinder, gear oil, power steering fluid reservoir cleaned out and fluid changed.
23.03.08 72477 New Front brake hoses, brake fluid and rear suspension arm bushes changed.
27.03.08 72482 Timing belt, tensioner, crank bolt, water pump and coolant changed.
30.03.08 72947 Whole car / Engine steam cleaned, checked brakes, full service inc engine oil/filter, fuel filter, spark plugs, air filter, locks/hinges/linkages oiled.
31.03.08 72962 Tracking / 4 wheel alignment checked.
05.04.08 72978 New electric heater valve changed.
08.04.08 72978 New front continental premium contact 2 tyres fitted
29.04.08 72992 Car sent to body shop for rust scab and small ding
on top of n/s front wing where something was dropped on it.
05.05.08 73081 New wheel centre caps fitted.
07.05.08 73151 New front ford badges fitted and touch up pen purchased
26.08.08 75521 New front brake pads fitted.
20.09.08 75952 Piper stainless steel cat back exhaust system fitted.
27.09.08 76080 New throttle cable fitted.
27.10.08 76895 Full air con service.
01-11-08 76987 Crankshaft oil seal, bolts and timing belt changed.
25.11.08 77420 Engine oil and filter changed.
07.03.09 79719 Engine air filter and car pollen filters changed.
Brakes/suspension checked, greased gear linkages all over pre-mot checks.
21.03.09 80010 New front brake discs, pads, rear brake hoses and
fluid changed.
22.08.09 83842 Engine oil and filter changed.
06.03.10 87864 Pre mot work/checks on brakes, suspension etc engine
Oil/filter changed, power steering, brake fluids changed air
Filter changed, door hinges/locks and all linkages oiled.
07.03.10 87864 Hoses/pipes checked, some welding done on drivers
and passengers side floor where seats are bolted down all
Welding wax oiled/ stone guarded afterwards as well as other seems and gutters underneath car.
New rear wheel bearings fitted.
09.03.10 87864 New fuel filter and spark plugs fitted
02.05.10 92248 Car in body shop for stone chip repairs to front
Bumper/bonnet, rear light seems to be smoothed in and rust
Under door seals sorted
18.05.10 92562 All 4 alloy wheels refurbished
02.10.10 93189 Engine oil/filter changed
08.10.10 93483 Suspension Bushes and Joints checked and Tracking and Geometry done.
08-10-10 4 New Continental Premium Contact 2 tyres fitted all round.
24.12.10 96621 Idle control valve cleaned
30.12.10 96632 New Ford Ignition coil pack fitted
13.02.11 97142 pre mot checks suspension/steering joints checked
/oiled, handbrake/gear linkages/locks/hinges oiled, brakes
checked for leaks/wear, carried out inspection underneath car
for rust/corrosion, lights checked.
27.03.11 98379 engine oil and filter changed
Specification
104,000 Miles
MOT

FEB 2012
TAX JUNE 2011
New Thermostat
New Water Pump
Coolant Change
Stainless Steel Piper Cat Back Exhaust
Uprated Bright White Sidelights and Headlight Bulbs
Alpine CD Player and Pink 10" Fli Sub
Pioneer Door Speakers and 6x9s
Pop Out Rear Windows
Refurbished Alloys with Good Continental Tyres
Bosch Wiper Blades
Excellent Condition - no rust at all - undersealed - just a few scratches
Panel Recess under rear lights smoothed out
Puma Gearknob
Recent Battery
Extensive History
RCL, EW, AC, PAS
ST24 Lower Grill
Detango'd Headlights
New Car means this has to go - i know the tax has expired but the car is in very good condition - no rust at all - and runs well with 113.6bhp - pulls nicely - and sounds good with the SS exhaust - not over the top. People know i am a ford enthusiast and look after my cars and this is no exception - i will be sad to see it go.
Contact Adam
07792167078