Model: Escort Si 130 Convertible
Year: 1993
Mileage: 85,000
Tax: August 2011
MOT: 14 June 2011
Location: Hull, East Yorkshire
Price: £
750
£699
Price dropped to what i could easily sell the valuable bits for,
weigh in the rest and send the tax back
would love a cheap p/ex to keep me mobile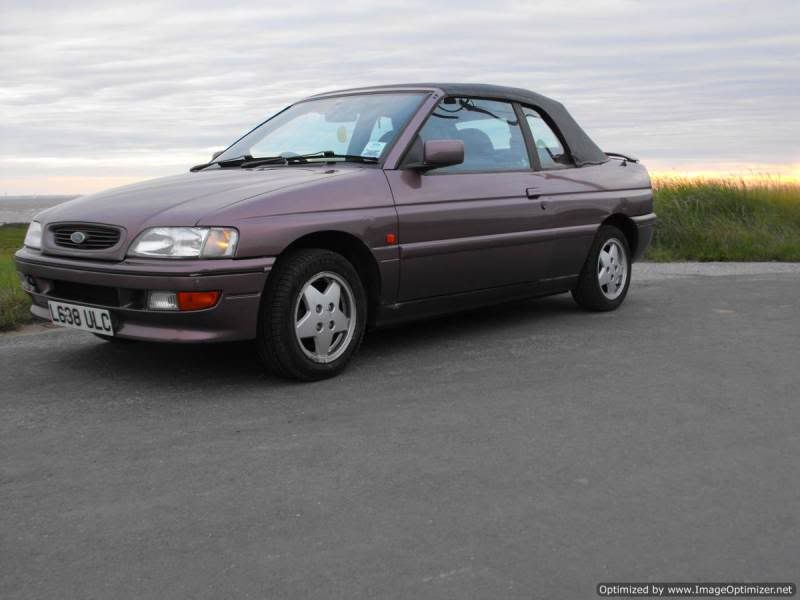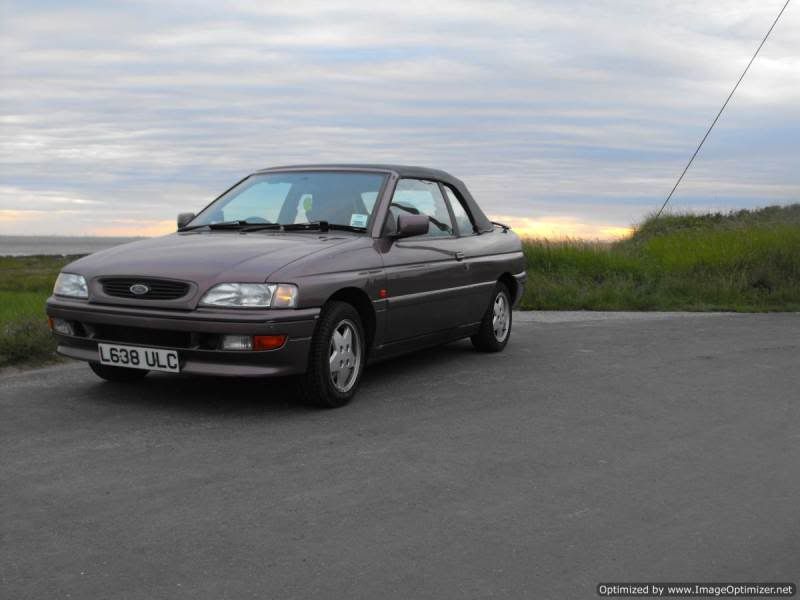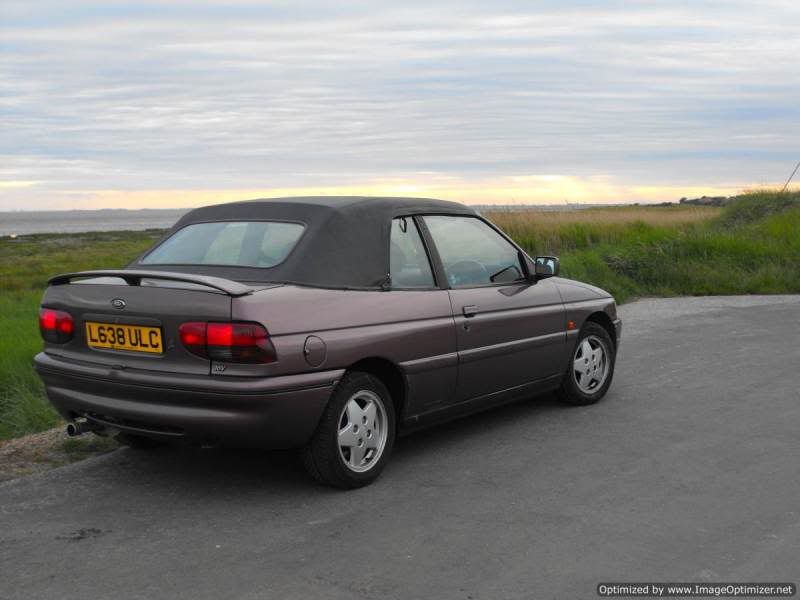 I bought this after looking around for cheap transport for a couple of months. I have had a lot of ford escorts (this is number 11)
It had every available factory option from new (nothing escaped the spec list) along with the colour this makes me think it was a factory
demonstrator. The colour is known as spring violet purple, its unique in that only Escort cabriolets were made in this colour. Anyway
its clearly a very love it hate thing.
Engine
130BHP (highest output) 1.8 zetec engine with under piston oil jets, high flow inlet manifold, Big bore throttle body,
Uprated Cam shafts.
Drive train
The 130spec is fitted with the MTX 75 gearbox which is a very strong unit, this is matched to a 240mm flywheel and clutch
the mtx also runs stronger drive shafts and different hubs than a lower powered escort.
Brakes
The 130spec has 260mm vented front discs and larger calipers and twin piston rear claipers on 270mm solid rear discs, this
is shared with RS2000
This particular example has covered 85,000 miles (just ticked over) it has MOT until June 14th 2011 tax till August. I have a lot of
history, piles of bills from ford dealers mostly and independents and every mot for 1998 onwards (13 in total). The log book is here and in my name, 9 previous owners, which is a bit misleading as a friend of mine had this for summer and prior to that a father and son
shared it and it changed names for insurance purposes. Add to that the fact it was obviously a demo and that takes another owner off.
Even so its low owners as these sort of cabriolets tend to change hands twice a year!
The car isn't perfect, it has various minor trolley dents and scrapes, nothing that stands out apart from a shallow tenis ball sized dent
on the passenger wing. There is some surface rust on the rear arches, its under the lip but they are still solid. there is a patch on the
top of the drivers rear wing the size of a two pound coin where the paint is lifting. The worst of the rust is at the bottom of the driver
wing where its crusty under the paint and in prodding around i have made a 5p sized hole in it, this is nothing serious, I'm just being
honest. The exhaust blows slightly until the car warms up, the centre section is recent and the rear solid probably just wants some
exhaust paste. The other down side is the roof had come away from the frame and has been leaking where it meets the rear wings. I have re aligned everything up and water is no longer pouring into the car, in heavy rain there is an infrequent drip from the driver seal where it meets the window again just being honest. This car was also fitted with fords premium sound system (complete with ford power amp) due to the car spending a few months damp and unloved the amp stopped working, I have bypassed the wiring to it and removed the amp and fitted some brand new uprated front speakers. There are a few odd holes in the dash and centre console from previous alarms. The passenger lock does not work, however the boot, drivers door and ignition all work from the same key. One of the gear box mounts is warn and you can feel this on changing gears. Also the drivers seat belt is slow to recoil
On the positive side, the engine runs great and revs freely, the car has never been modified it still rolls at standard ride height on its
standard 14" Si star alloys. The tyres are matched pair of named budgets with plenty of tread and a 5th in the boot complete with jack and wheel brace. The car is fitted with a ford accessory rear spoiler. RS/XR front bumpers and cosworth type headlights / sidelights (all from the factory!) The roof is in really good order with no splits to the outer cover and the middle layer of insulation is fine. The interior of the roof could do with some cleaning and adjustment to make it sit right (yes they have a triple skinned soft top) It raises
and lowers electrically and works great. The car has 4 electric windows and child locks to to prevent kids from using the rear ones. It has an adjustable steering column, leather non airbag wheel. The trim is the highly desirable raven flow pattern and the wingback front
sports seats are very comfortable and still very supportive through corners. There are no rips or holes in the trim. The heaters get hot
very quickly, the blowers work on all three speeds. The heated front and rear screen both work, the front fogs work - this has more electrics than any of the 10 escorts I've had before and everyone knows the more buttons you have the bigger your gentlemens region (important in a car this colour) The central locking works as does the optional deadlocking and alarm
All in all its a really good example of the breed, I think the fact my most recent cars have been a 328 convertible and an MX 5 have made this not live upto my memories of escorts (had RS2000s and a turbo cabriolet before) So I'd ideally like a swap for something else I'm open to anything which is roadworthy I have some spares that I can include and the car is fitted with a basic panasonic cd player
I value it around £750 for a swap - however money talks So i would sell for a bit less
_________________
"they couldn't hit a cows arse with a banjo" Jam

Area-Six.co.uk, AvoUK.com, Castrol.co.uk, Cobraseats.com, Comp.co.uk, GrahamGoode.com, Goodridge.net, MongooseExhausts.com, OMPracing.it, Pipercross.com, Powerflex.co.uk, Sparco-Tuning.com, Toyo.co.uk