bairdy-m wrote:
oioi ladz that was good neet out shame i wasnt there whn tht cone give yas shit lmao hopefully a get an rs1800 soon should have the scooby on ebay soon
I like the idea of someone getting rid of a scooby in favour of a mk3 fiesta lol. I dont blame you as im a ford man but im sure the die hard jap lads would have a thing or to, to say about that lol. Nice impreza though (if its the one in the pics)
_________________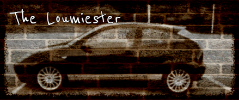 The Loumiester wrote:
Ford is not a decision you make to like, its a passion you grow up with.