well heres 5 years!! 50 pages! chopped up into one post!
1st ever pic! got it for £350 with 89k.
gave it a good clean up. added some mudflaps and nicer wheel trims.
stripped it down cleaned up some rust and undersealed! my dad bought me some new wheels!
back together again with clear sides and angel eyes! remember those things! started learning to drive!
fucked up painting the arch and rear bumper lol i was only a toddler!
me and my mate replaced the cam belt
1st ever outing! Fiesta in the park 2007!! it done a 250 mile round trip and didnt miss a beat!
my 1st ever cone filter! chavvy as fuck! lmao
trial fitting 2i skirts and arches!
YEAH BABY!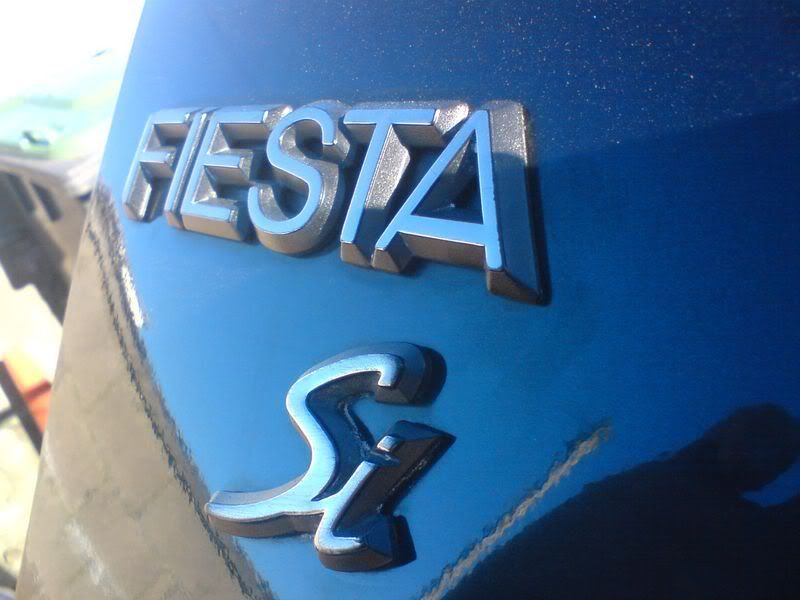 a trip down to jason got me some uber cool recaros!
my 1st sig!
xr2i arches painted up and then fitted by jason. now its starting to come together!
mine and jasons 2.0 beasty! the good old days!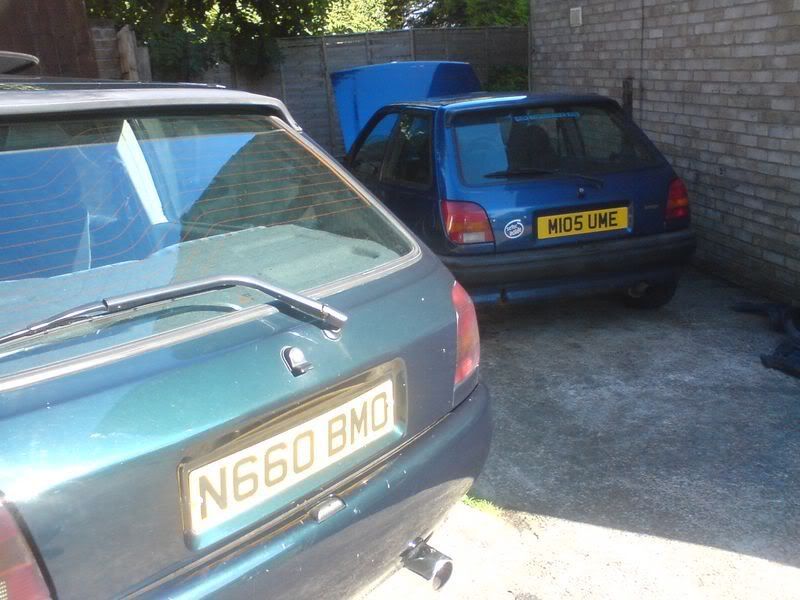 added tints and a few more bits and bobs! and passed my test! look out!!
fiesta friends
added some subs!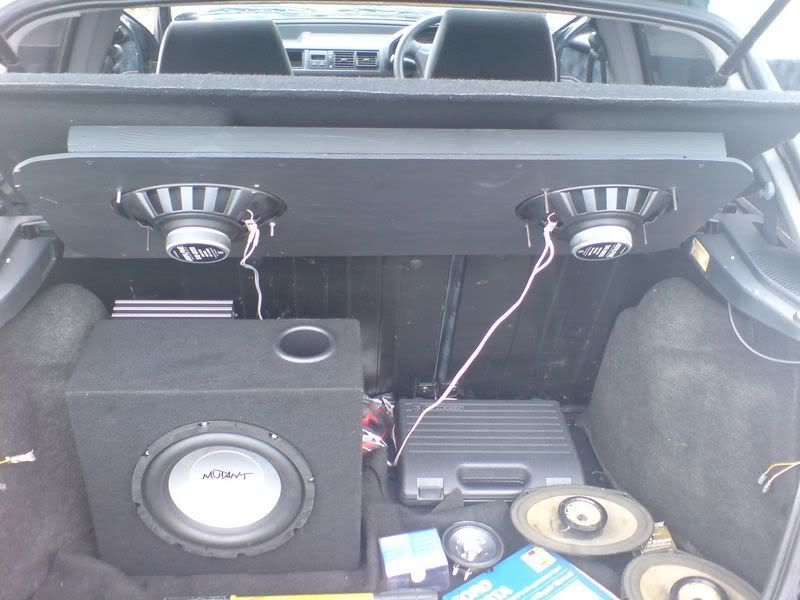 then a bigger one! lol
then it was time for a longlife s/s backbox.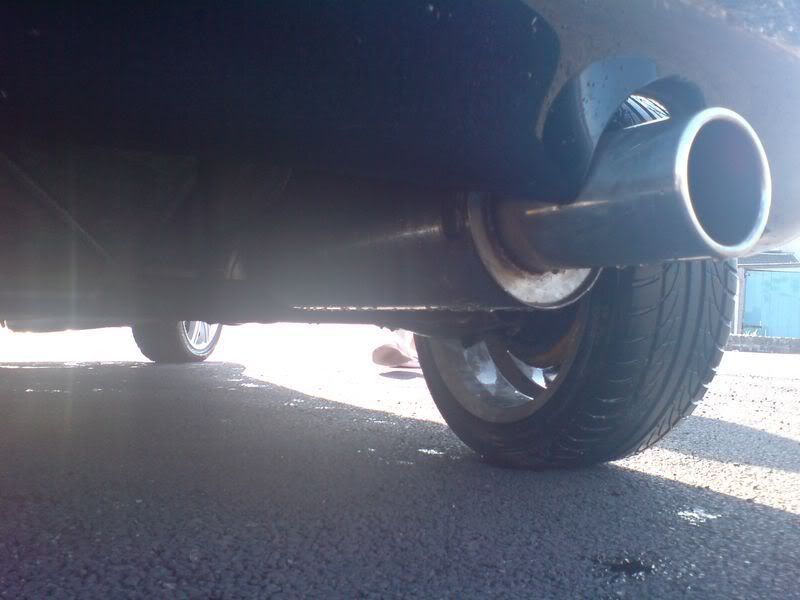 now its getting serious! bonnet raisers and spax 40mm springs!
what a twat, handbraked into a post!
easy fix! 2nd hand bumper! £20 theres lovely!
started getting into photography!
decatted it, and added some more sounds.
tidy piperx filter! and powdercoated rocker cover!
hes no longer here either..
he liked the recaros.
some better rear lights and FSI Stickers!
some wanker broke in and nicked my cd player!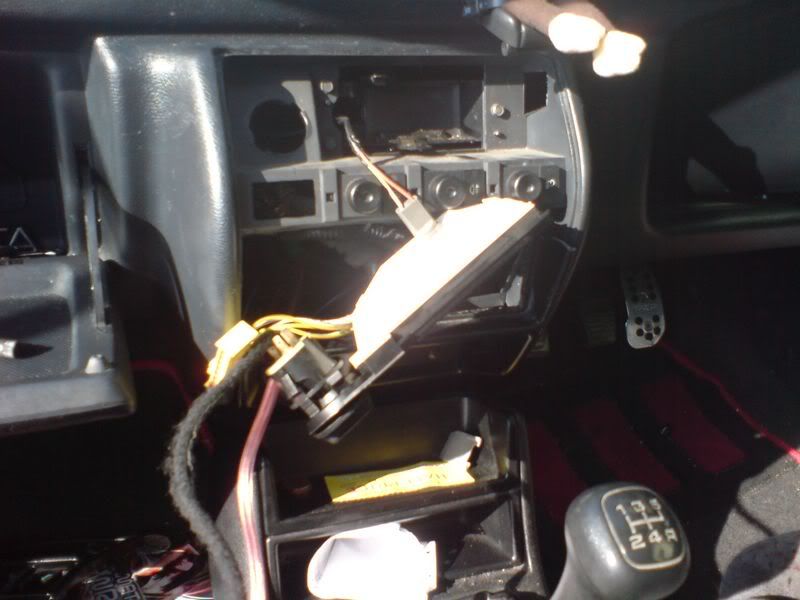 took it to its 1st ford meet!
racing ryans 2.0 escort through the twisties!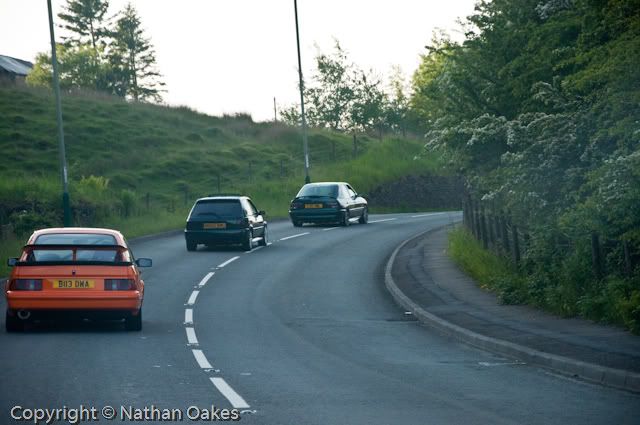 new stereo! this still lives on in the ignis! and was in the arosa and sportka!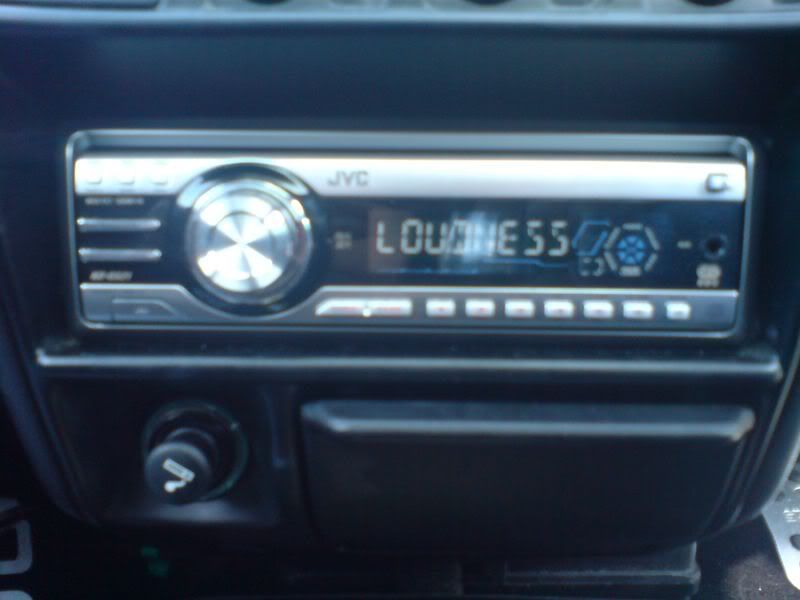 2nd ford meet! with jason elward and a few lads from bridgend!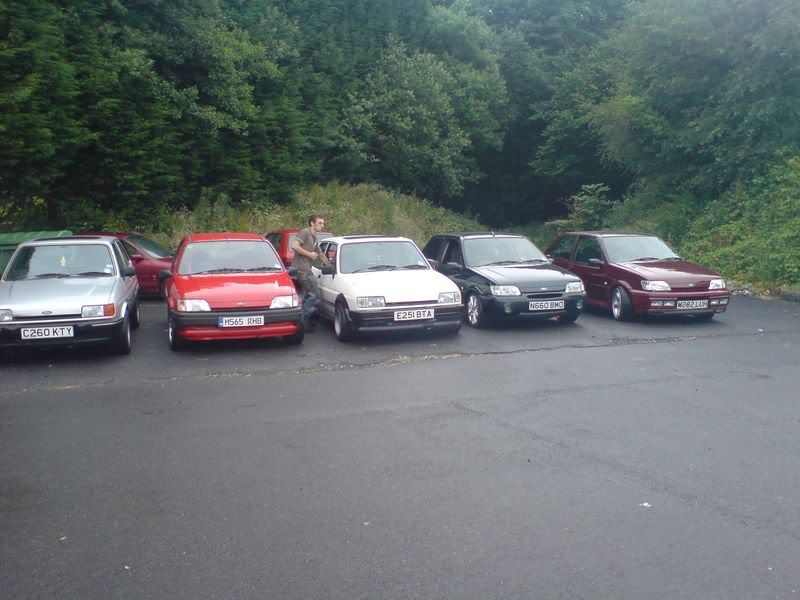 with my mates old vtr!
now for more power! picked up a 1.6 cvh 2i lump with full ashley system from dougxr2i in nottingham!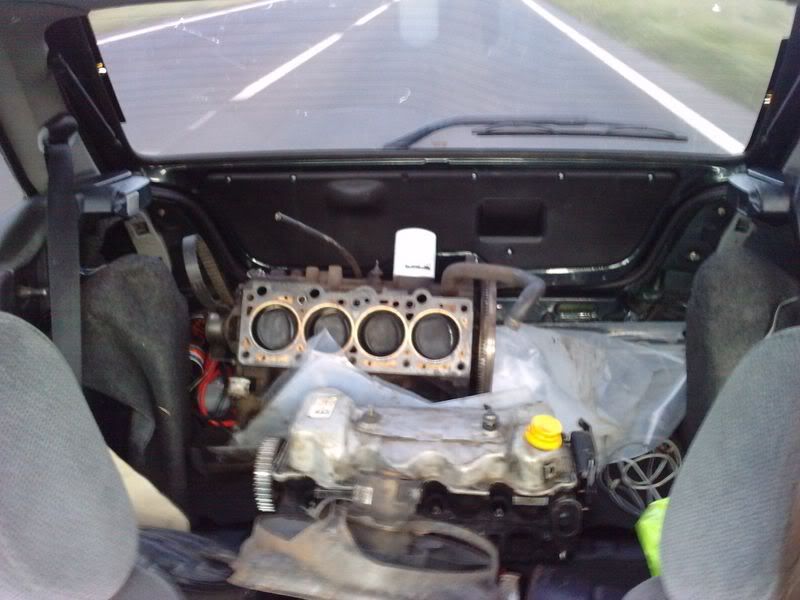 ashley comp system and 4-2-1 was immediately fitted!
then, just when it was in its prime with a spec of - Spax springs, polyrace arb bushes, fox r2s, piperx filter, ashley 4-2-1 and system, angel eyes, smoked rears, tints, 2i skirts and arches, a banging sound system and much more, this happened!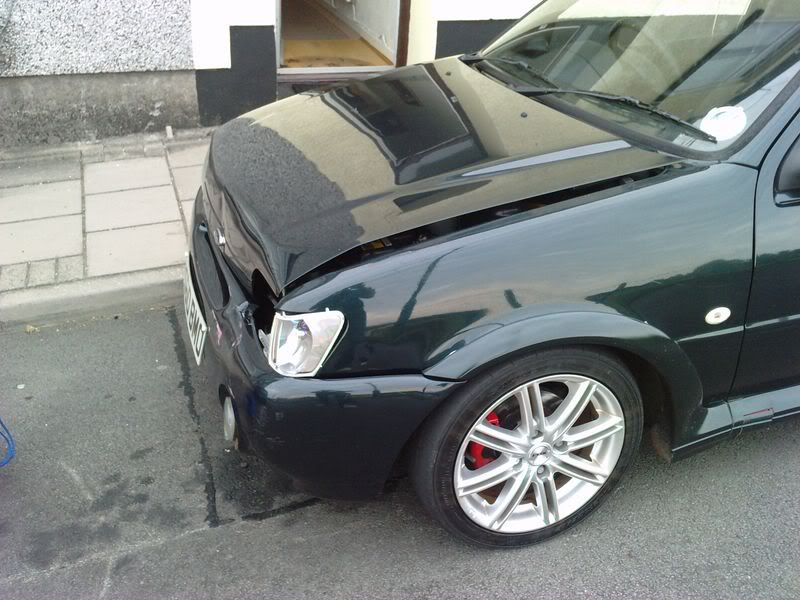 i was gutted! i had soo many more plans for it! but the arse end of my dads much tougher vw bora killed it!
the scratch on my dads car!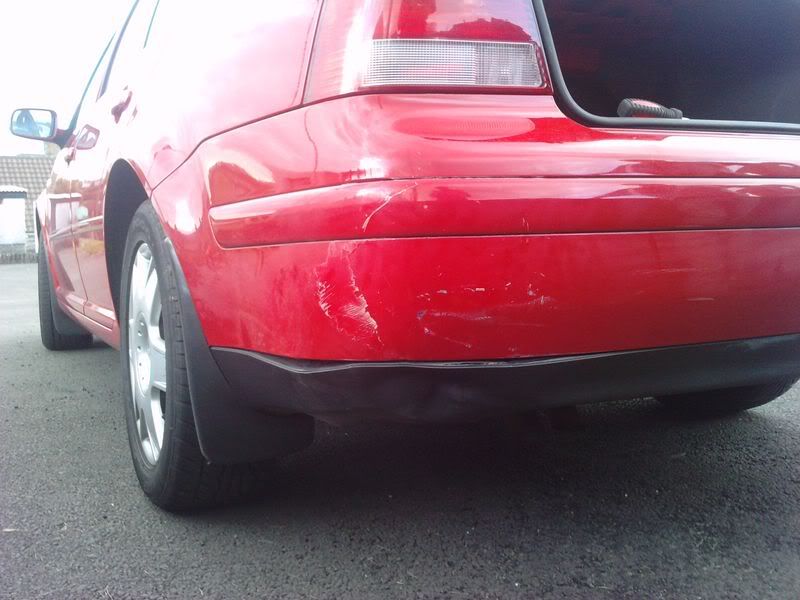 it sat helplessly on the drive next to my grandads old rover for a while, until i decided what to do!
and then i bought this.
an aurbergine 1.4 si. completely standard other than 30mm springs and rs1800 zebra interior with 69k on it with ffsh! it was pretty mint!
ooo look what my dad got at the same time! haha
BMO sat at the bottom of my garden for a bit while i had a tinker with the purple one. adding full polybushes, avo coilovers, strut brace, lightweight rims, st24 brakes, goodridge hoses, the ashley exhaust and piperx filter from BMO. TUK was gonna be the ultimate toy! i had grown out of subs and stupid things. i wanted a drivers car!! but it was short lived
the ferocious st24 brake locked up in ice putting me straight into a tree! wrecking the front end of the car and bending the osf chassis leg, this one was proper dead!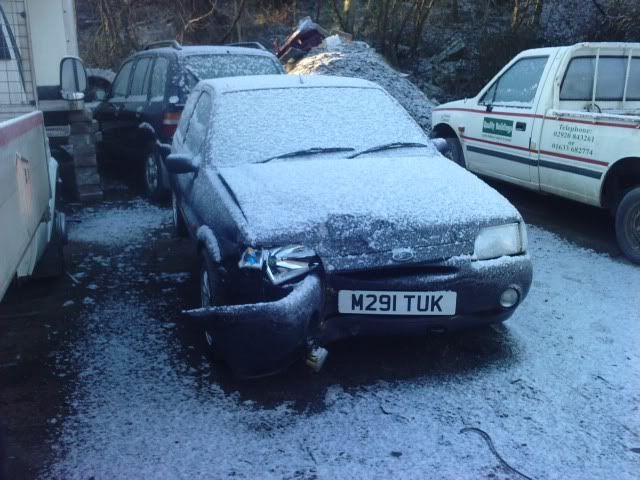 anyway, so i bought this, a rotten "94 1.4 si in petrol blue. running S2 ERST Rims, gmax 60mm suspension, rs2000 brakes, a full longlife system with decat,rs pop outs, espace splitter, 2i arches rs spoiler and 1.6 si interior, it also came with a 1.8 zetec! the plan was to break it and TUK, make some wonga and get bmo back on the road with parts from both cars! with zetec power and an awesome suspension setup.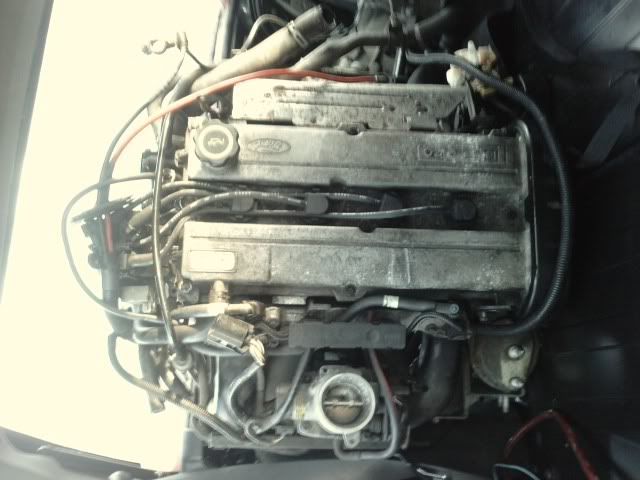 started stripping it and rebuilding bmo.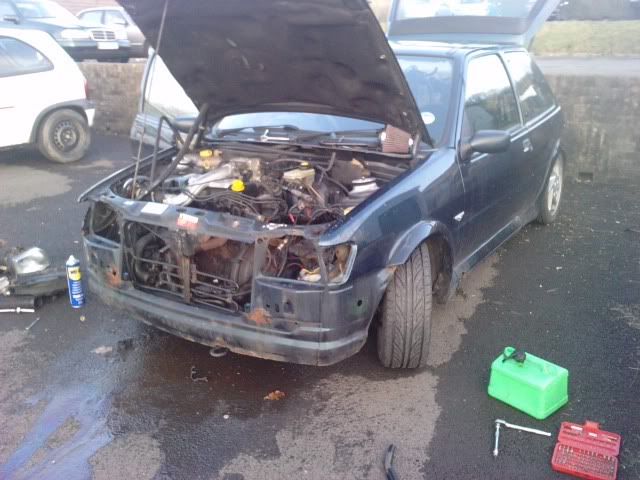 but then, i had another changed of plan. i had a job to insure bmo as i was 18 and it was a group 7 car. i looked around and i could get a much newer for powerfuul car with a lower insurance premium! so this was the point where bmo became a project track weapon. and i went out and bought myself a lovely rare seat arosa 1.4 16v sport. with 100bhp on tap and only 910kgs it was fast. alot faster than the si's i had had and handled 10x better!! and was so much more comfortable and better built, so this would be my daily drive..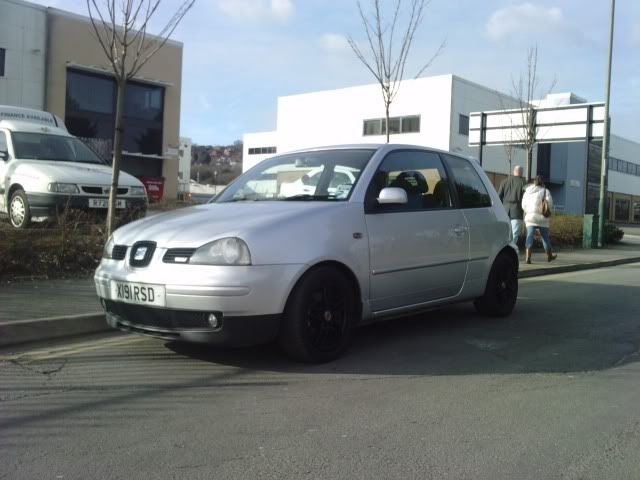 figured i still needed some fast ford in my life. so also got my mrs to buy a sportka! as it was my guilty pleasure!
bought some bits and pieces for bmo here and there, including a zetec superchipped rs1800 ecu!
completely broke the petrol blue si
stripped the zetec down ready for bmo.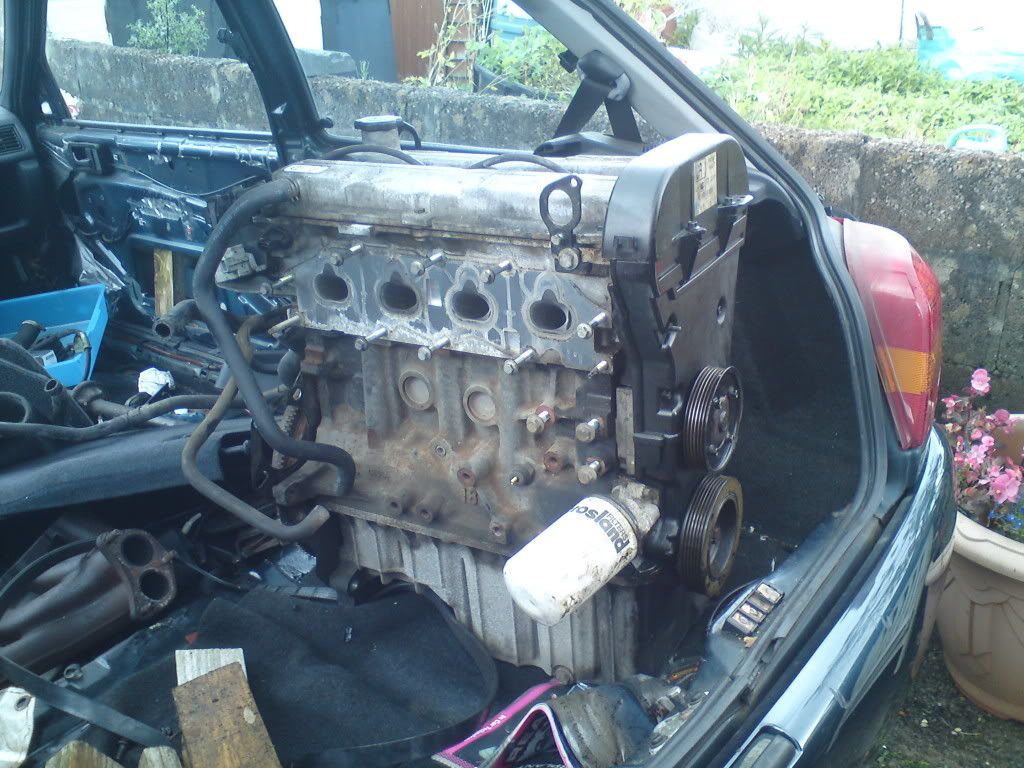 transferred parts from the aurbergine one onto bmo.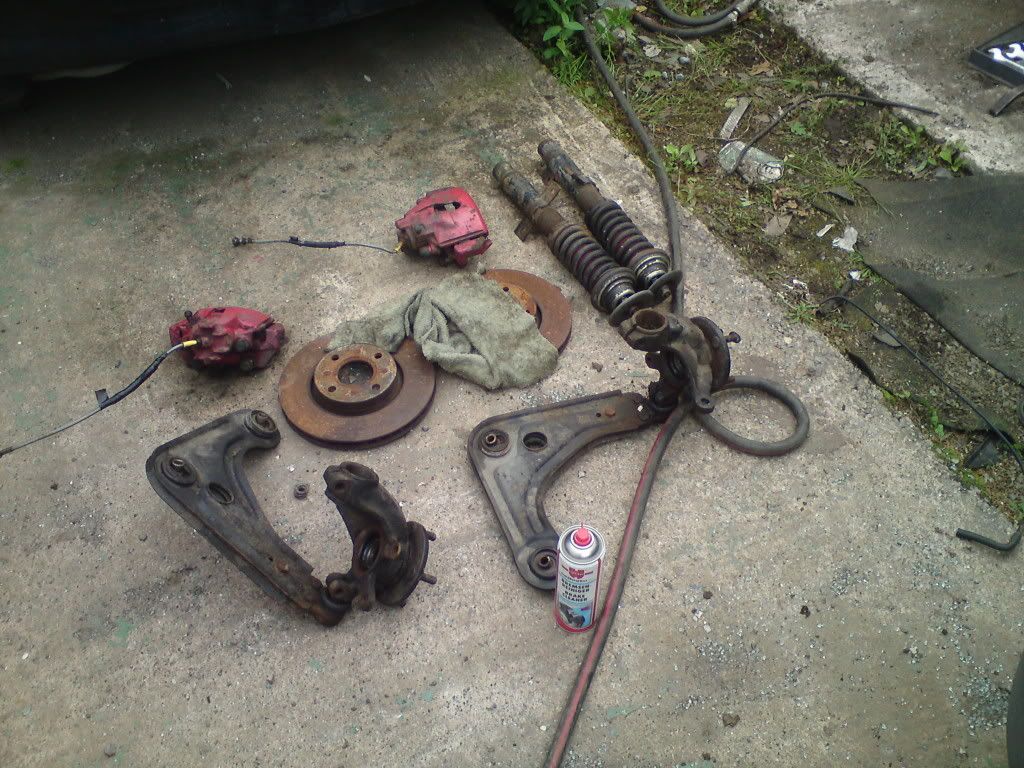 then completed breaking TUK
continued making progress with bmo. most of the suspension was now fitted
mrs bought me a private plate.
progress was slow and steady but Bmo now was sat on the coilovers with most of the parts i had now fitted.
in the meantime i was busy trying many different rims on the arosa, altogether i think it had 6 different sets! lol heres the bbs rx2s.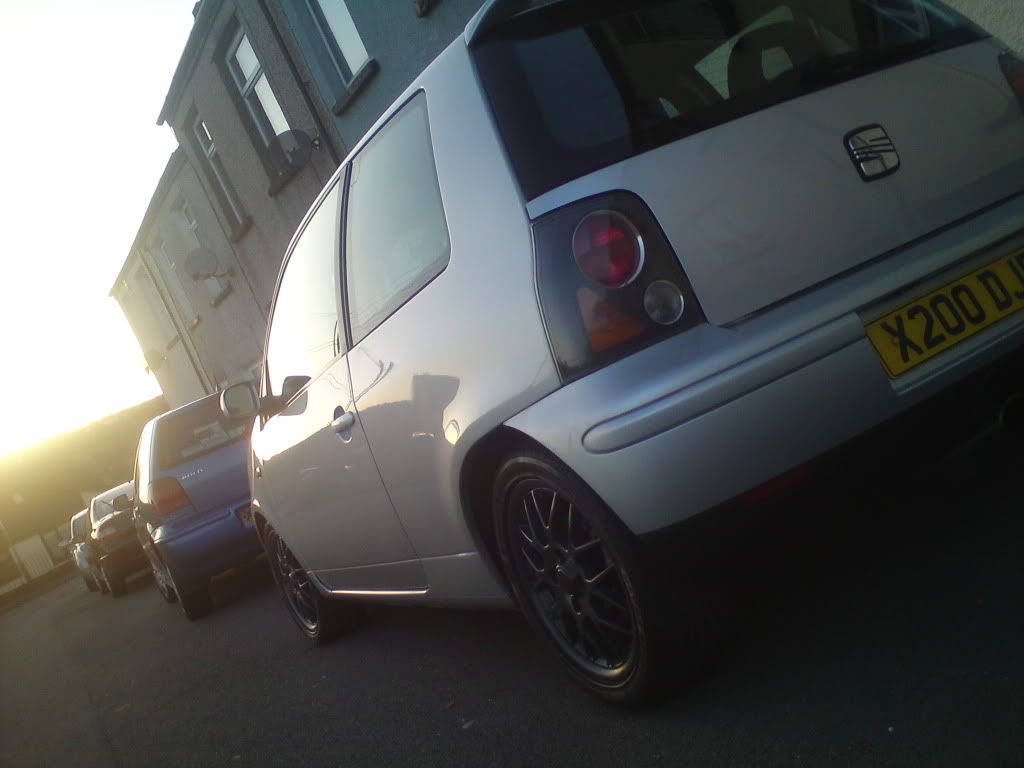 also had my mate powdercoat the rs2000 rims for bmo, they looked awesome!
it was then time for a change of daily drive, as i parted with the arosa to a former member on here, and took over the ownership of the ignis.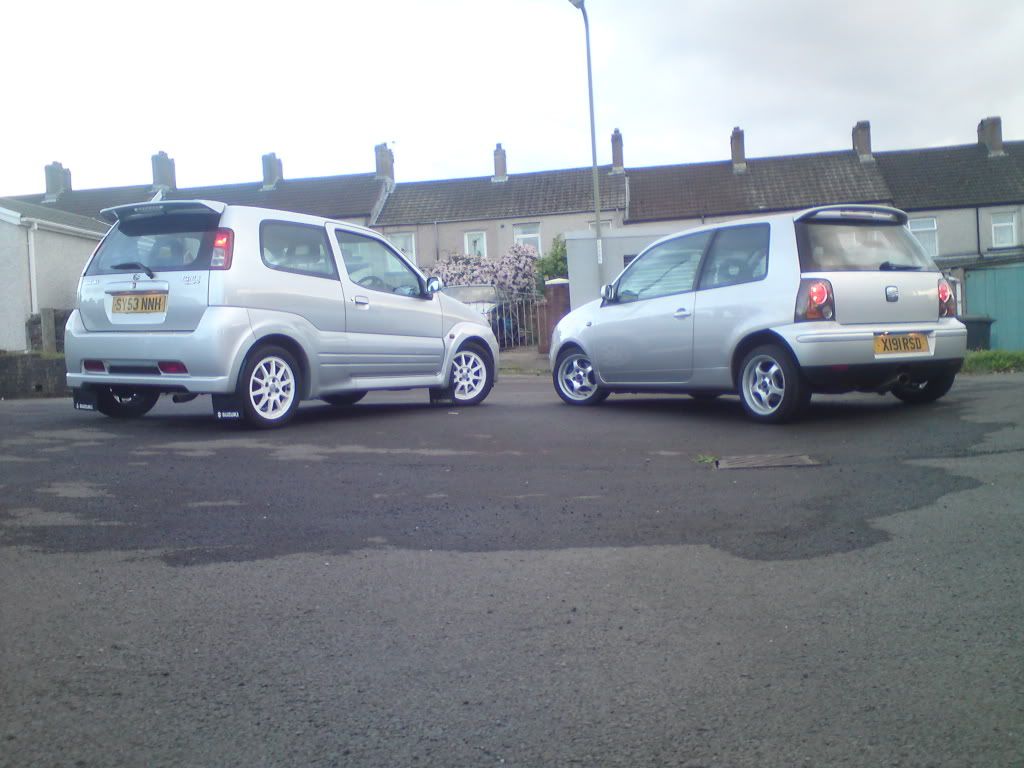 i had had a great time with the arosa, adding BMC enclosed induction kit, longlife decat, gmax 40mm shocks and springs, omp lower brace, a whiteline rear arb and many sets of wheels, this was my favourite set, 14x7j et25 borbet ts, wrapped in 195/45/14 toyo t1rs. by the time i had finished with it it would hit 127mph off the rev limiter in 5th and handle like a go kart, scaring many faster cars such as a focus st and my mates tuned cooper s! it later made 109bhp on a dyno.. it went to kris looking like this.
kris then added his own touch to it. and is now looking to sell it.
anyway getting back on topic, its ok not that much longer now!! lol
it had been a while since i had worked on the fiesta. been busy tinkering with the ignis. lol but i then set about stripping the interior. i found an absolutely mint floorpan!
earlier this year i attacked the rear axle i had bought for the aurbergine one years ago!! it featured rs2000 rear disc conversion, i improved it by adding a double arb and fully polybushing it!
fitting it on the floor in the dark on my own was fun!
i then transported the car to work to continue with the more technican side of the project, the engine conversion and eventually bodywork.
things then started to slow down as i moved into my own place.
met up with jony a few times to exchange parts and have a quick blast!
dyno day
helped my mate rebuild his mk2 escort.
and continued potching with the ignis, which now hones an itg filter, japspeed manifold, custom scorpion exhaust, magnecor leads, air con removed, apex springs, omp strut brace, whiteline roll bar, ebc greenstuff pads and grooved discs, and team dynamics pro rally wheels.
jony was there with his si the day it made 125bhp and 126lbft, not bad for a 1.5! lol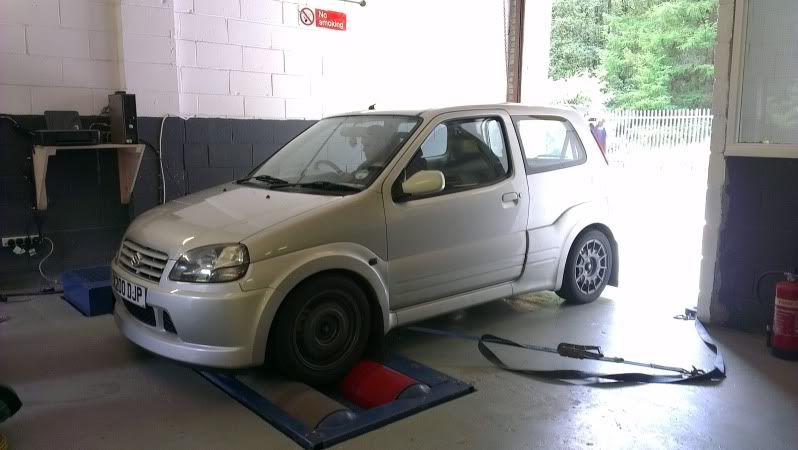 it was from here on that i had decided to give up on bmo. i had too many responsibilities with the house, and to complete the project it would cost me probably another £2500 to get it to where i would want it to be, and if it didnt get there i wouldnt of been happy. plus i already had a car with a much more capable chassis which i can use on road and on track.
so i started selling off all the good parts! making back over a thousand pounds!
it was then decided jony would buy it as a project, and put it back on the road, but after a while the deal fell through.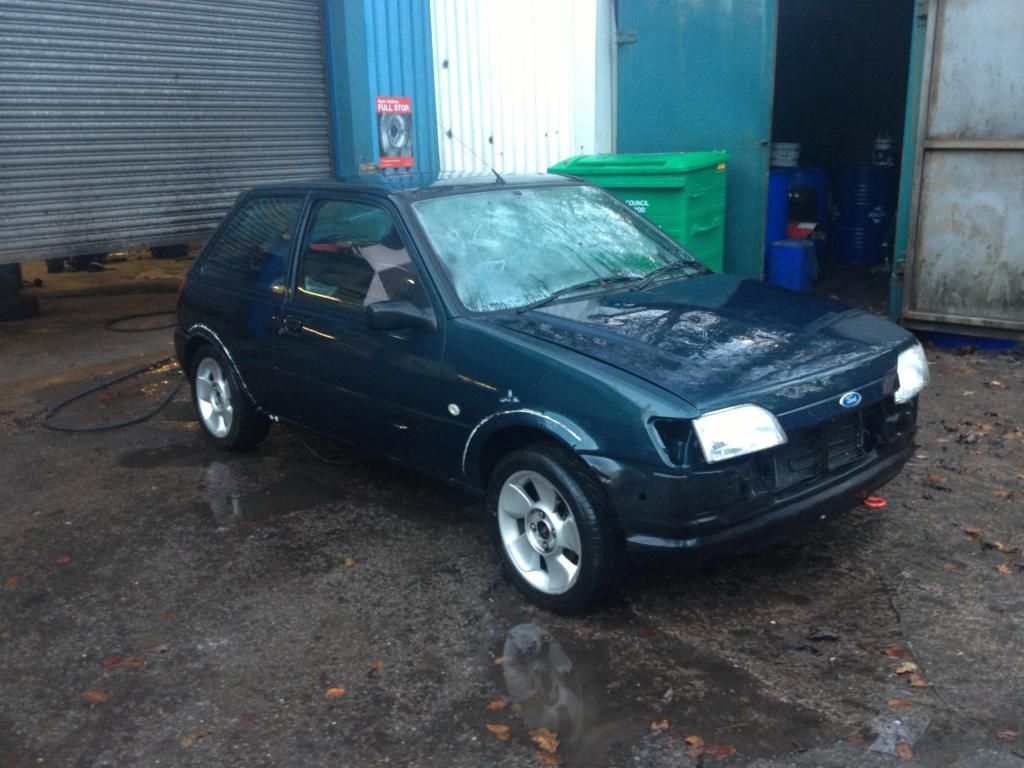 jony had already payed me half so i removed the engine box and ancilliaries for him to have. which hes now rebuilt ready to go into his mk2!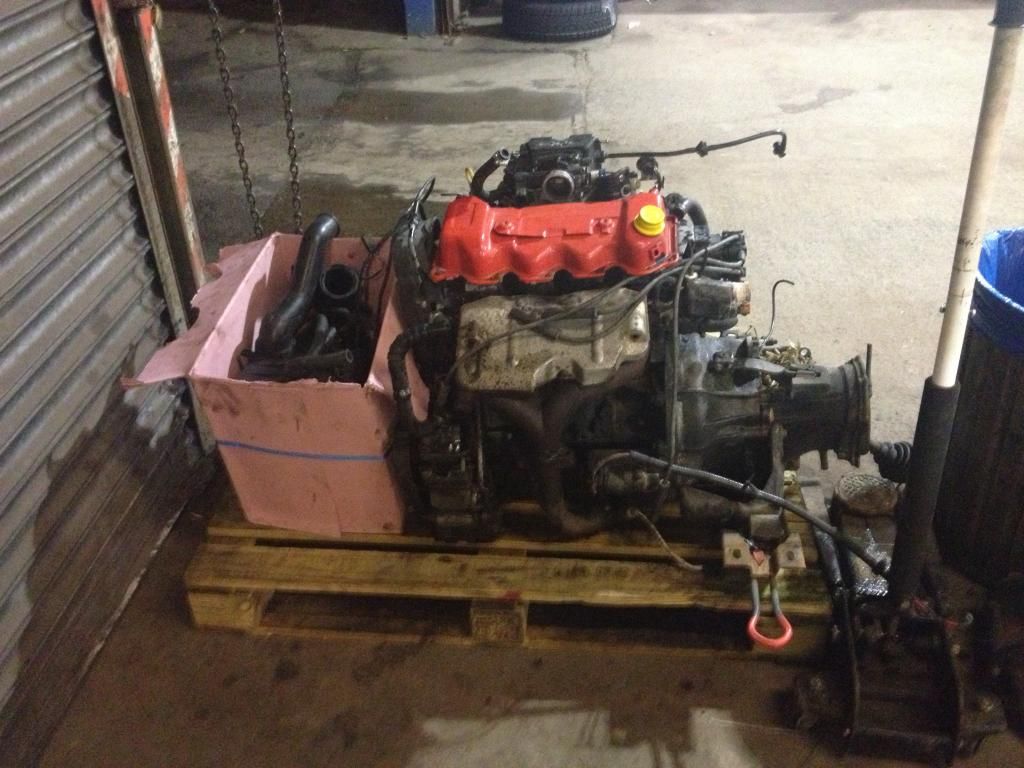 some more parts were recently sold off, and just before xmas 2012, bmo was rolled onto the back of our recovery truck and taken away
making me an extra £85 for xmas.
the last ever pic i have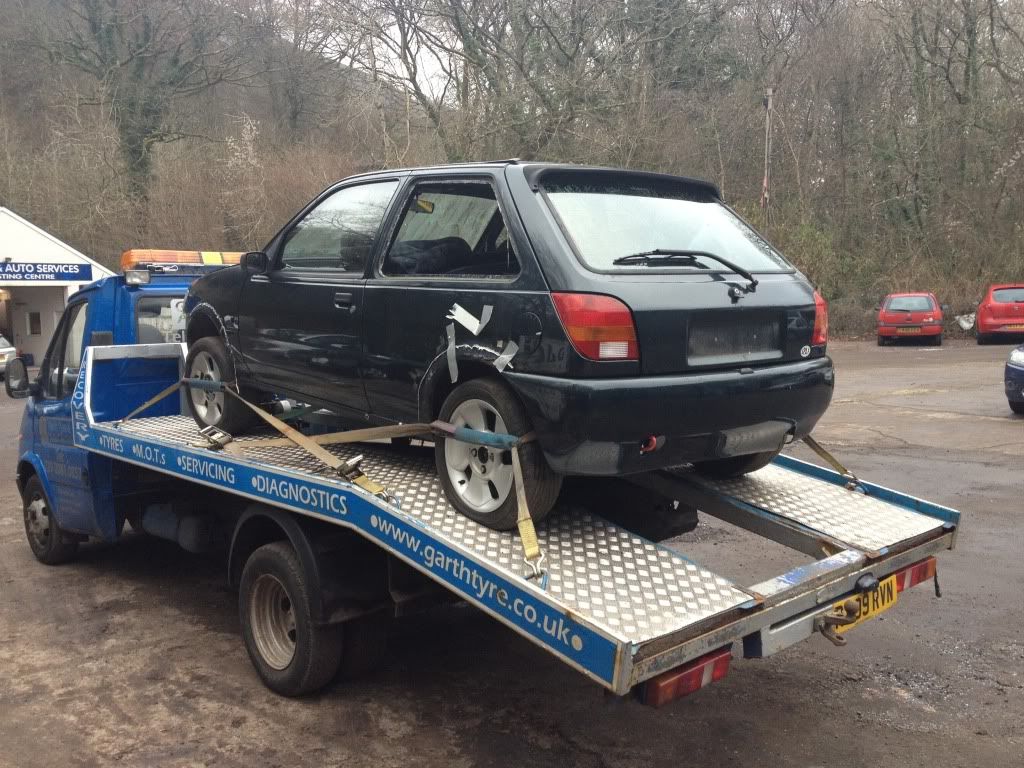 R.I.P N660 BMO her ashes will live on in other fords!!
and DANIELP1991 will soon return to the blue oval......