Hope uou get it back soon pal, sounds like a hassle over nothing, youd think these computer dependant cars would simply plug in sort out and away you go.

When my car went in yesterday morning they rung me at about 10:45am saying theyve done the MOT told me the issues and different options over phone, I told them to sort it and by 1:00pm theyd phoned saying done and ready to pick up. Pretty lucky to use a garage likethis, hes let my fiesta go through on the understanding id sort stuff out which is good.
_________________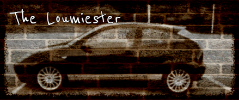 The Loumiester wrote:
Ford is not a decision you make to like, its a passion you grow up with.