Wow It's been an awfully long time since I was on this site, so new job and getting a year older and wiser Hahaha
I decided I would try for the car ive been wanting a while. few insurance quotes later and I was practically ready to buy a WRX STI classic shape, when I thought I would try one last time at the insurance and tell them I had actually bought the car and suddenly my quote gained £1500 which would bring it to a grand total of £3k a year. I tried to get insured on a newer shape, quote then dropped £500, which got me thinking I would try to then get insured on the bugeye model, which I must confess I wasn't over keen on it the first time I saw it in the flesh, I went to the Famous Scooby clinic to nearly be ripped off, I was offered a car running 280 bhp with full exhaust and few other mods for a cool £3k, the car when I went to test drive had all the mods taken off but then had also gained £500 but and I quote "they would be more than happy to install mods and should have an exhaust for £300 somewhere"
upon leaving I spotted a WRX about 1hr 30mins away for a cool £2800 with a full private plate. As the car had a tracker fitted and Cat 1 I thought I would try the insurance again, this time £950
As I arrived the car was in not to bad a condition, loads of stonechips on the bonnet, but all scoobies that are driven have, full exhaust up to the 2nd cat and alloys off the blobeye, full DV and samco hoses.
Ive had the car about 6 months and I love it, full custom remap so the car now runs a smooth 280bhp, was 290bhp and 300 torque but always the clutch started to slip so had the power turned down till new clutch is fitted. Full morrettes with HiD Projectors, Hate them or love them but I really like the unique look it gives. and loads of other bits and bobs like decat, and Gauges, as always I wont bore you with words.
Before: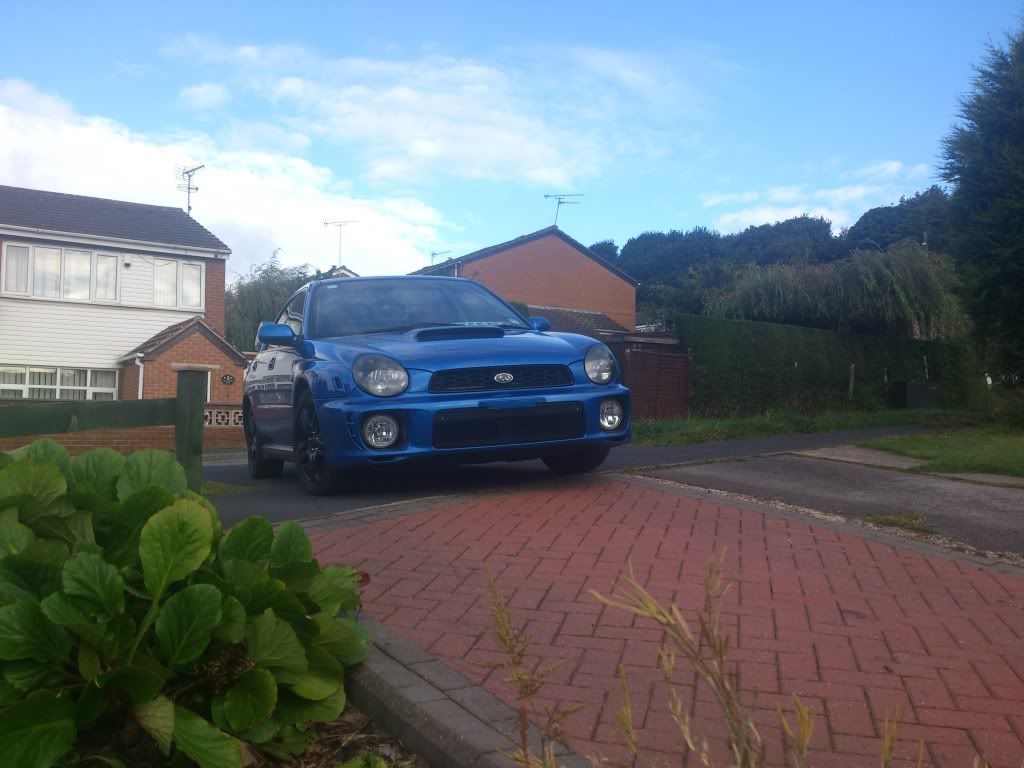 After I was let loose with it