Well folks the works beginning on the respray. Just a refresh spray for Tor mallard green. Kymie86's bro leading the way.
Here are the some of the pictures so far: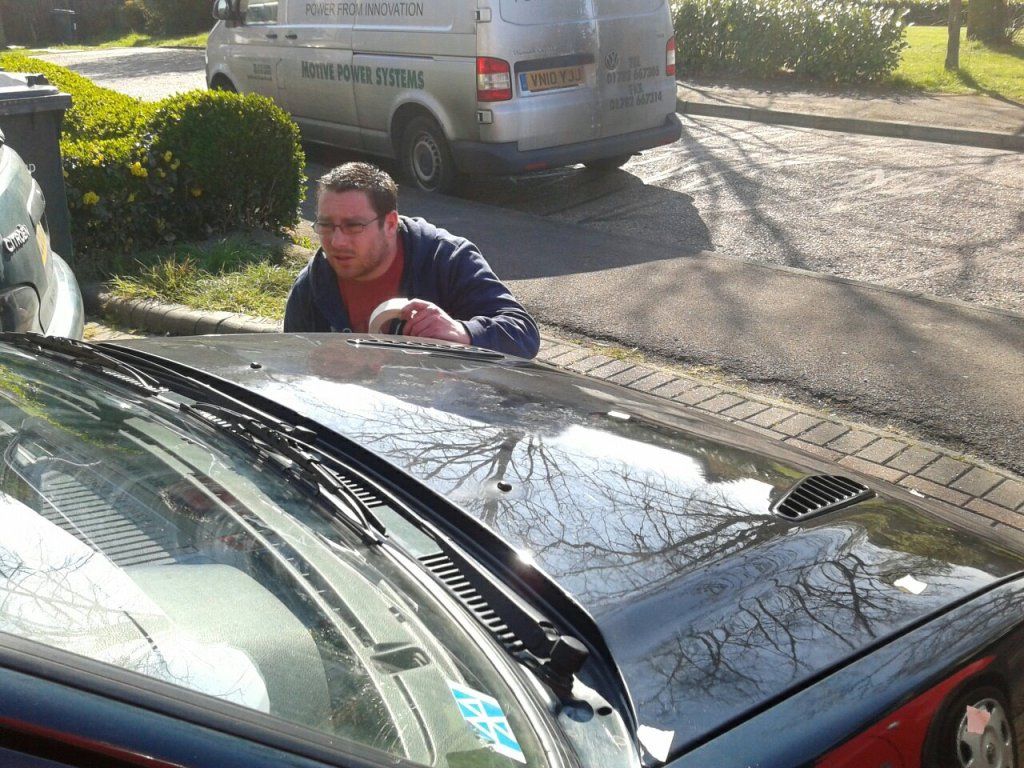 First step, marking up all the dents, scratches and marks on current paintwork.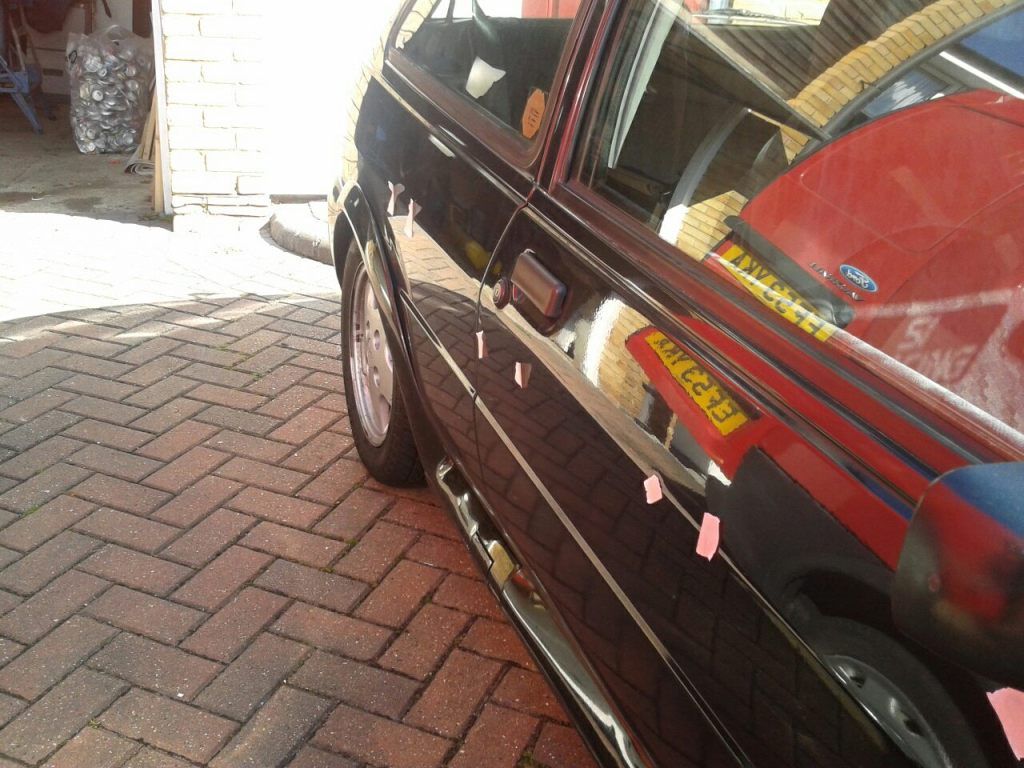 doors marked up,
Next we debadged the back.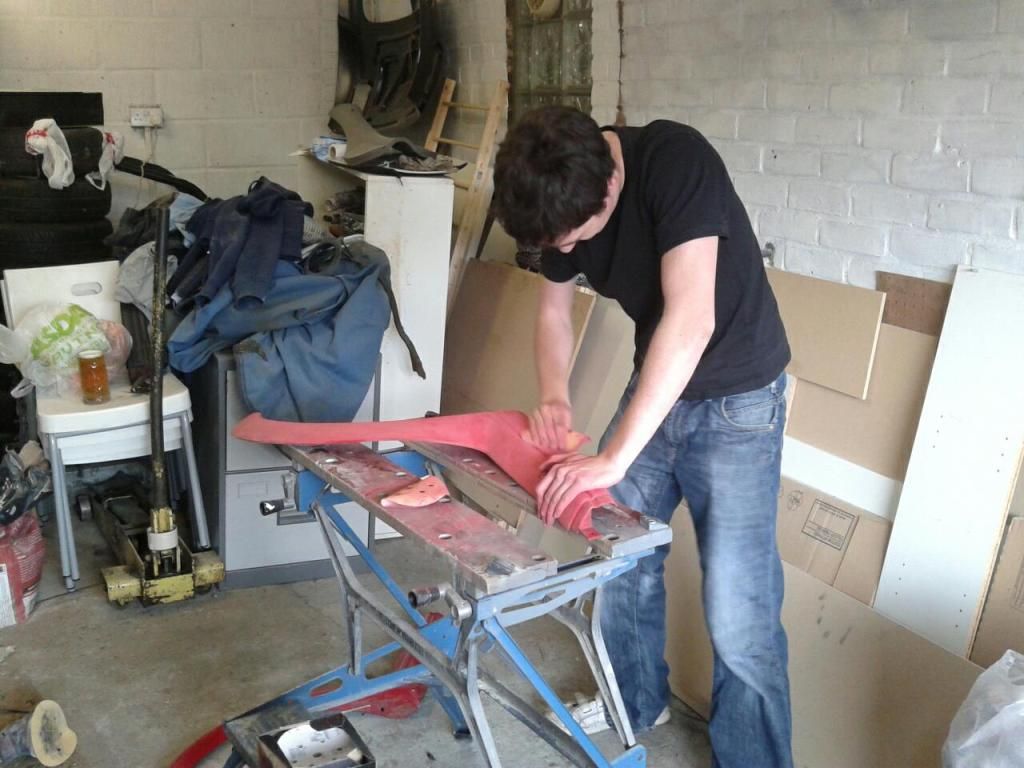 Rubbing down some arches & skirts i'm using, red atm, will be resprayed.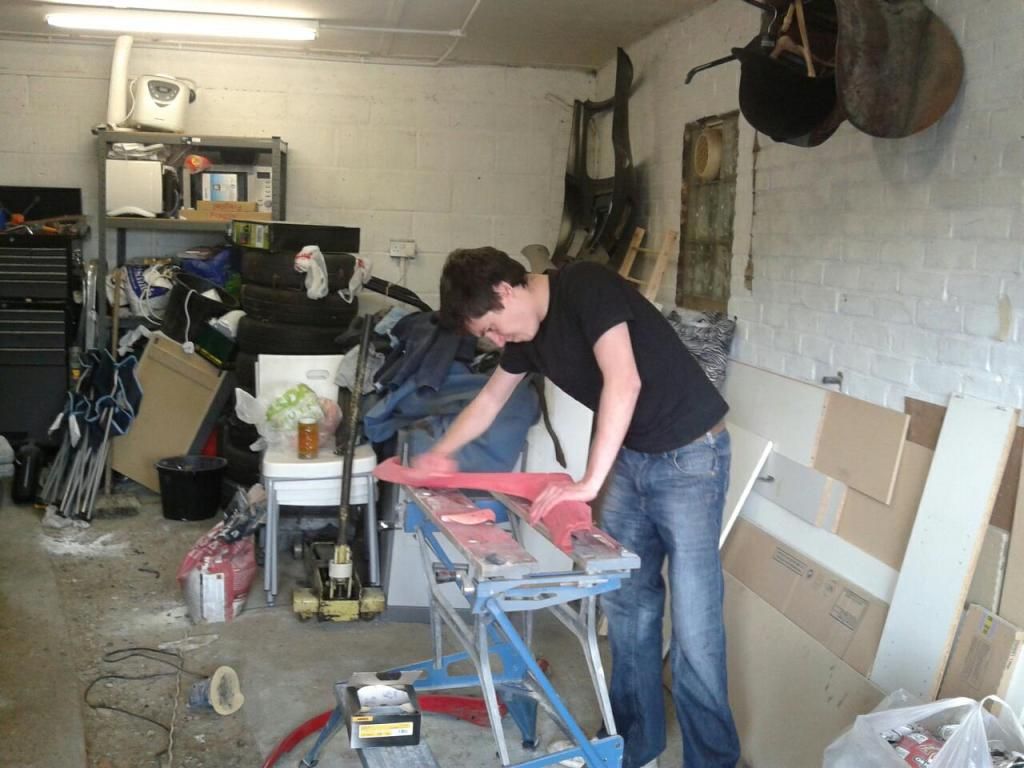 Really going for it

Me rubbing down some red Xr2i skirts and arches, covered in pink paint!

Taking apart that door card.
My naked door.
Smoothing down that spare bumper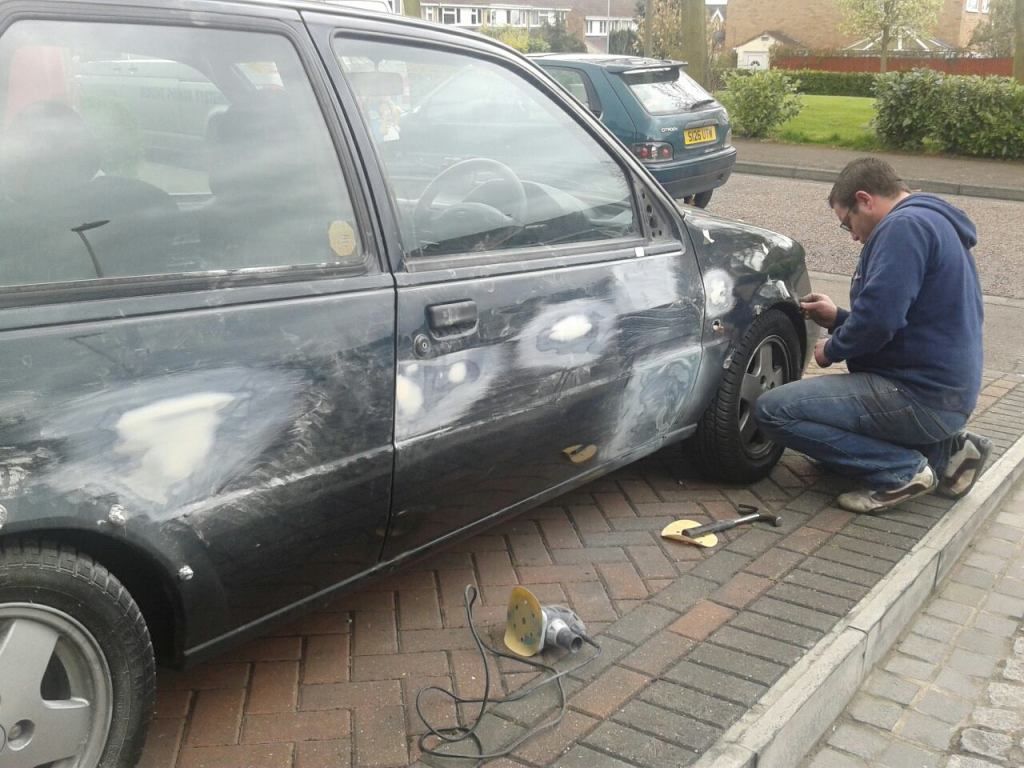 Kymie86's bro working on my car, filler! Lovely stufff!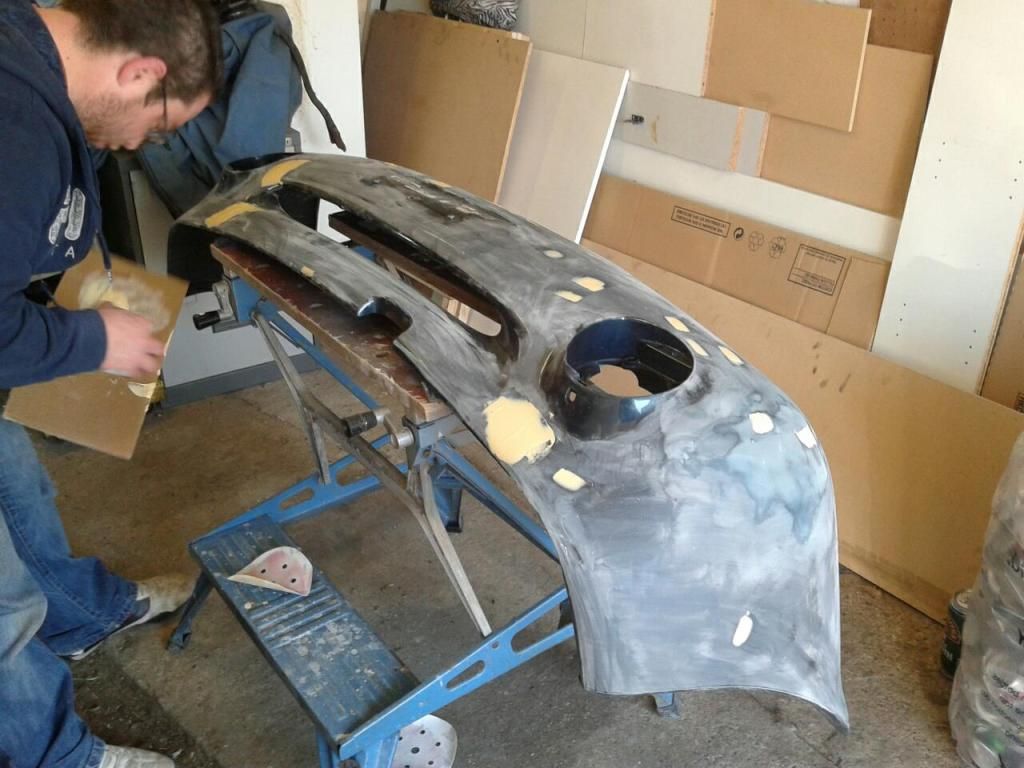 Bob Ross in the making!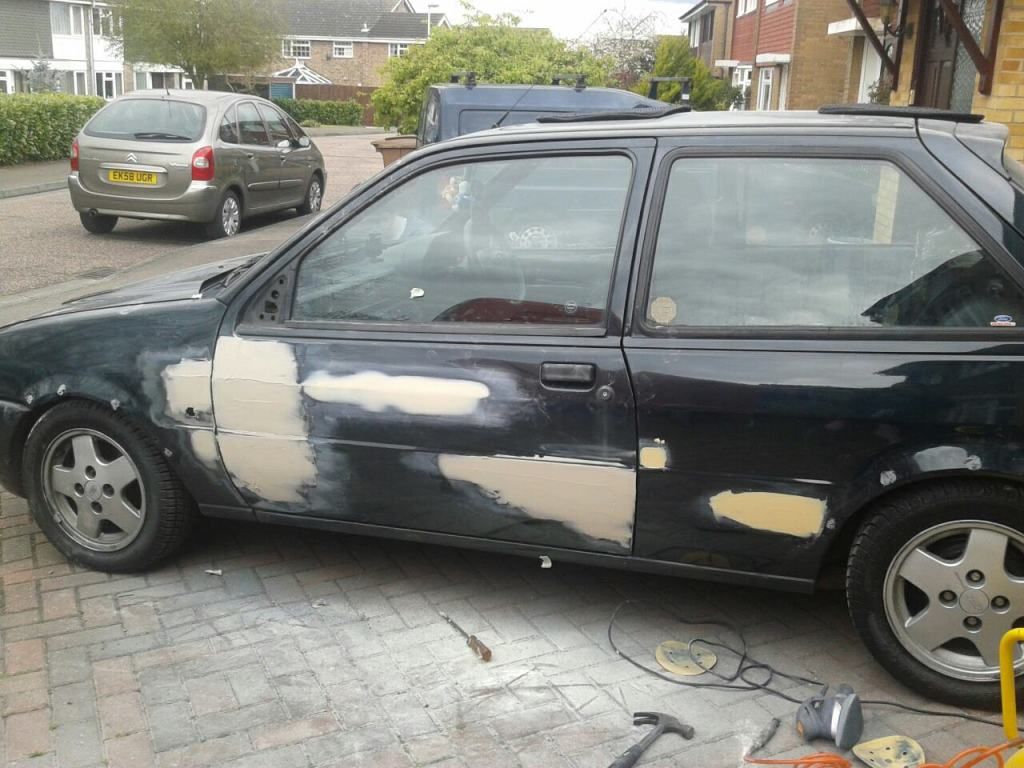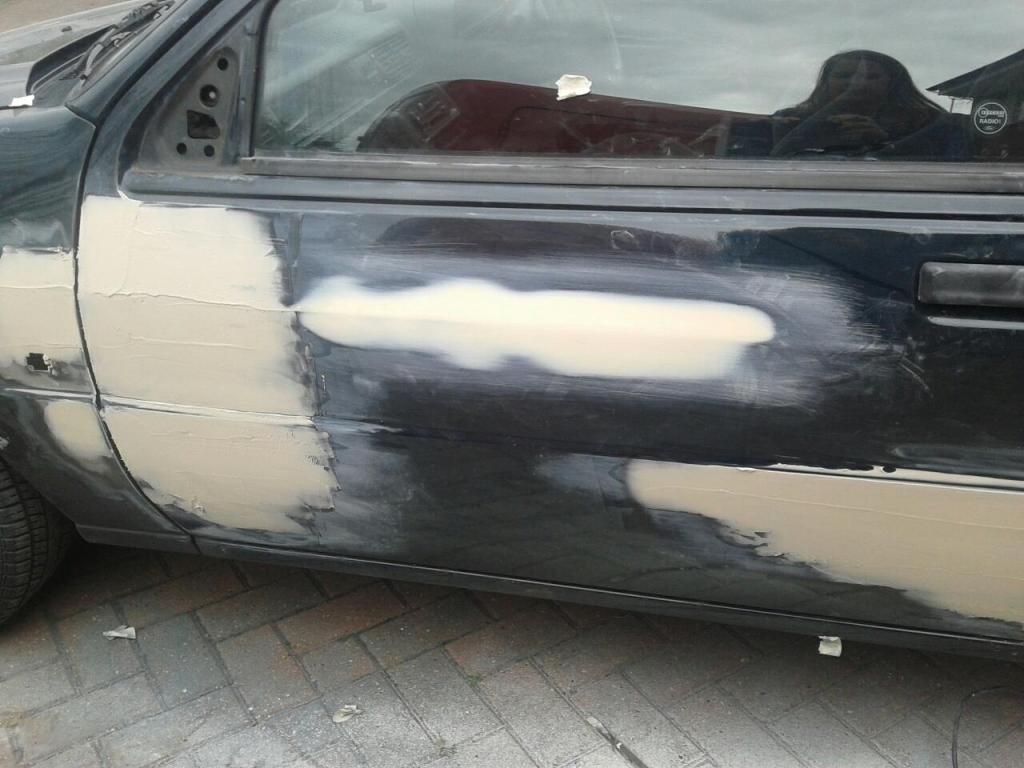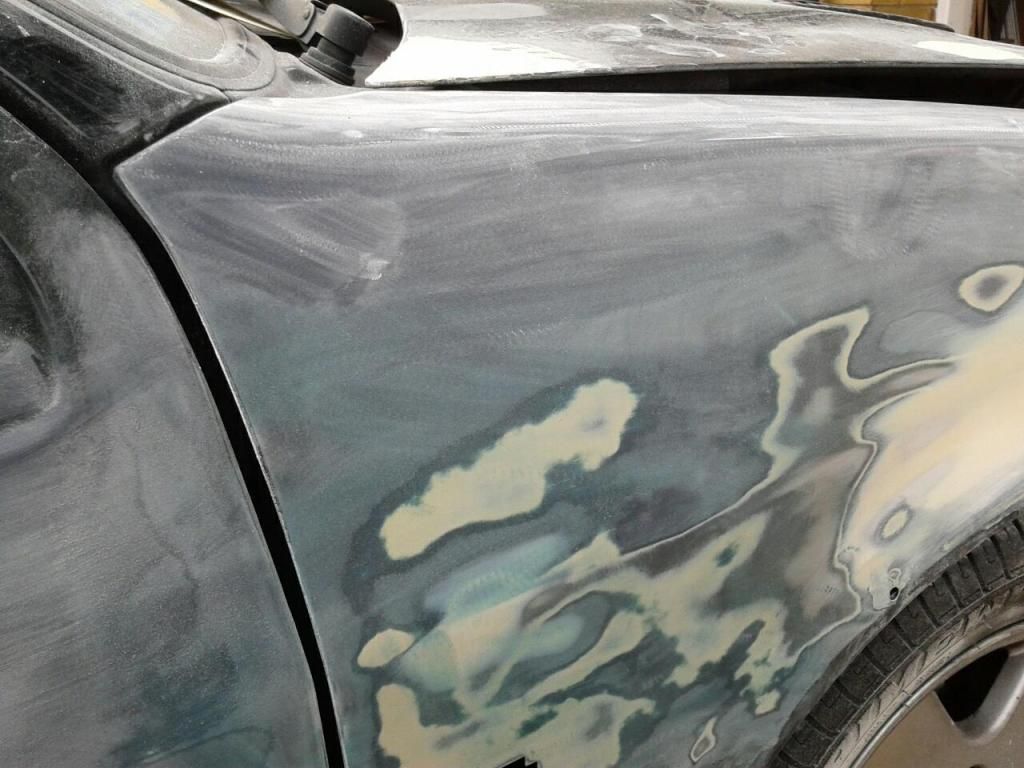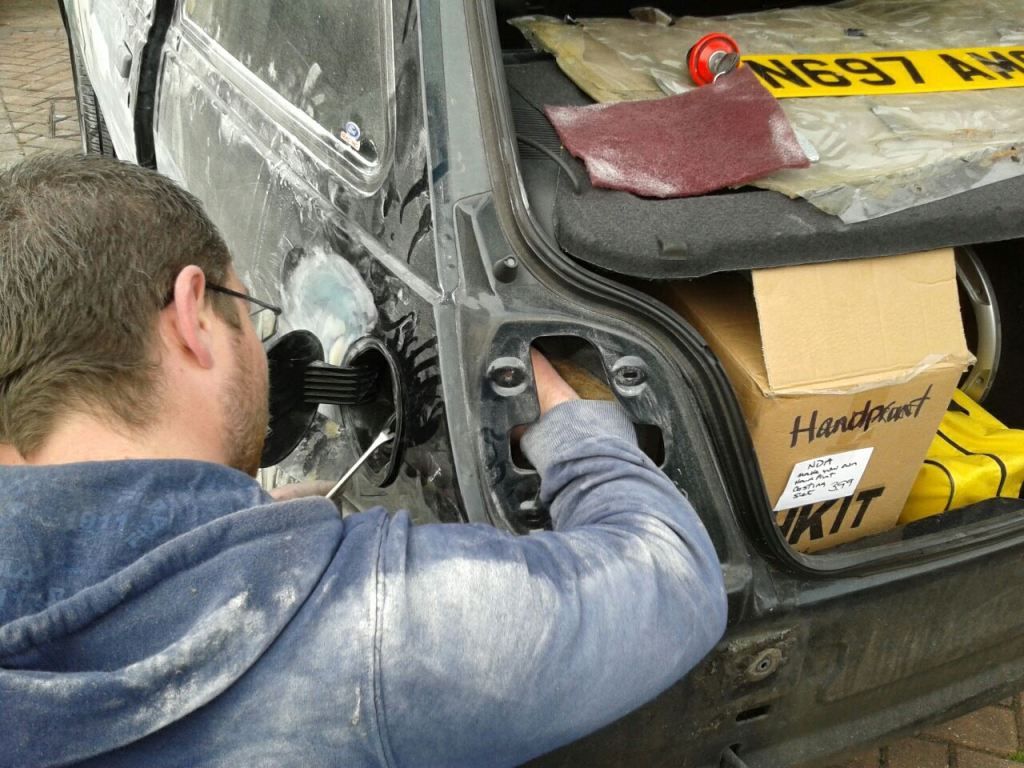 Getting that petrol cap out!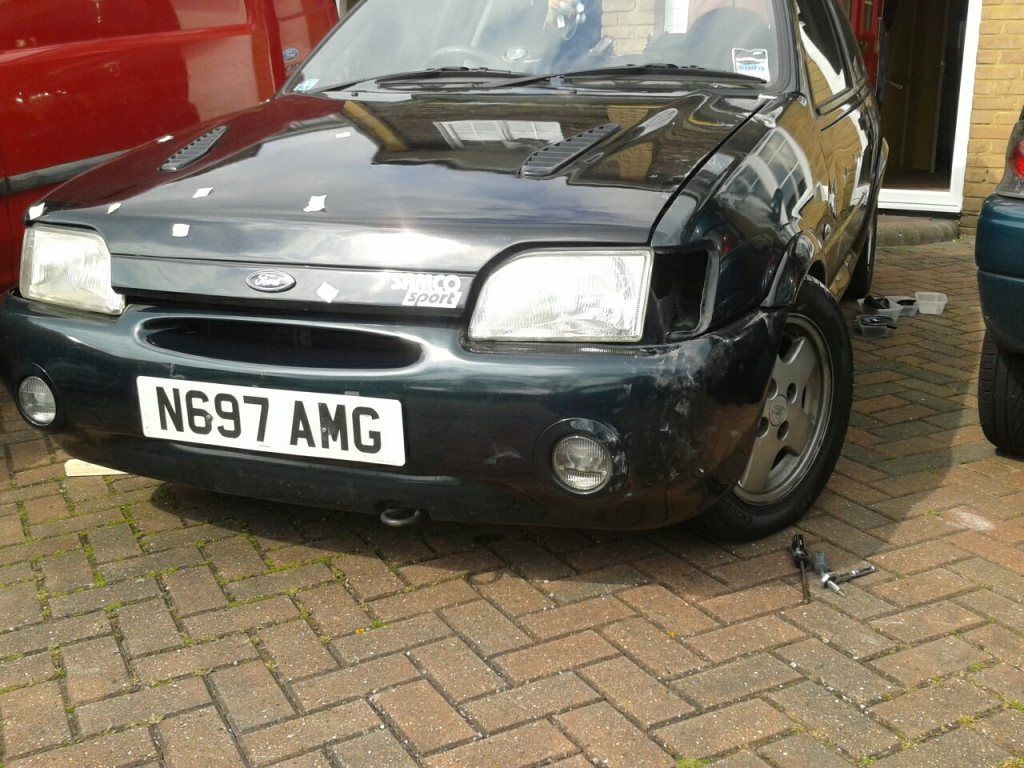 Project Update (10/3/13)
Ok so i finally have got around to working on the update of my project.
I've had the car resprayed and since had the 2 litre silvertop mondeo engine put in.
First Part 2 of the respray project which was completed two weeks later after the prep!
More Primer Photos: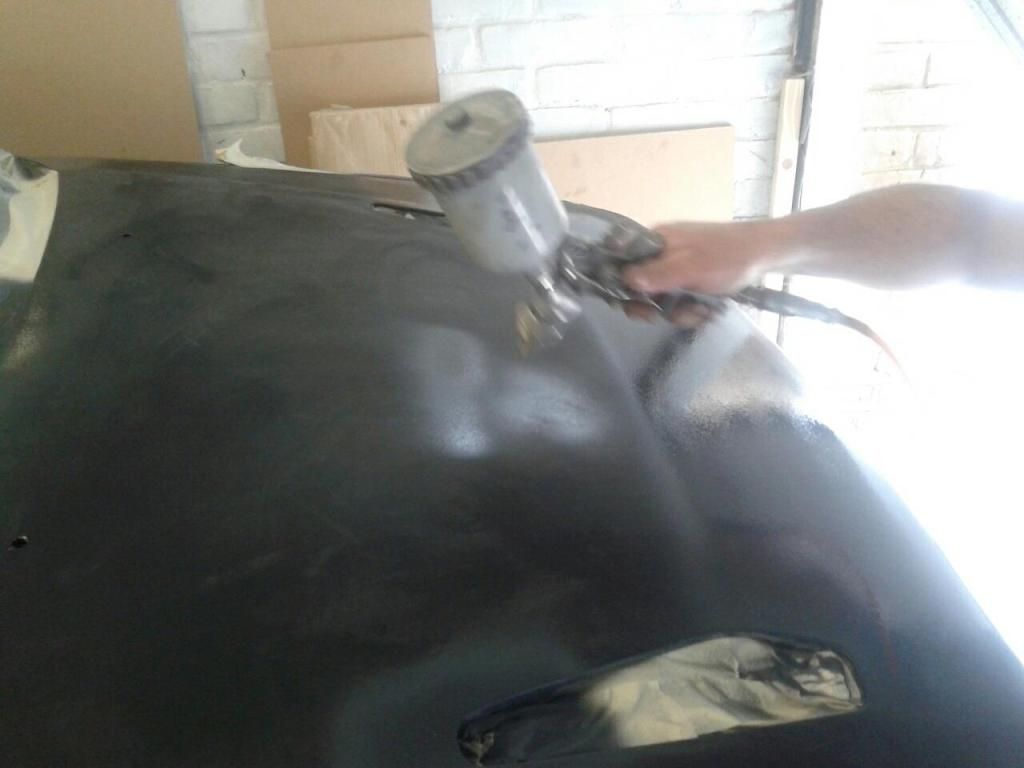 Finished Bumpers: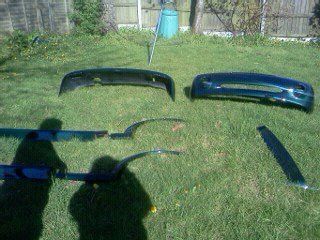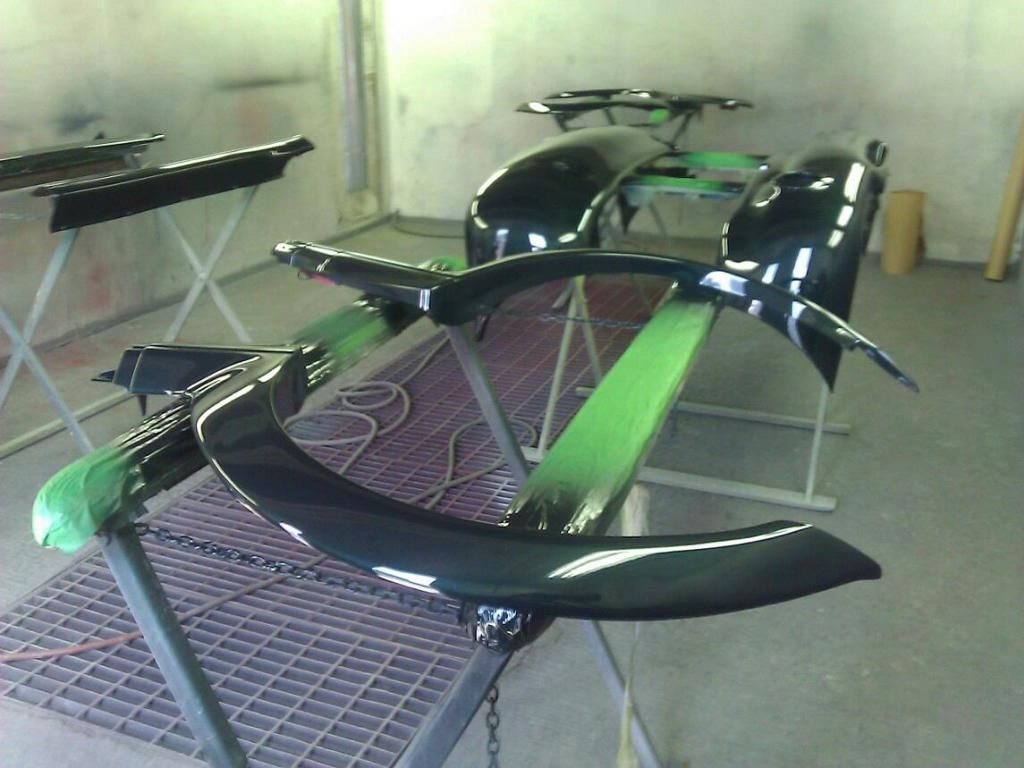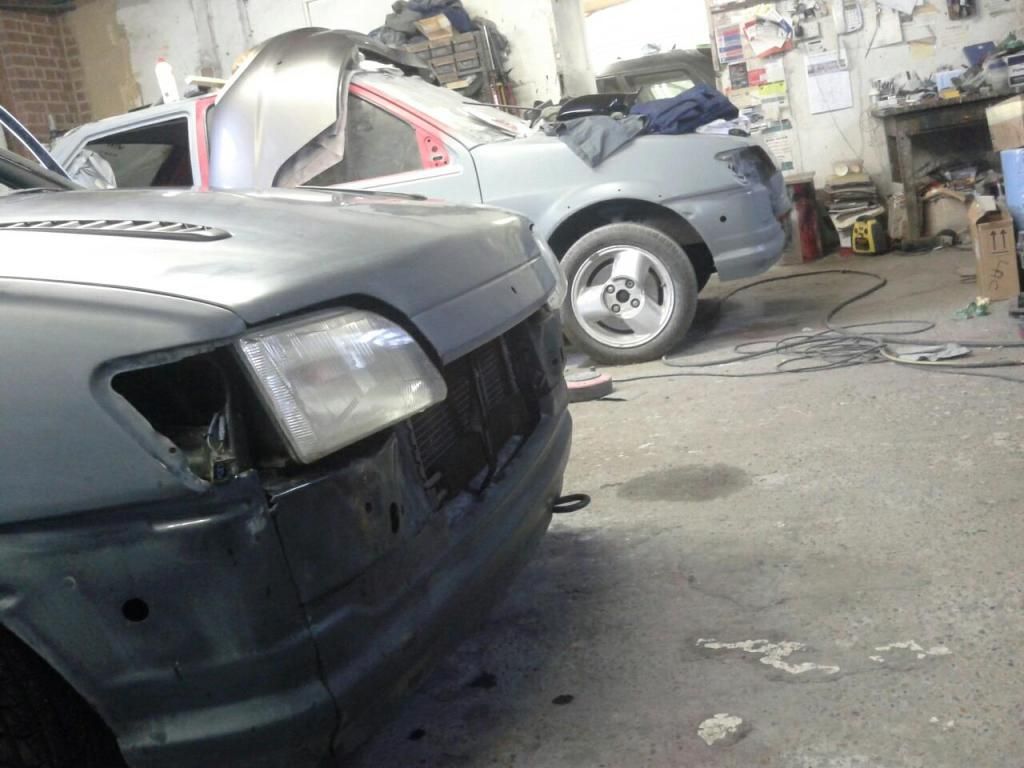 The car all prepped at the secret respray facility!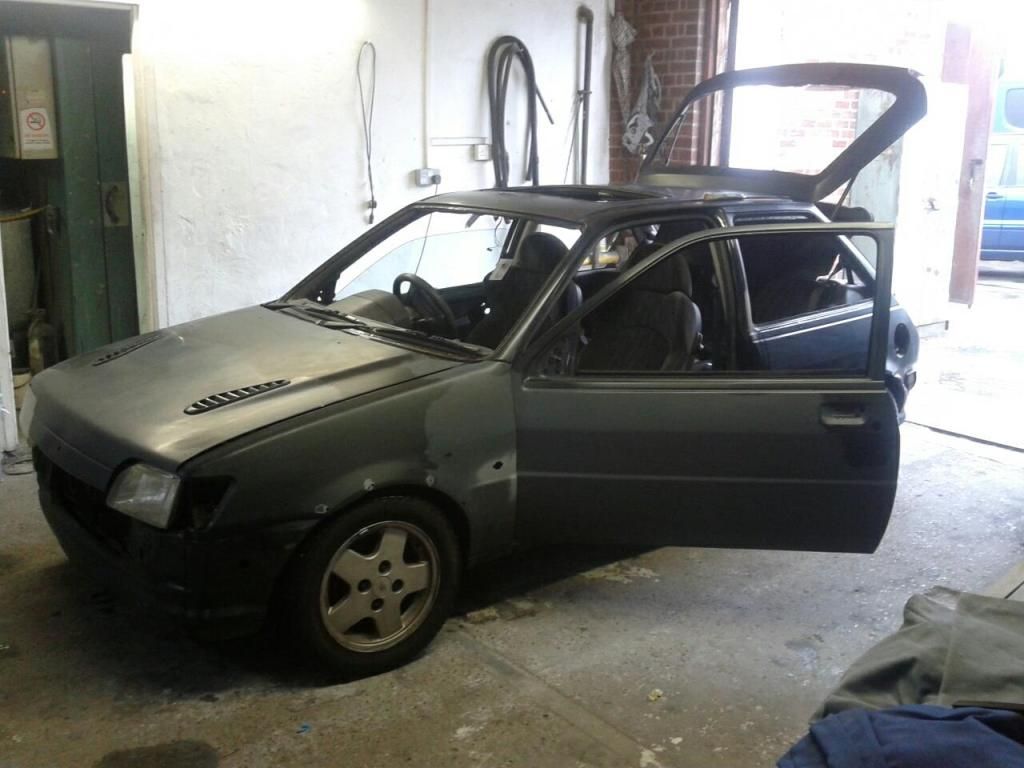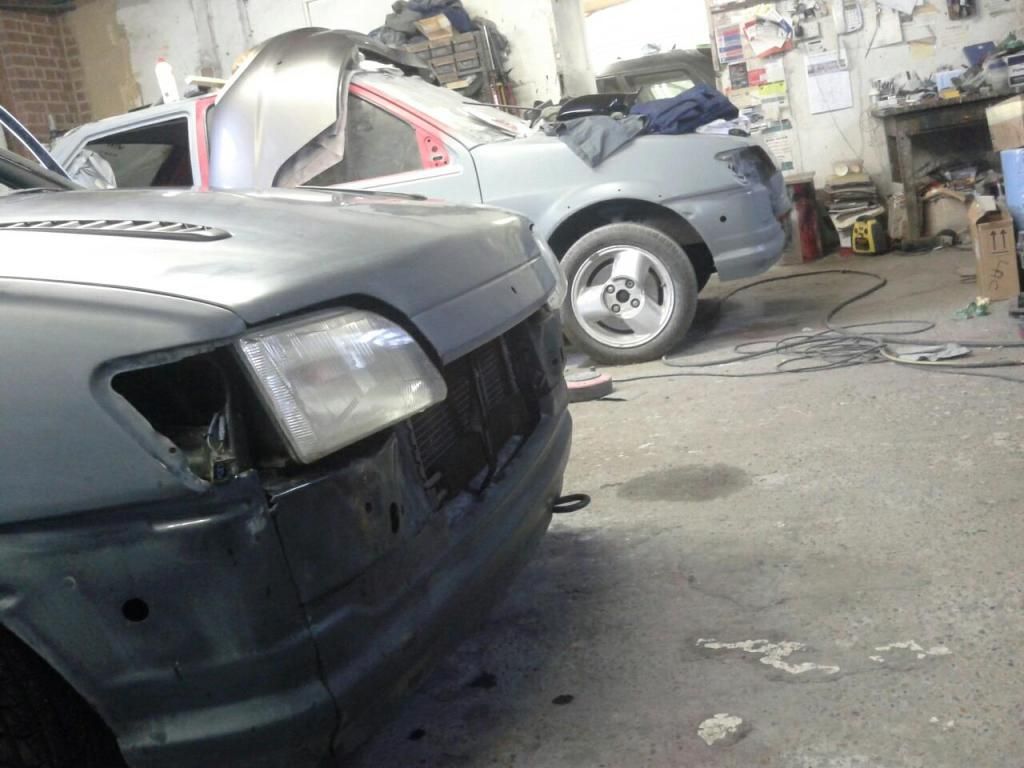 Sitting next to my car was an RS Turbo all prepped too, this car was left by the old owner who never showed up again!! This is an ongoing project now for the garage.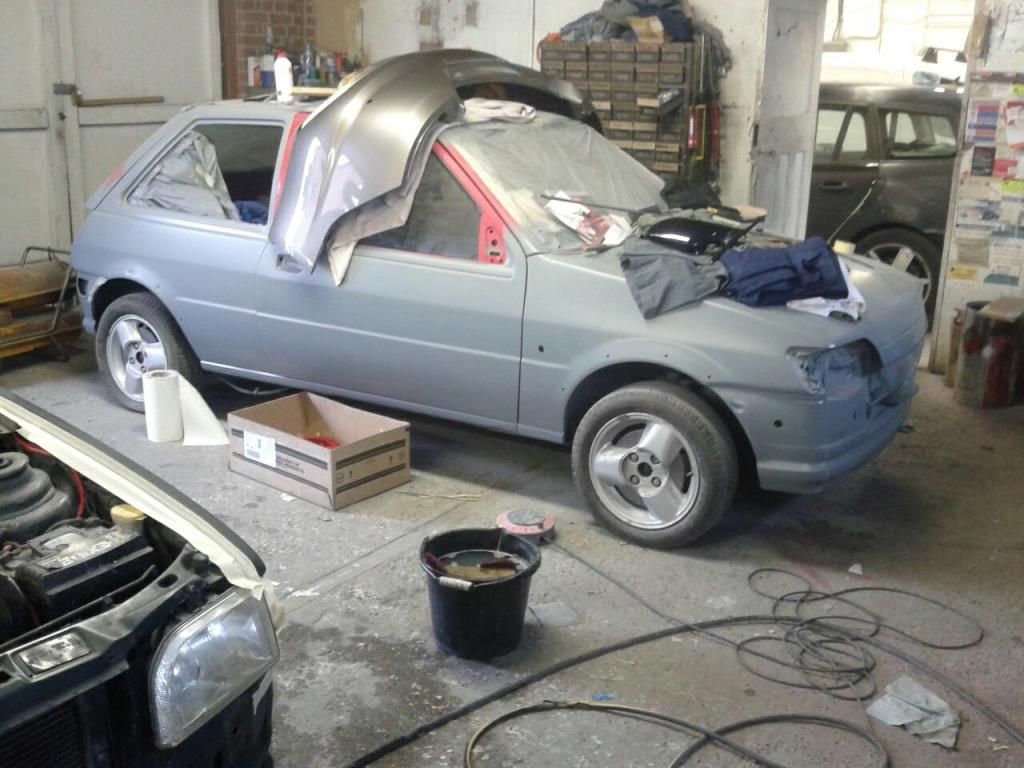 My car with his sculp taken off.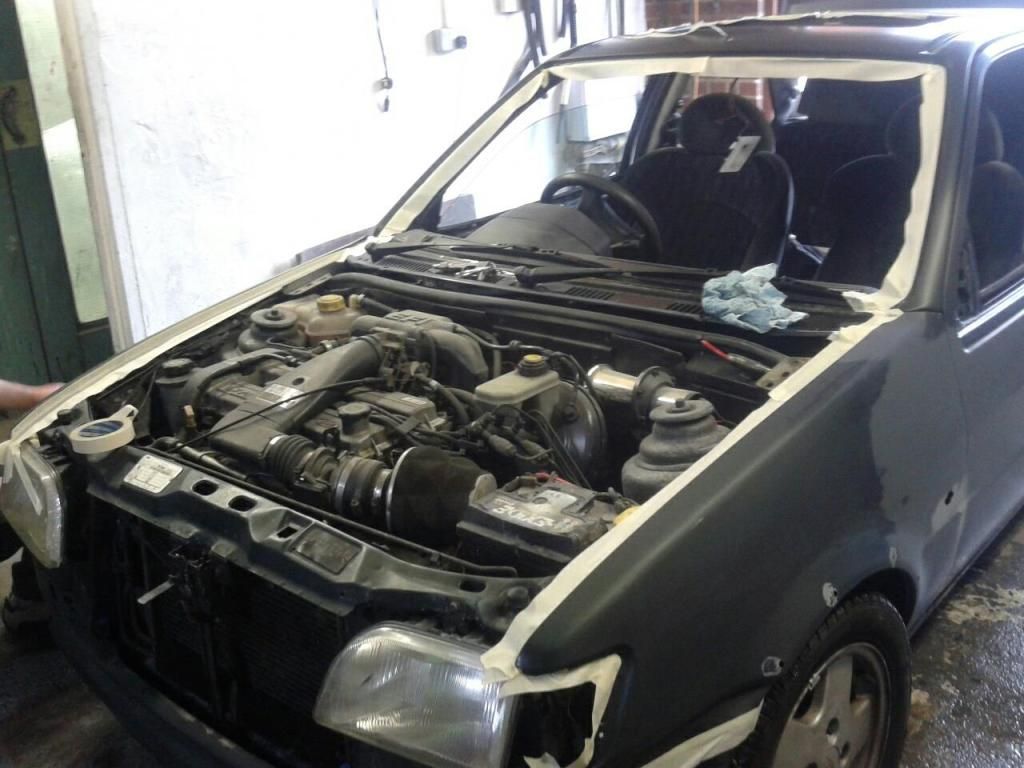 Grant mixes the paint. (Tormallard Green)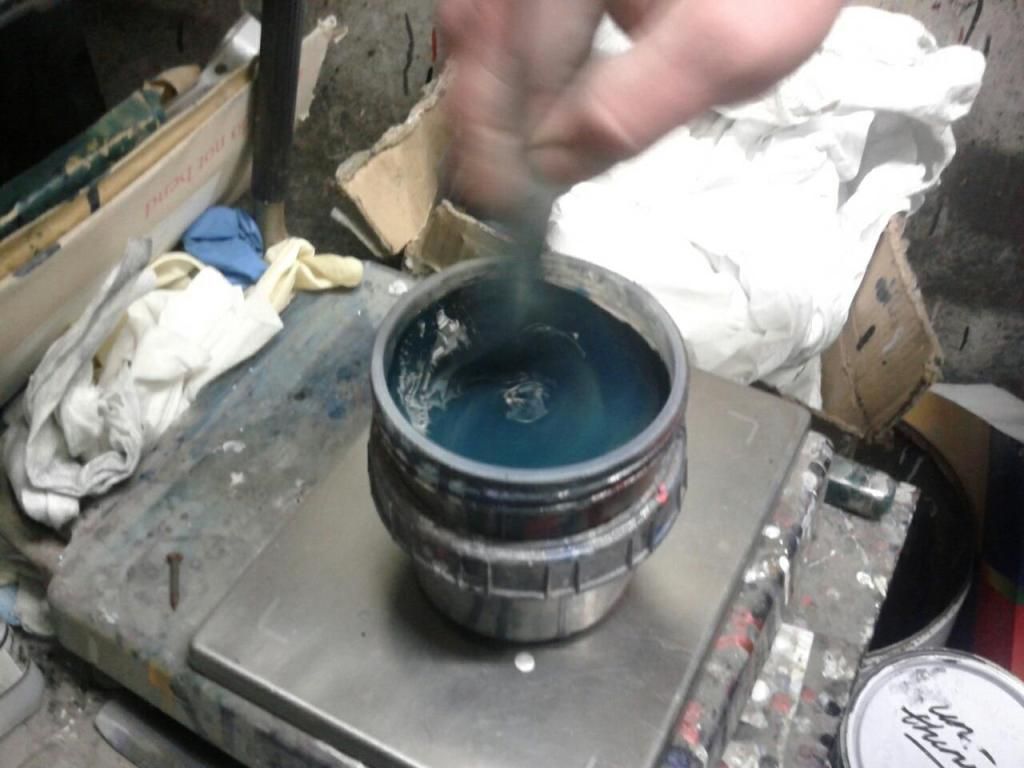 Grant starts off with the Bonnet: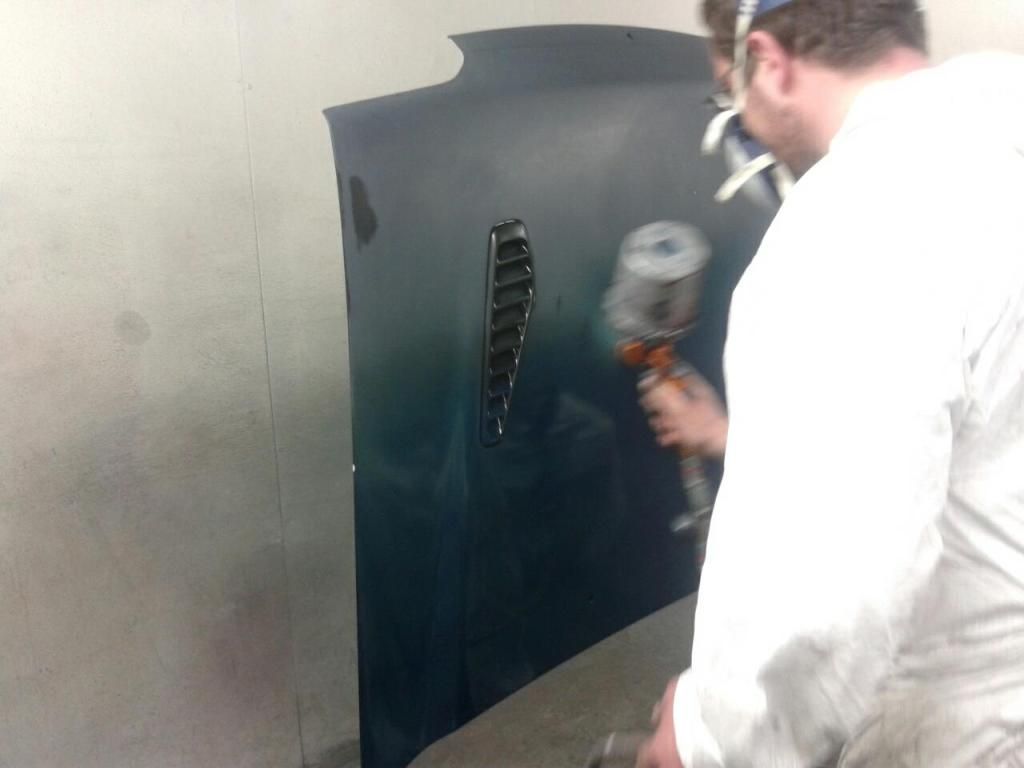 The car after the first coat, i love how the colour changes from blue to green as it dries!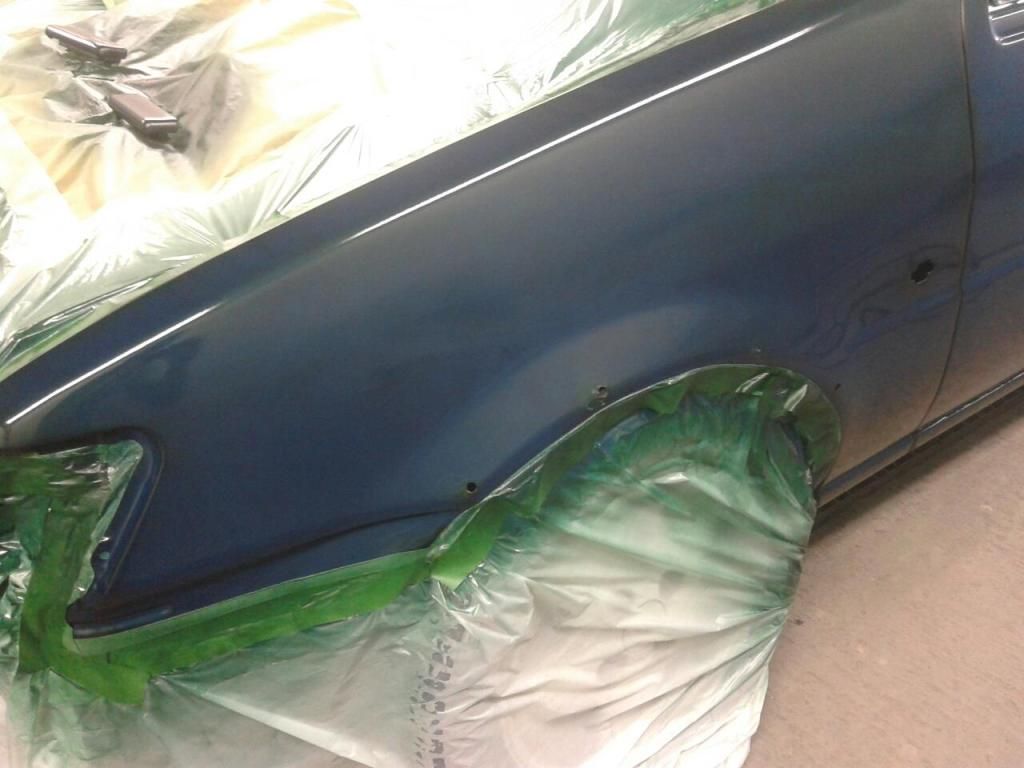 Grant spraying:
Car after we get it back home: (Shame it rained that day
)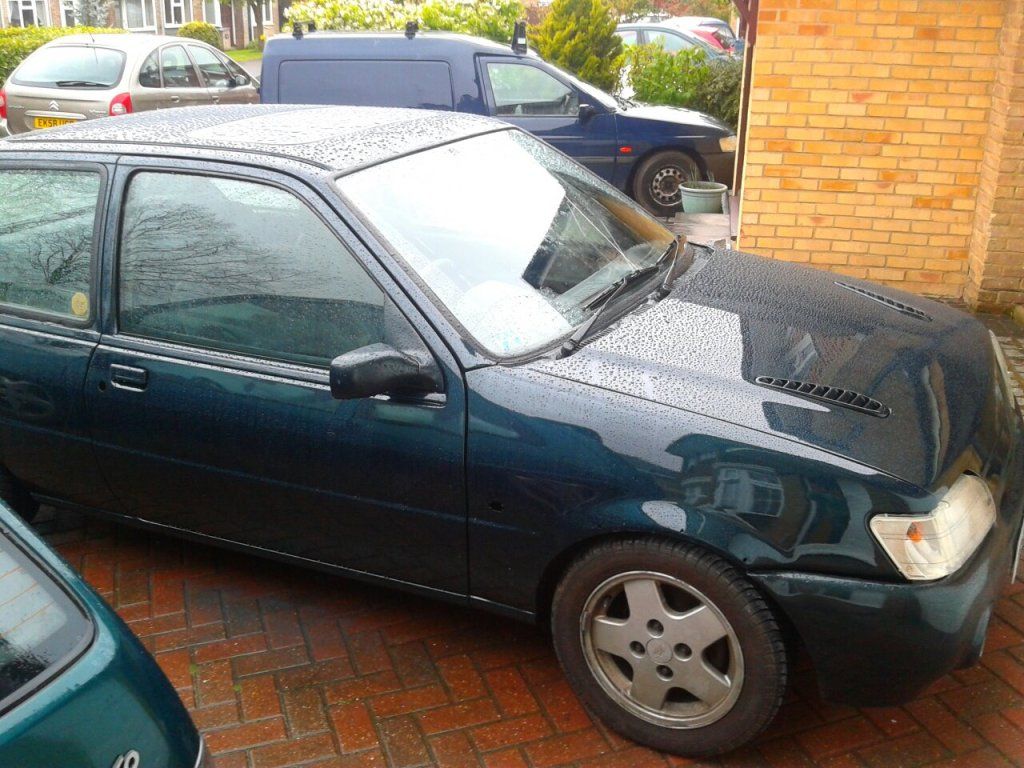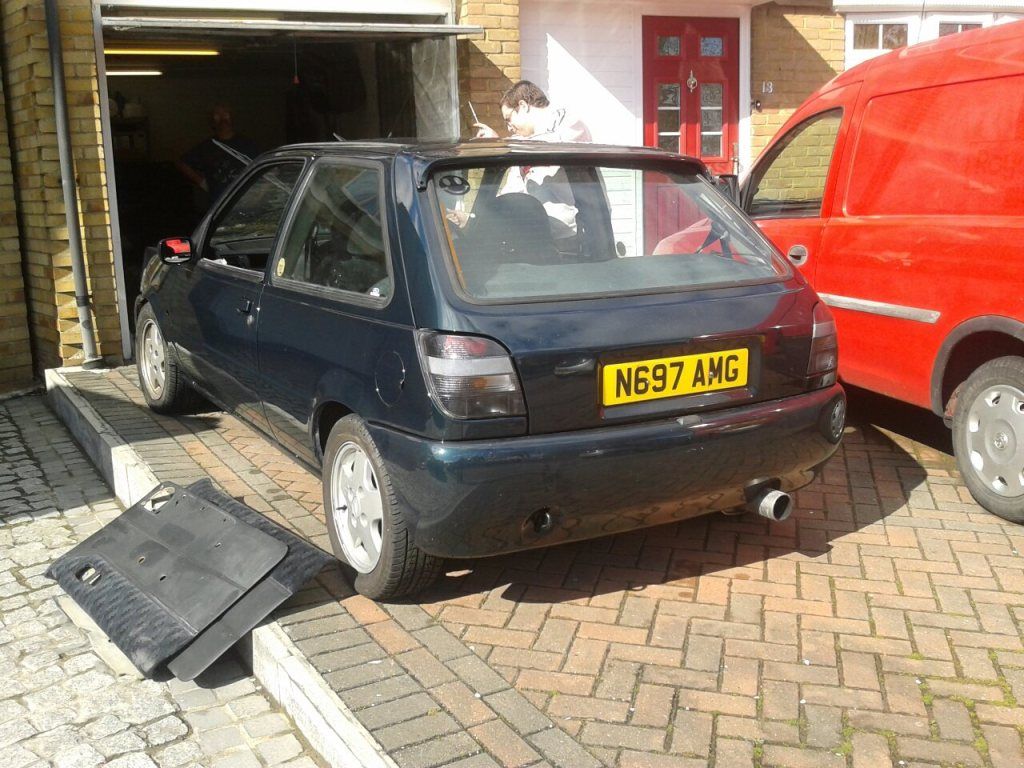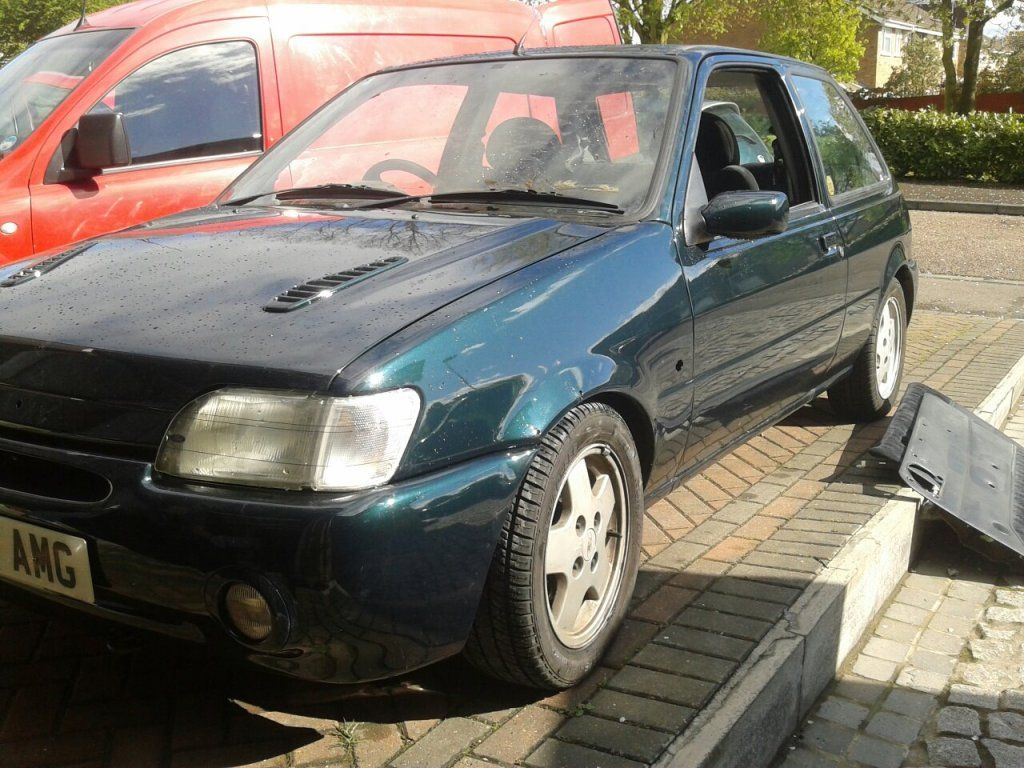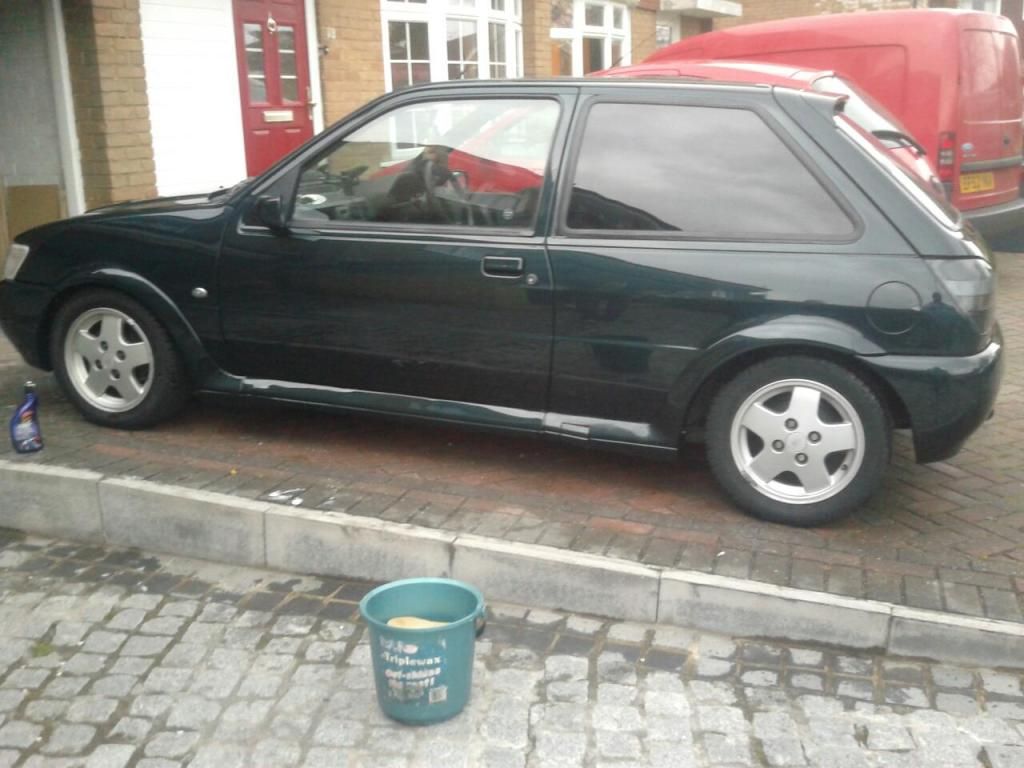 This little critter nicking Grants fags!!!
Finished!!!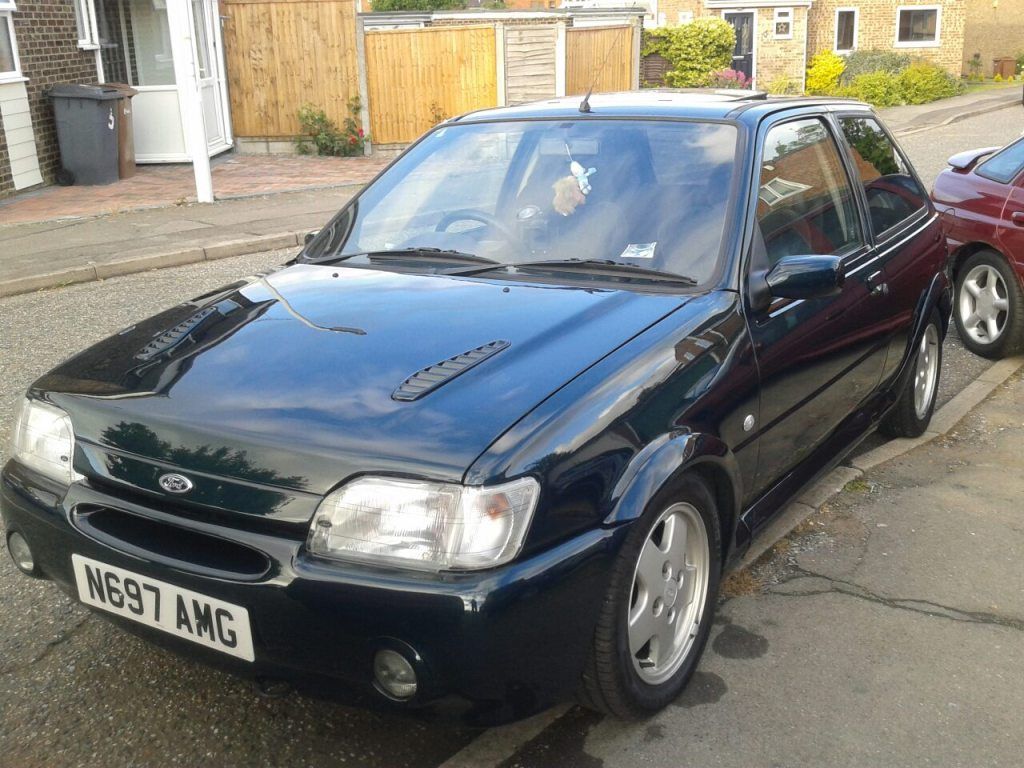 Engine Conversion to the 2.0l Mondeo Silvertop:
First thing - I got the cam cover resprayed red: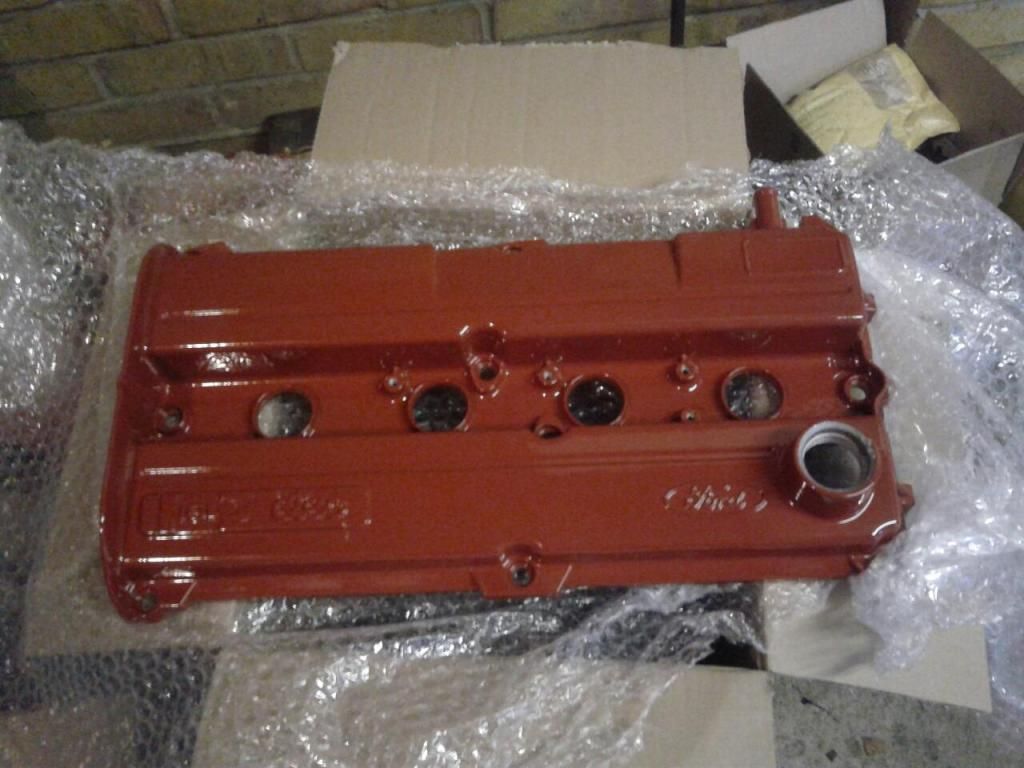 Crane goes into position!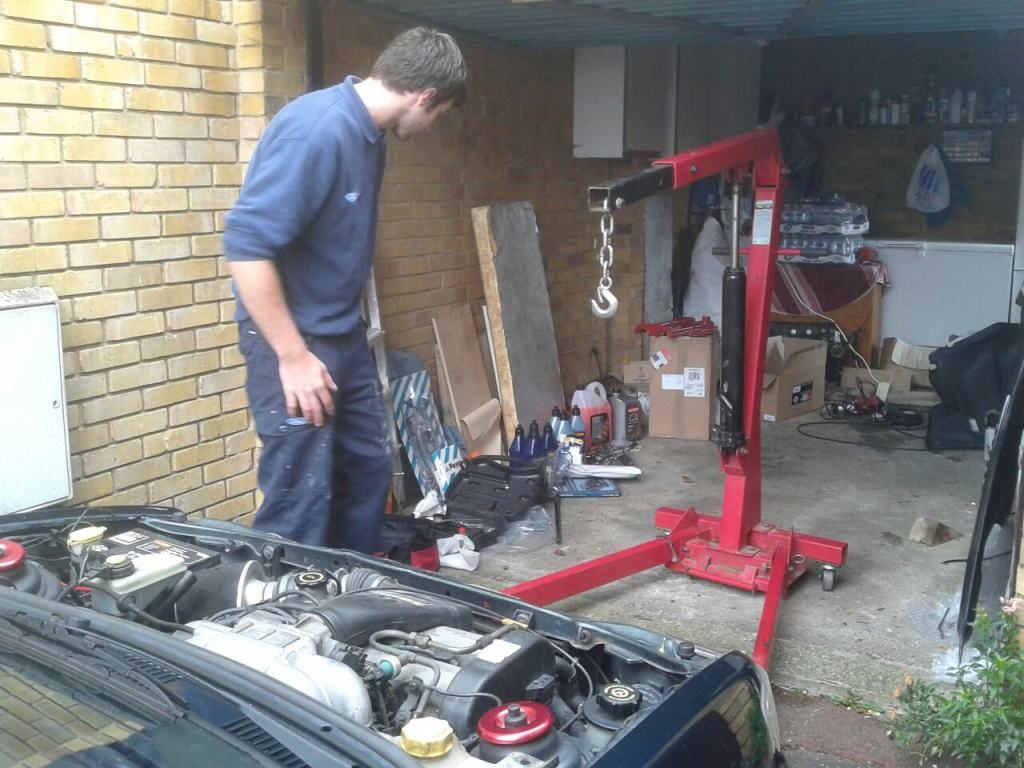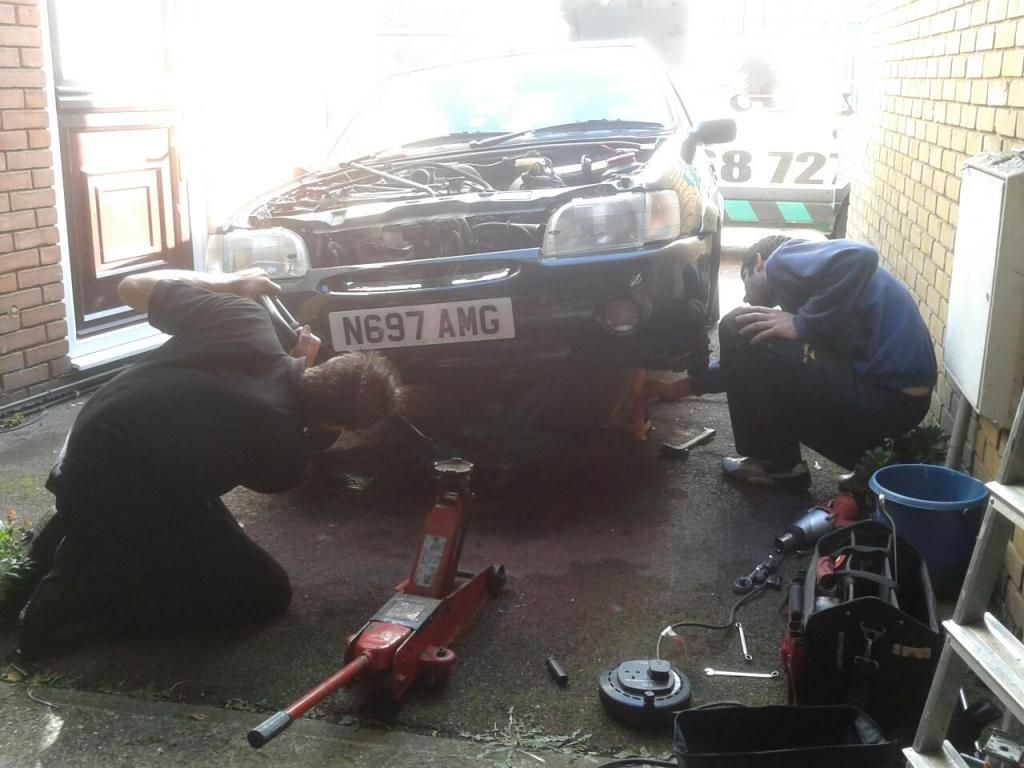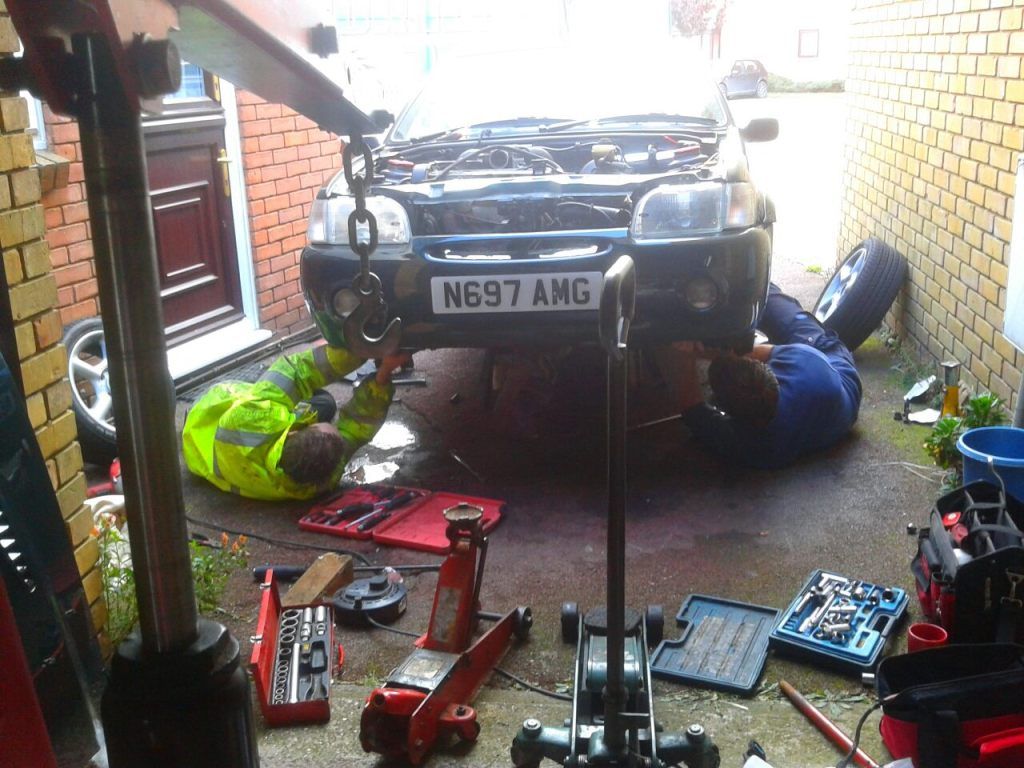 Removing the driveshafts, Exhaust and other bits and pieces: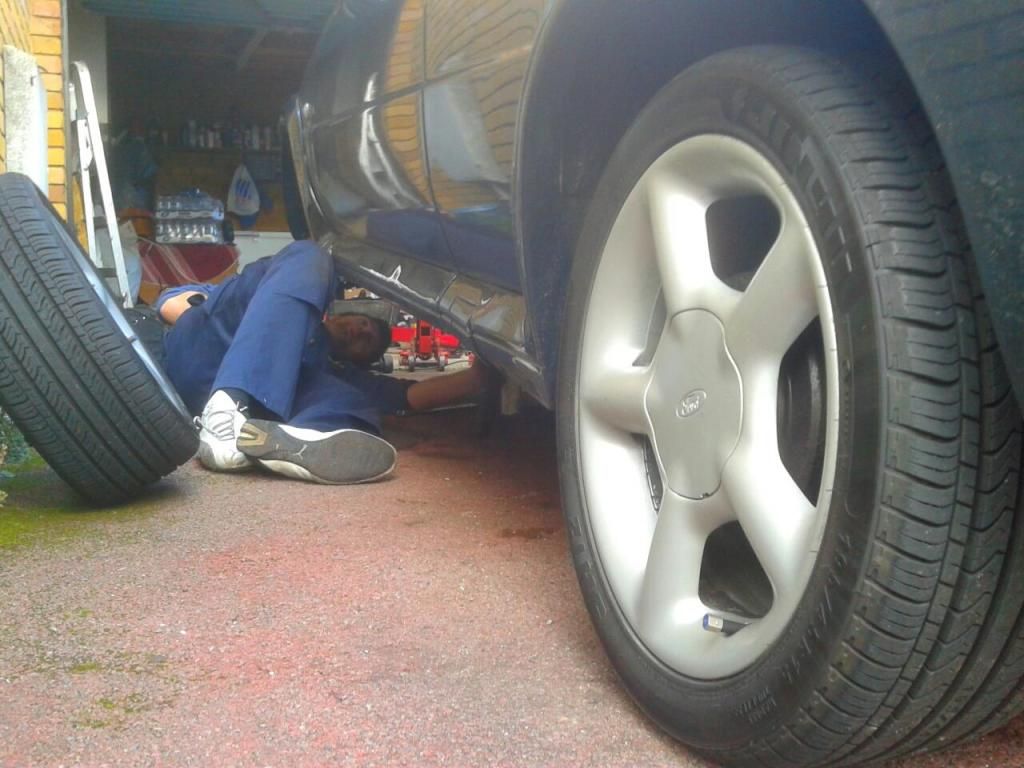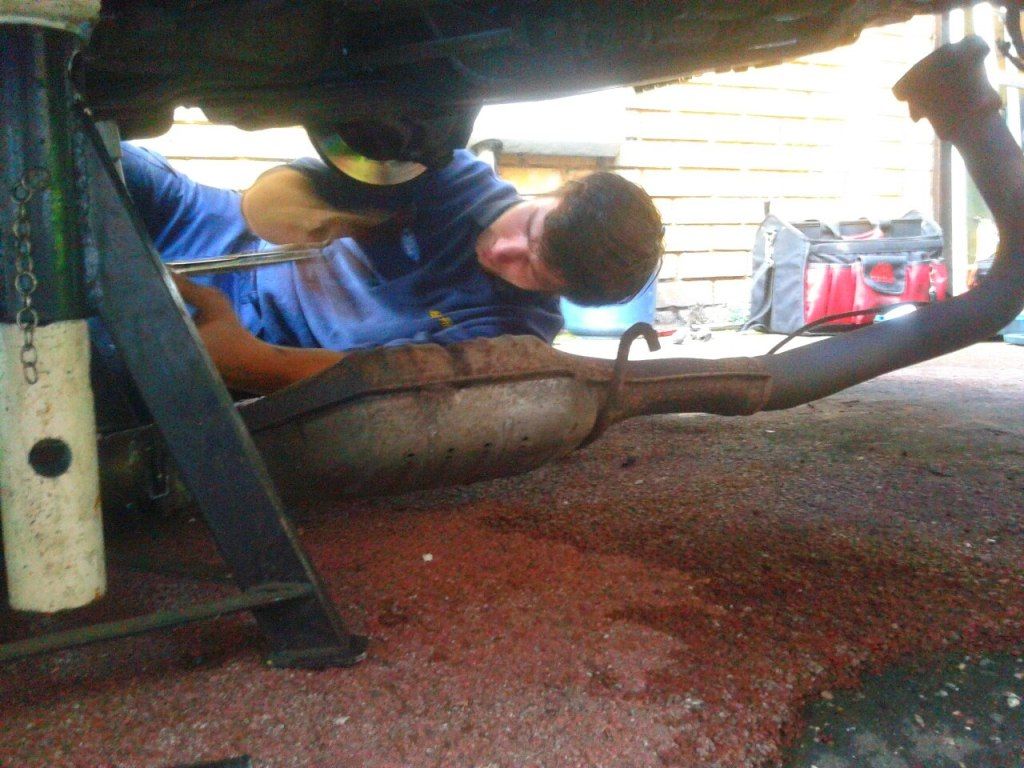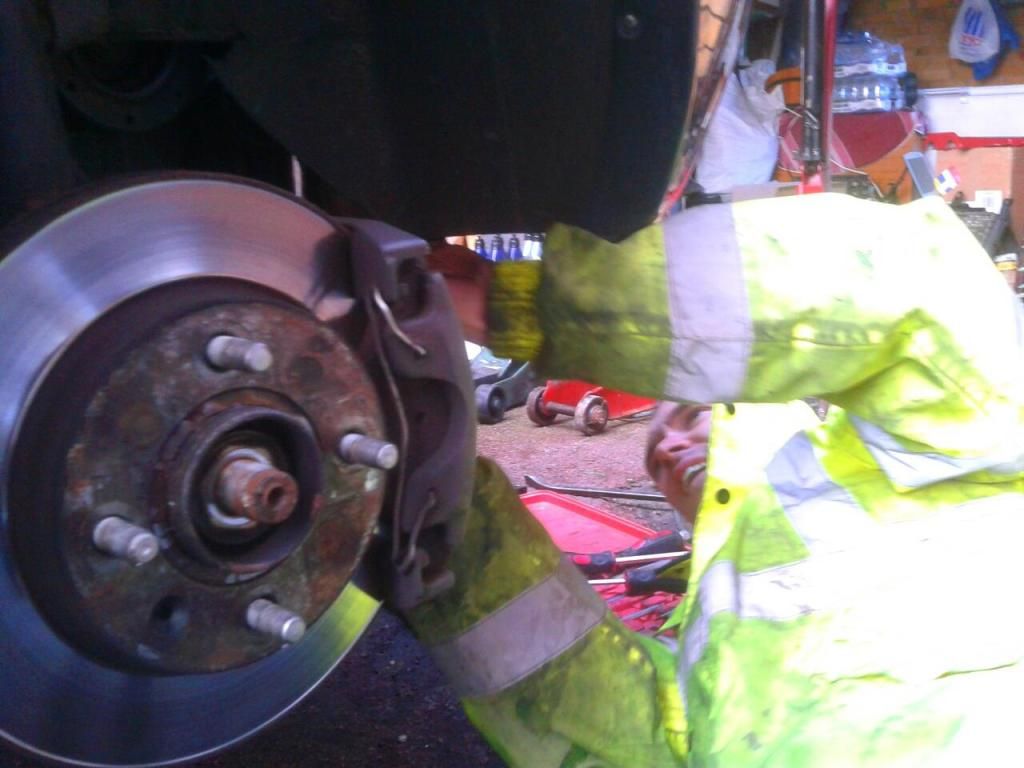 Phil Halls gets caught under the jack:
Birds eye view of the scene from my personal helicopter: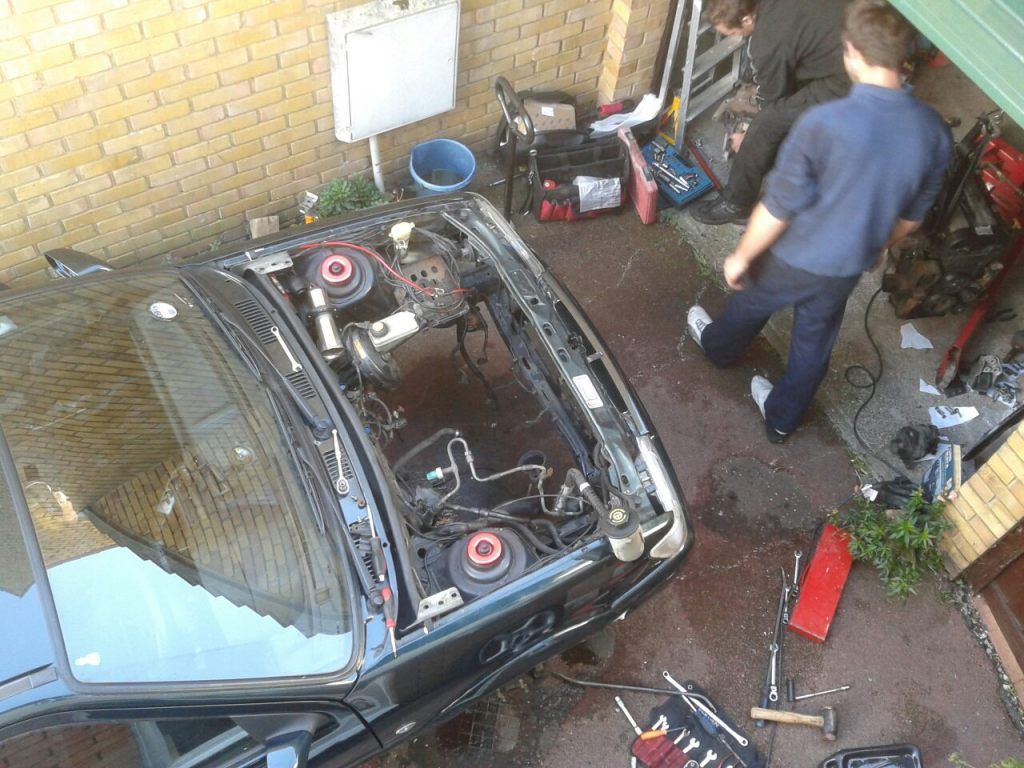 Engine bay looks so empty!!!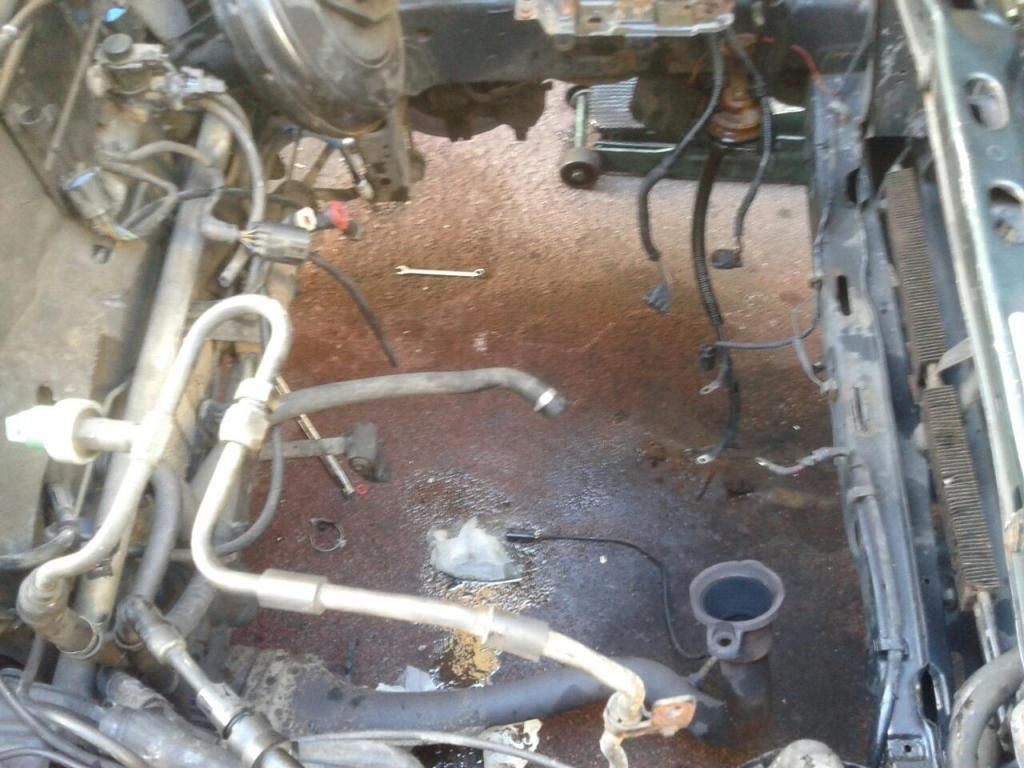 Up and over!
Gearbox swap of the RS1800 over the Si:
Engine fitted: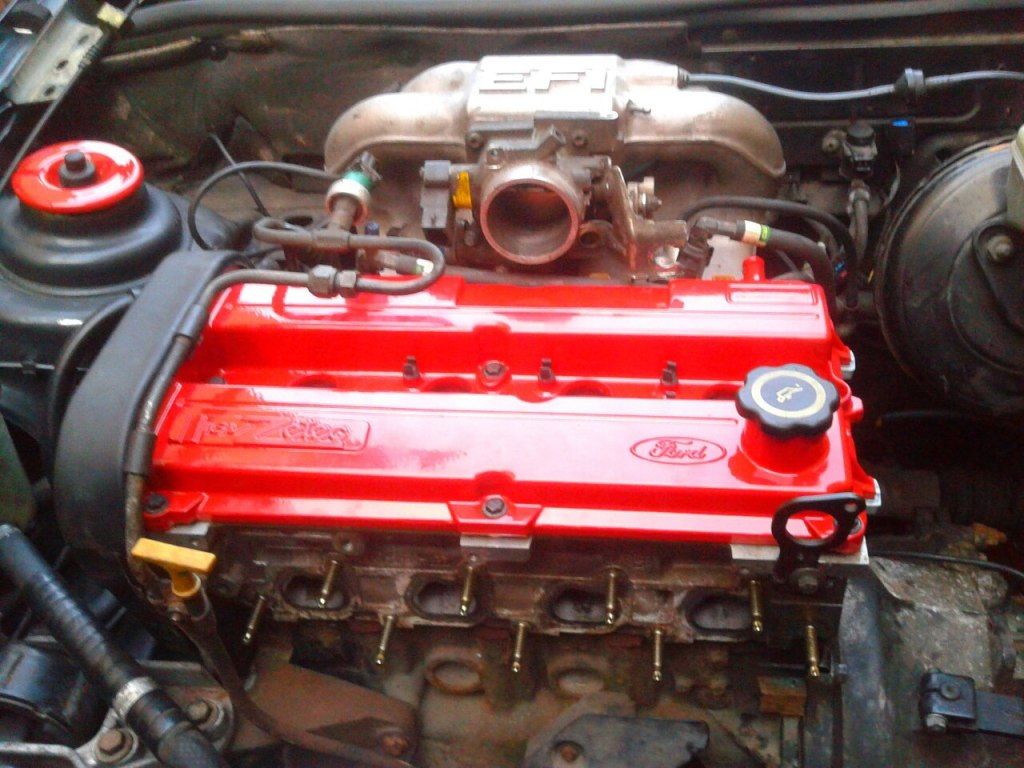 Our brand new induction kit: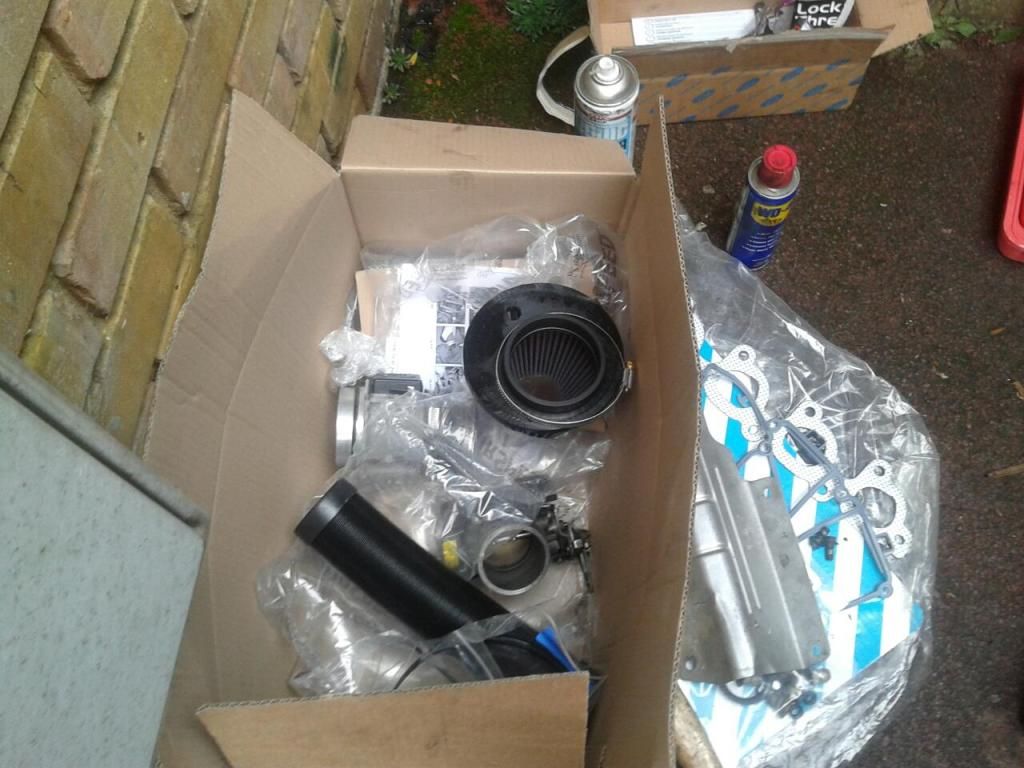 Fitted induction:
Started first time!
After alot of smoke from burning oils from hands touching the engine she ran sweet as a nut!
XR2i/RS1800/RST bumpers:
After looking online i come accross some local cheap bumpers from an XR2i! I thought it would like nice on the car. I know the Si bumpers are original but i have always loved the XR2i bumpers, so old school and now with all the work i dont to sell the Si! So i added them to it... after another Grant Respray of course!!
Bumpers Resprayed:
Original look before bumpers;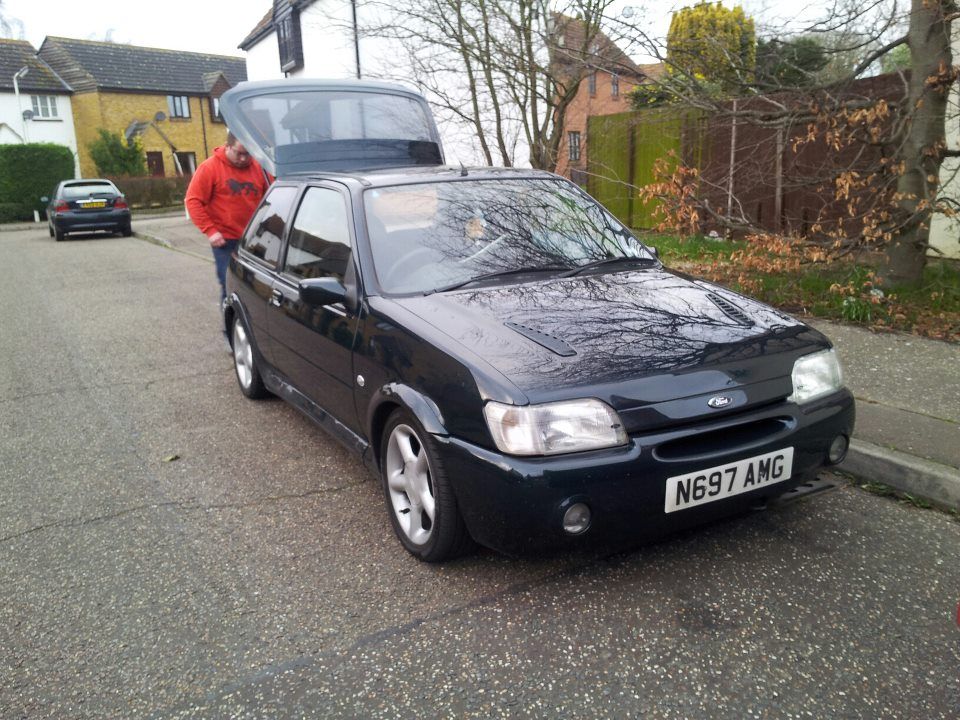 After new bumpers put on: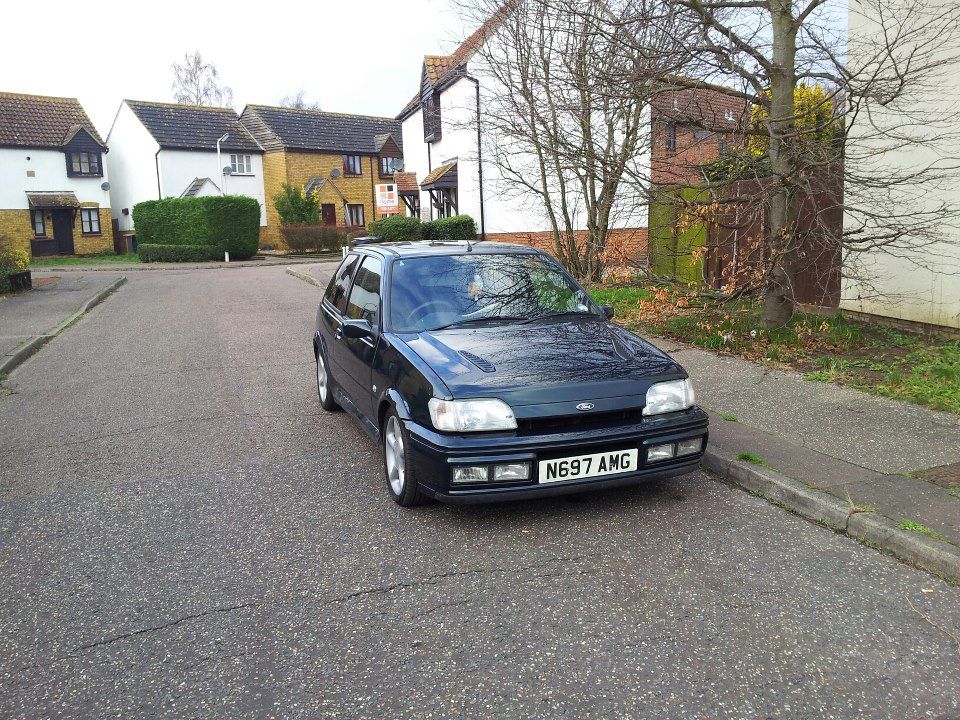 Si in the snow parked at work:
NOW I thought i would go for the RS1800 rep look so i decided to add a decal. I know its NOT an RS 1800 and i know its not worthy of the title! I'm actually in the process of having the Decal company make me a Fiesta Si one instead to put to bed the protests
I just thought i would be nice to have a RS1800 rep for while! The seats obviously are different.
Heres the look with the RS badge (yes i know the RS1800 has a silver embossed logo but i thought i would be different
) It will soon be gone.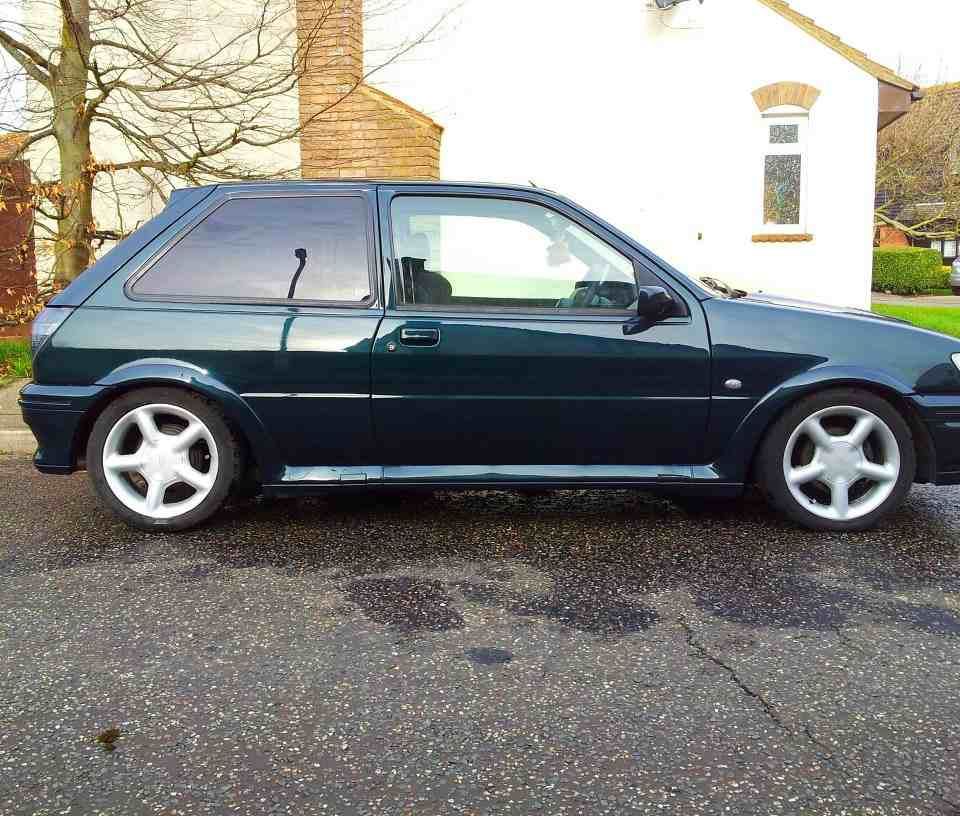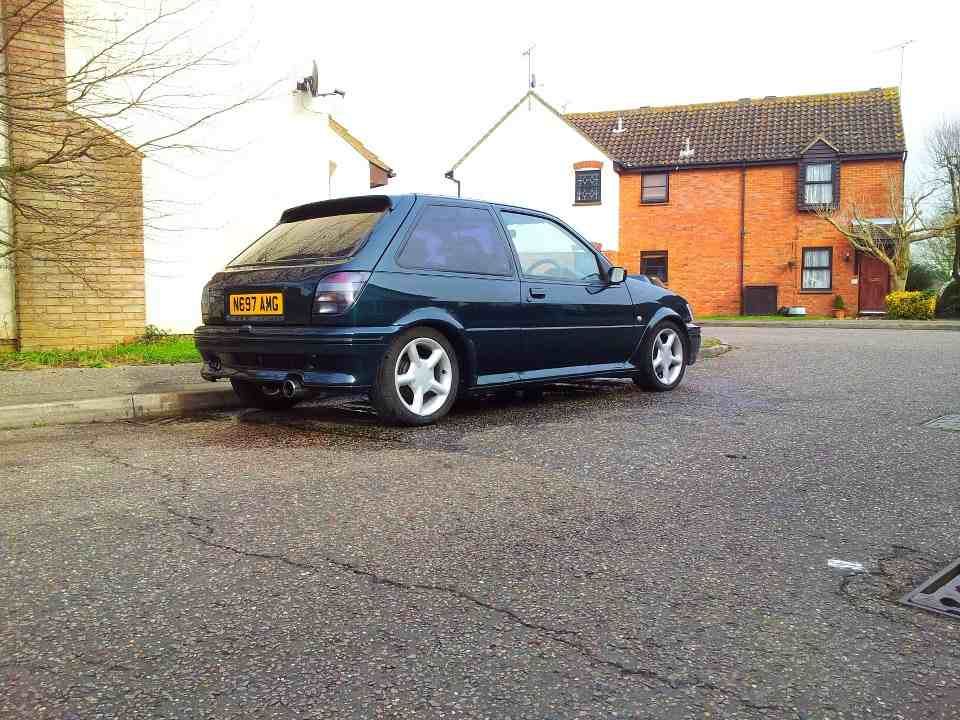 Needs a Grille!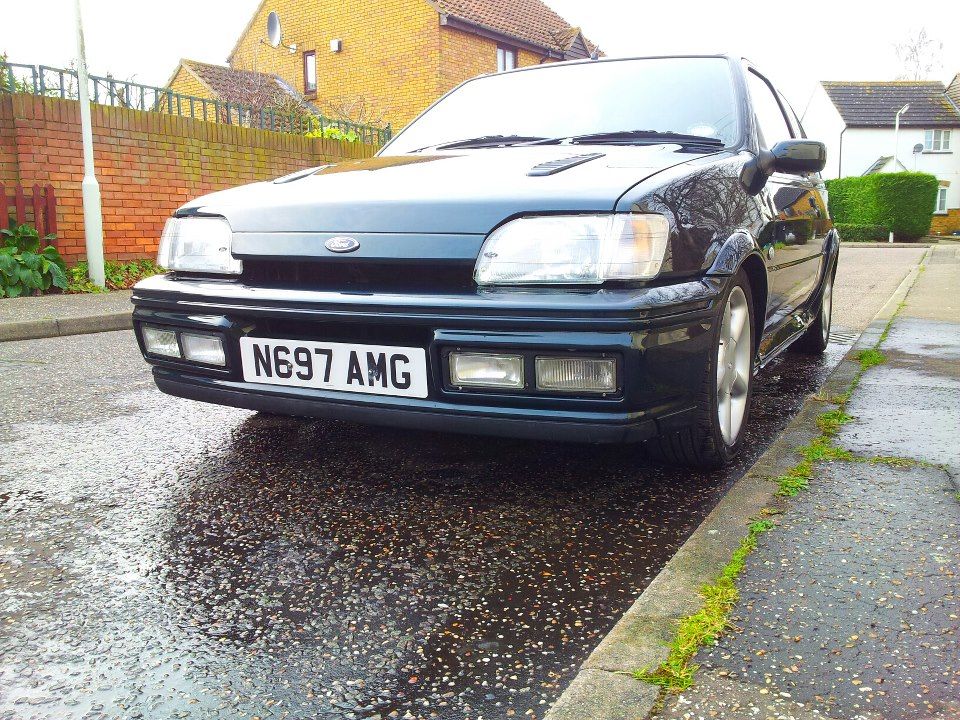 For now thats everything upto date. I'm not doing much more its pretty much done, accept the revised FIESTA SI decal on the back. Now i'm saving for a house with girlfriend so i'm just going to maintain and enjoy it
I love the 2.0l very juicy, love how the car wheelspins on 3rd gear! But now ive mastered it and am carefully driving my pride and joy
I do love the XR2i bumpers i feel they are a much better suited set for the Mk3 Fiesta, but i do appreciate its not an Si. I've kept my Si bumpers and i'm not selling them anytime soon (No Phil you cant have them!!) I will put them back one day but for now i'm going to enjoy the RS look of the car. End of the day is it not the same power as an RS1800 if not more? Well the RS badge i know is only given to the set few cars which meet that critera, to that point I feel its best to remove the sticker as its nothing more then a lie. lol. Thanks for reading. See you all at Ford Fair 2013.
Swampy (my car) will be there to see.
Damzen. 2013.