So where do I start? 11yrs ago I got my first car, was a close call between a nova sr or 1.3lx Fiesta, Fiesta it was. White 3dr L reg, fitted full xr2i kit, 15" white dymags, clear rear lights, wing back interior and chopped the springs. Have a lot of love for that car, we went through a lot.
Moved onto a Mrk3 astra 1.6 sport, much faster and nicer than the fiesta. My friend at the time had a rover 220 turbo and I was hooked. The Astra was sold and a moondust XR2i fitted with rs turbo lump was bought. I made it into a complete replica and the car gave me nothing but grief.
Fitted;
S2 box
165 chip
Pace intercooler
Moongose exhaust
16" mondeo zetec alloys
The day before Fiesta in the park 04 she ripped a rocker out of the head. Then the water pump started to leak and for the life of me I couldn't remove the crank pully. Replaced pump, timing out and…… dink, dink dink. Four bent exhaust valves. The head was removed, rebuilt and re fitted only for the turbo to blow a month later.
Fast forward to 2010, sold my toys and bought a house. Was bored of not having something to tinker with, introducing the XR2i track car. Lreg 1.8 zetec XR2i in caymen. It was stripped and the shopping list began. I missed the power of my old 200sx S14a (304bhp) so a turbo lump was required. Found one on passion ford, 2.1zvh built by area six, arais pistons, cosworth rods, stage 3 head and cvh 35 cam for the bargain price of £800. Rollcage and collies were bought but something stupid happened. Just finished fitting a new sill, took it out and rolled it about ¼ mile away from my house. Parts sold and car crushed.
So currently got a mrk5 fiesta for a daily and a 200sx for my track toy which popped my Nurburg and Donington cherry.
Engine & Transmission
HKS GT-RS turbo with braided lines
HKS stainless intake pipe
HKS manifold
HKS turbo elbow
Nismo 555's
Japspeed super twin downpipe
Apex 3" from the elbow back
Greddy Trust filter
Z32 AFM
Front mount intercooler
Small racing battery
HKS EVC4 boost controller
H-dev 3a Ecu
Suspension
Apex coilovers 3 way
Front strut brace
Poly bushed subframe
Soild diff mounts
Driftworks rose jointed camber arms
Driftworks rose jointed traction arms
Driftworks rose jointed toe arms
Driftworks rose jointed front traction arms
Poly bushed rear LCA's
Poly bushed Front LCA's
Interior
Stripped interior
Sparco wheel and boss
Cobra Evolution bucket seat apex rail
k sport 5 point harnesses
Blitz boost gauge
Blitz oil pressure gauge
Turbo timer
Fitted tom tom 910 into the heater vent, linked to the cd player with handsfree and 12gb hard drive
Exterior
Full resprayed in grey
Genuine Navan skirts
Genuine Navan rear bumper
Navan spats
Srb front splitter
Modded front bumper (removed and flushed washer jets, removed the cross from the opening and flushed)
Arial removed and flushed
Bonnet badge removed and flushed
Clear front and side indicators
Wheels & Brakes
K sport 8 pots with 356mm discs front
K sport 6 pots with 356mm discs rear
Ds2500 pads all around
18 x 10 Work Equip et 10 front
18 x 11 Work Equip et 35 rear
Skyline rear drum setup for handbrake
Currently sat in my garage awaiting some better weather to fit my new bits.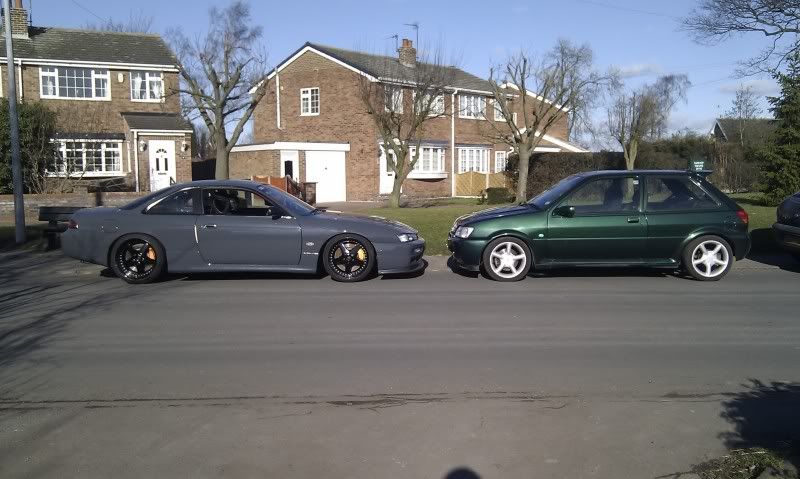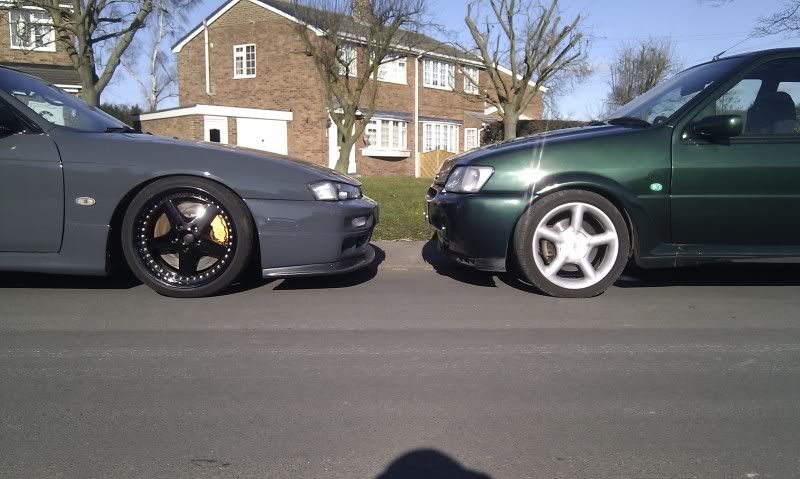 So the reason I'm on this site, my 4th Mrk3 and first si. Was brousing eBay and spotted the car, put in a low offer and awaited the owner to come back with a counter offer. One hour later and he accepted my offer of £500, down to Nottingham I went to collect the si
1994 Mreg 3dr si
2.0 silvertop zetec
2.0 maff
Deep ecu
HO inlet
Pipercross induction
Scorpion exhaust
S2 gearbox
The owner wasn't completely honest with listing the problems but overall I'm happy with my £500.
Issuse,
Oil leak - she likes to mark her territory
Hot starting issues
Paint - what the hell is it
No PAS.