its happened
ive been looking for one of these for almost a year, the higher premiums and the fact they're shooting in price has kept me from finding one
after i announced to the old man im planning on buying a small project Si he decides to tell me hes secretly been looking and even bidding on mk3 capri's
even while his 7 year project/show car mk1 capri is as we speak being stripped of its old paint and awaiting a new coat of green, and a repaired bulk head
greedy?
well 3 days ago he told me hes just won a 1986 laser and after planning to go get it from Preston, Lancashire, bit of a drive
we set off today with his mate in his escort GTi estate thanks to its towbar (who has the red cossie lookalike P100)
489 mile journey
we left at 6am, got home at just gone 4pm
using an A frame to tow the car is a breeze, you can safely tow a car alone and it will steer for you
anyway we got there, seen the guys new capri that replaced the one were buying, was a bit naughties styled even had a 3 door whale fin on the boot, thankfully the laser were were buying was far less "interesting" ill say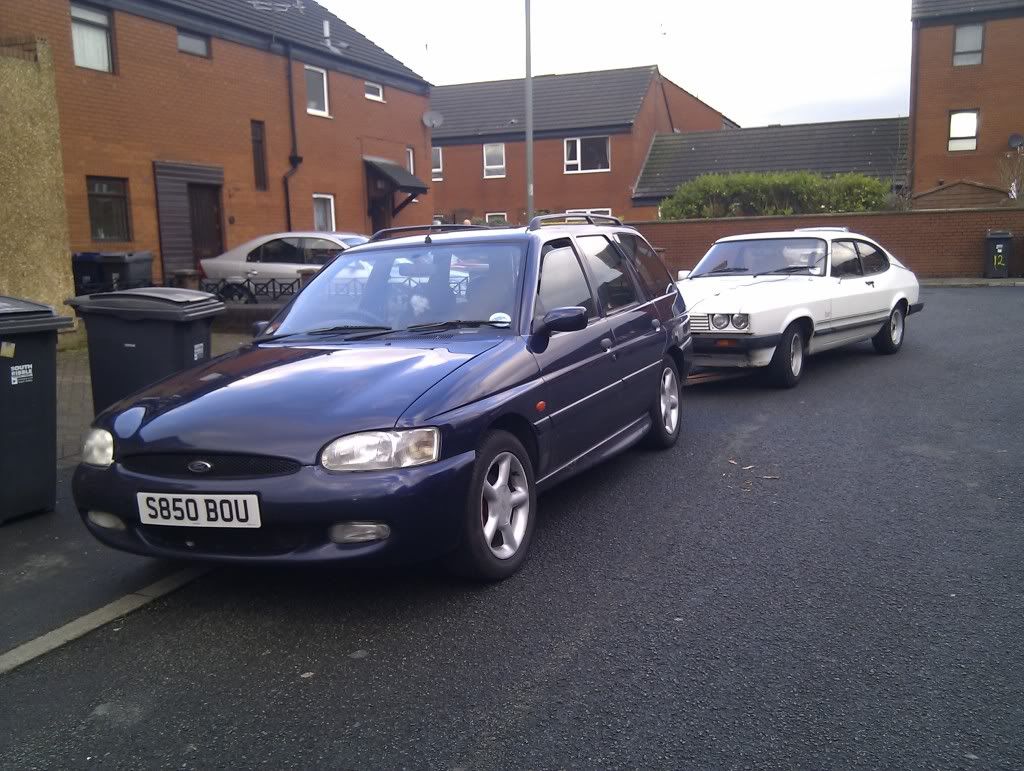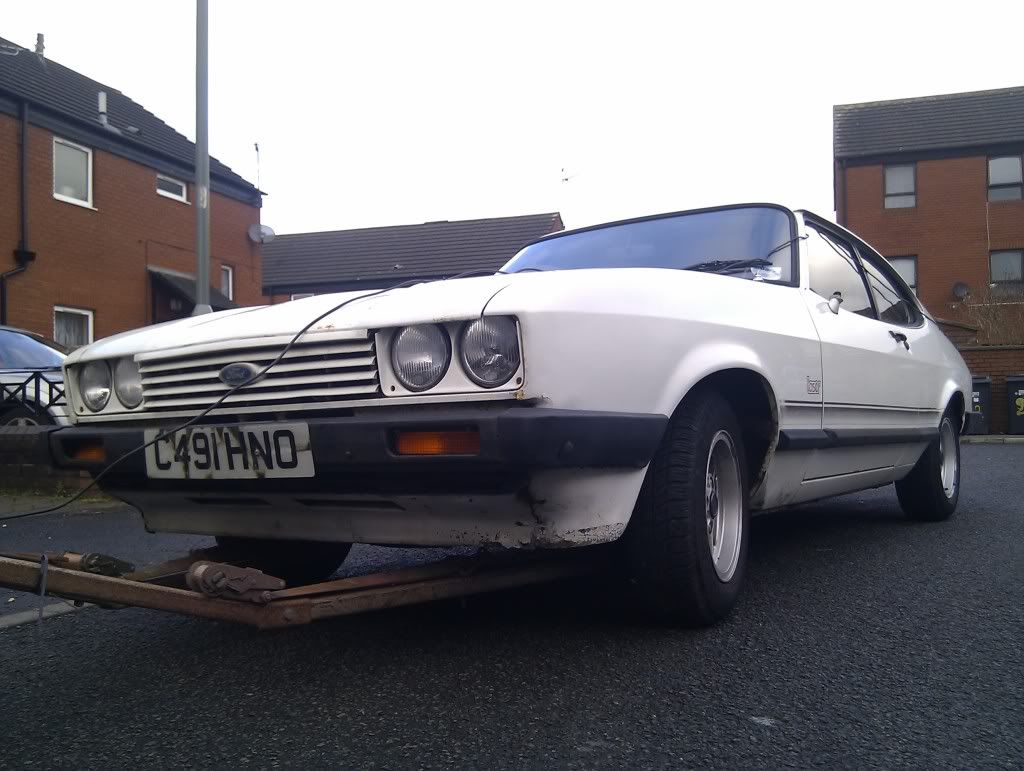 A frame connected up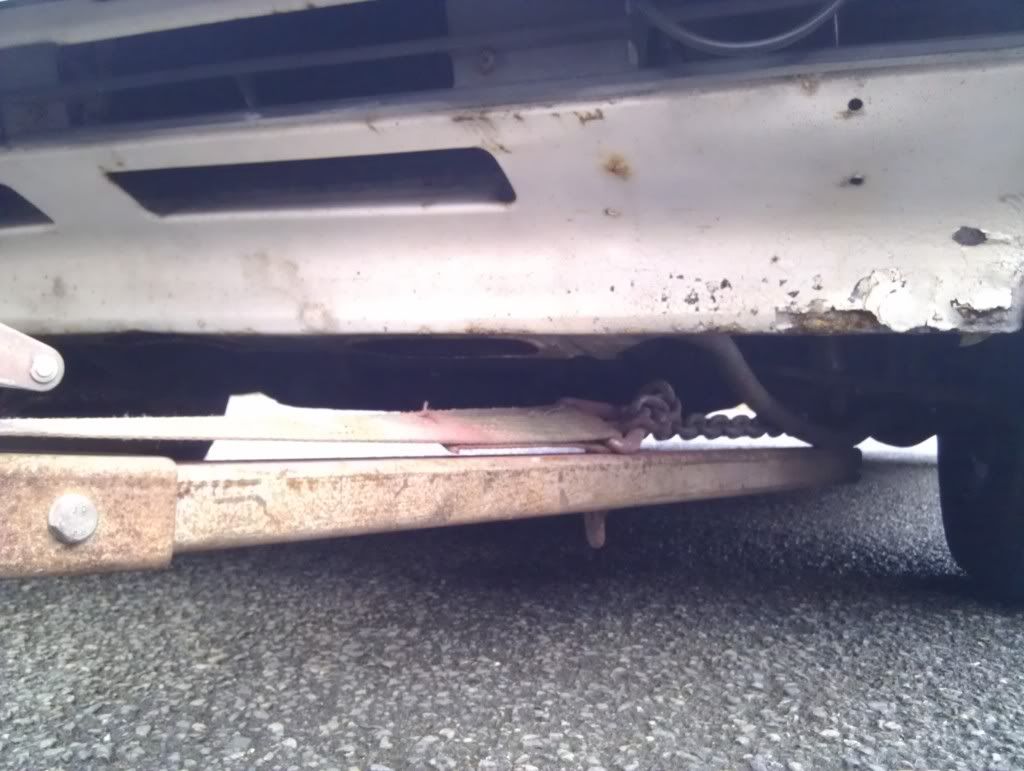 C reg '85 2.0 automatic laser, completely standard with an alarm/immobiliser of some make
tax till end of march, mot end by then too, cant remember when exactly
known issues before winning the auction:
tatty body work, bubbles and a ding in the wing, paint a bit flat
low compression in one or more cylinders and stalls after 15mins of idling, believed to be head gasket
upon inspection we found:
tear in drivers seat
slightly past it parcel shelf
i found a possible bulge in 1 tyre?
remote for alarm battery had died so couldnt start the car, and the box had to be disconnected as the guy couldnt shut the alarm up due to the dead remote
battery then died after us trying

apart from these which i will be rectifing myself as the old man is occupied with his mk1, bit stupid buying this atm considering then
anyway considering ive been dieing to get my hands on a mk3 for all this time im more than happy to do the work, diamond white is quite easy to blend in when spraying too using a rotary so im going to tackle the rust myself with confedance after what i learned from doing the Si
in the case the engine is kaput, we have 3 paths
A if unserviceable, replace the pinto with another 2.0
B replace the pinto and auto box with a I4 8v our friend has lieing around mated to a type 9 gearbox
C replace the pinto and auto box with a 2.0 Zetec mated to a type 9 gearbox (obviously along with the pedal box, funded by selling the rare auto box)
this was going to be a buy cheap fix up sell on job, but ive convinced him to use it, im hoping after myself doing the work i can get a deal out of him when im ready to own it myself
sorry for the long post
battery is on charge, will get a battery for the remote tomorrow, and ill begin trouble shooting, starting with a compression test, but signs of water spillage from the expansion tank do suggest a blown gasket
so expect some good updates regarding this
comments and critisim welcome
Last edited by Petrol on Thu Feb 16, 2012 9:39 pm, edited 2 times in total.