Damzen's Project Update - December 2011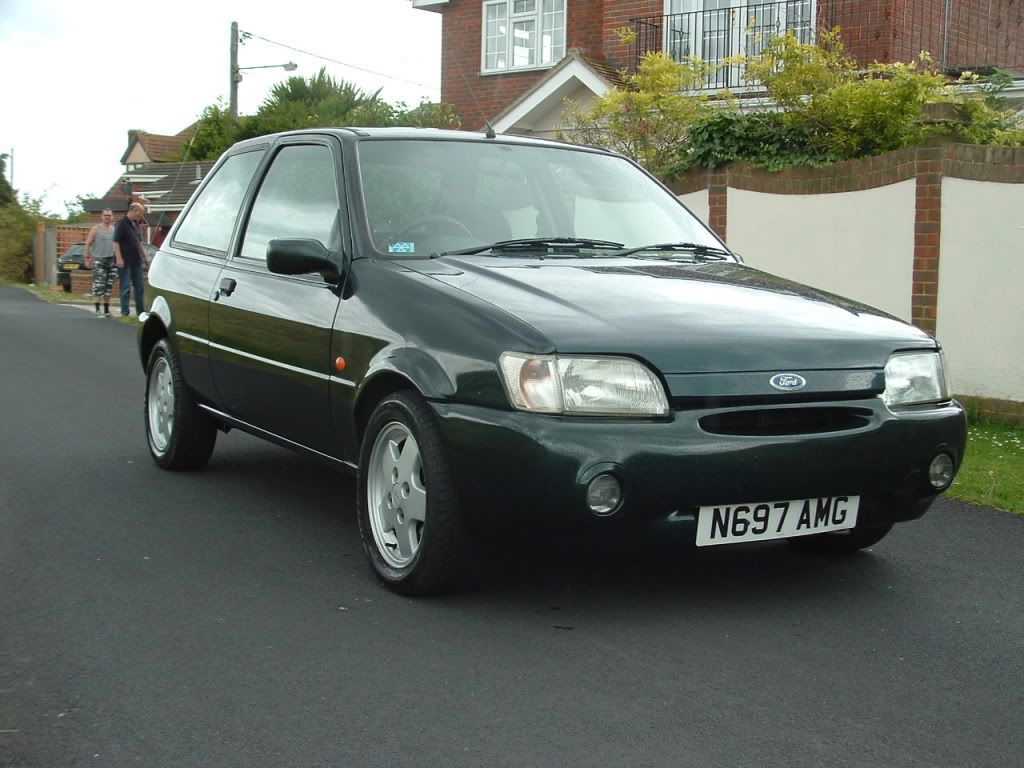 First Happy Christmas to all!
Hope you and your families had a fantastic time. Second! ...
I'm finally back on here after loads of badgering from Phil & Sam. I finally got around to updating my project. Theres still long way to go but what have I done in the past 4 months?
> XR2i Skirting now on car. (Black & Uncolour coded atm)
> Escort RS Bonnet plonked on.
>Ford HEADLIGHT protectors which my uncle was going to THROW AWAY!!! I was like "HELLL NO ILL HAVE THEM THANK YOU PLEASE!!!" Salvaged!
>New sound system (1 sub, 2 rears, 2 fronts) + new JVC CD player from my amazing girlfriend! Thanks Kim!
>Lowered 35mm (Maybe 40 mm - Phil to confirm?) thank you Sam for your help with that.
>1930's vintage horn (oooHHHOOOOOAAArrrrrghhh) to be wired in as separate horn for fun only hehe.
>Yellow front window sticker - (Ford) Fiesta Si Racing (Ford) - Few of you watched as Sam put it on my car with a debit card! lol.
>White Dials
>Chrome door strips with Fiesta engraved on.
>New front wipers. Courtesy of Phil!
>Ford Battery Cover (Thanks Sam!)
>Induction kit
>New Offside Foglight replaced
>Blue interior boot lights, (Phils 5 second mod!)
>New Water pump.
>New clutch (being fitted in next week or so)
>Smoked indicator repeaters
Whats left to do?
>Full respray (April), Including -
colour coded door handles
, smoothing of rear boot lock
>Fixing a nice little bump on my drivers door which my lovely girlfriend Kim went into while reversing her KA. Love her really.
>New wheels? 14" GTi's?
>Footwell LEDs. (January)
>Rear smoked lights. (February?)
>Tinted windows (January)
>New brakes (Any recommendations guys & girls?)
Photos: (FiestaSiPhil's XR2i rep is next to it in white)
----------
Front: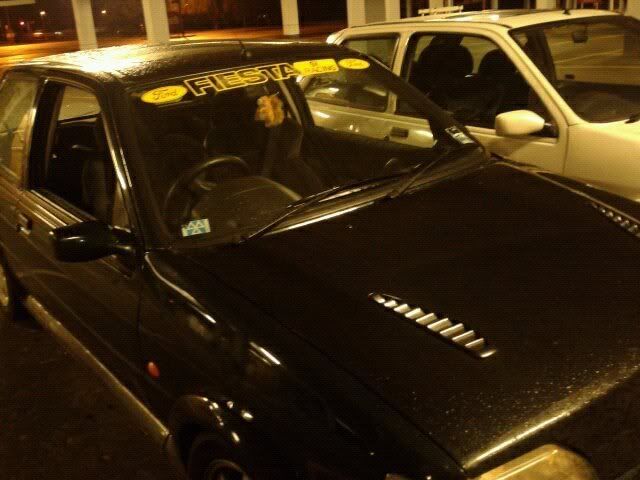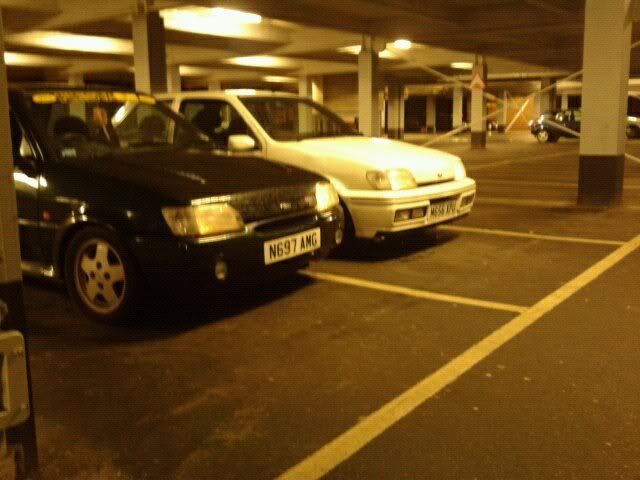 Side: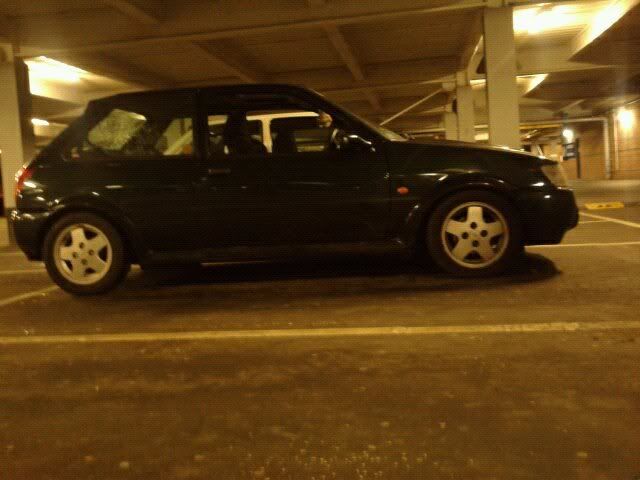 Alex takes apart the engine to get new water pump on. Prooved difficult! Sam came to the rescue with some tools to save the night! 5pm-12 mid night! Mission! My dad comes to help, (he misses his Orion and Sapphire!)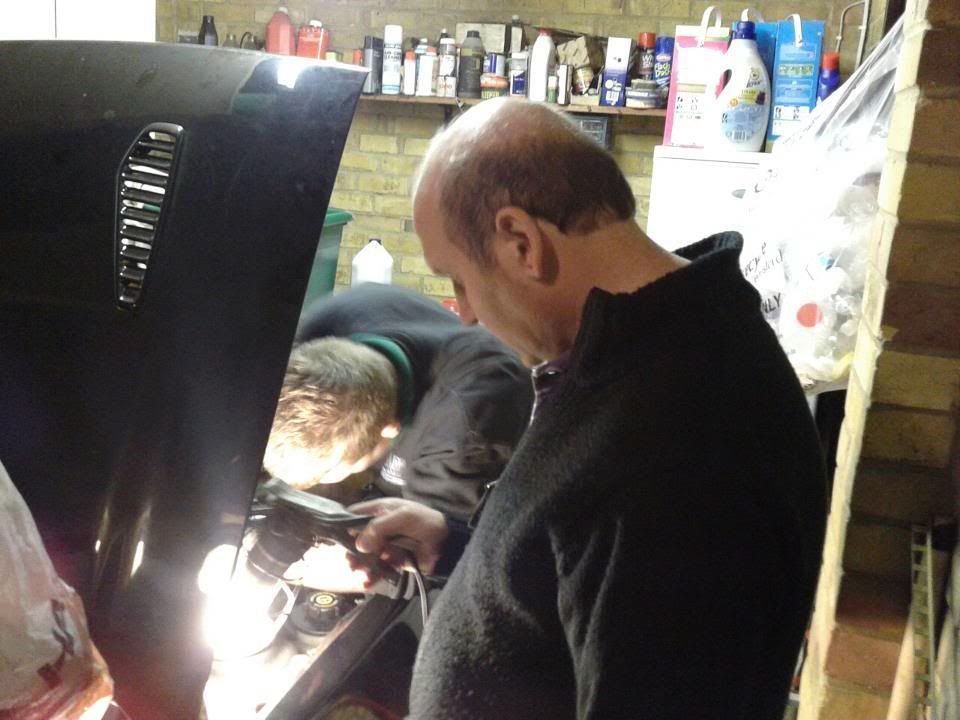 I'll try update more regularly once i get more done. Once the respray is done and the clutch is sorting I'll be much happier with the car
-Damzen.