First of all I'll tell you about my old car. Never had a name, dunno why but he had character for sure. The most dependable car you could want.
Yes he was 5 or 6 different colours, was a 1.3 but such a good car. I bought my daughter home from the hospital in him when she was born, passed my test in him (which bought some funny looks from the examiner) and he ran on air. 70mpg on mixed roads and could go from Derby to Skeg Vegas and back on 15 quid. Dependable as heck, the day after my daughter was born I drove up to Chesterfield to pick up my girlfriends mum, from junction 25 of the M1 to J30 basically. The alternator failed but it kept on going all the way up there and I still have no idea how that was possible. Unfortunately he got rear-ended by a drunk driver and that took it's toll on him and six months later he had to the great road in the sky. Still miss him.
However, seeing as I love MK3 fiestas I got another one, an SI. When I bought him he had lex-arse lights, M3 mirrors (why have these when you need to wind down the window to adjust them!? And they shake like mad above 15mph so you can't see anything!) and had generally been mistreated by a couple of chav owners.
I used my old car as a donor because this one had no electric pack, the very basics. So that was the first thing done, including swapping over the PATS box. Next I set about swapping the suspension out for new parts, new front and rear shocks and springs, wishbones and a few other bits.
After 6 months of owning him it was MOT time. And boy did he fail. Emissions, brake lines, rust, brakes. There was a lot of work for me for two weeks before the retest was due. So new brake lines put in, everything cleaned up engine wise for the emissions, new brake discs and pads, rust cleaned up, new Cat. The MOT tester was a bastard and after making me wait like what felt forever outside he pretended it was a dangerous car.
Then one snowy day driving somewhere, can't remember where, I drove over this very familiar trench: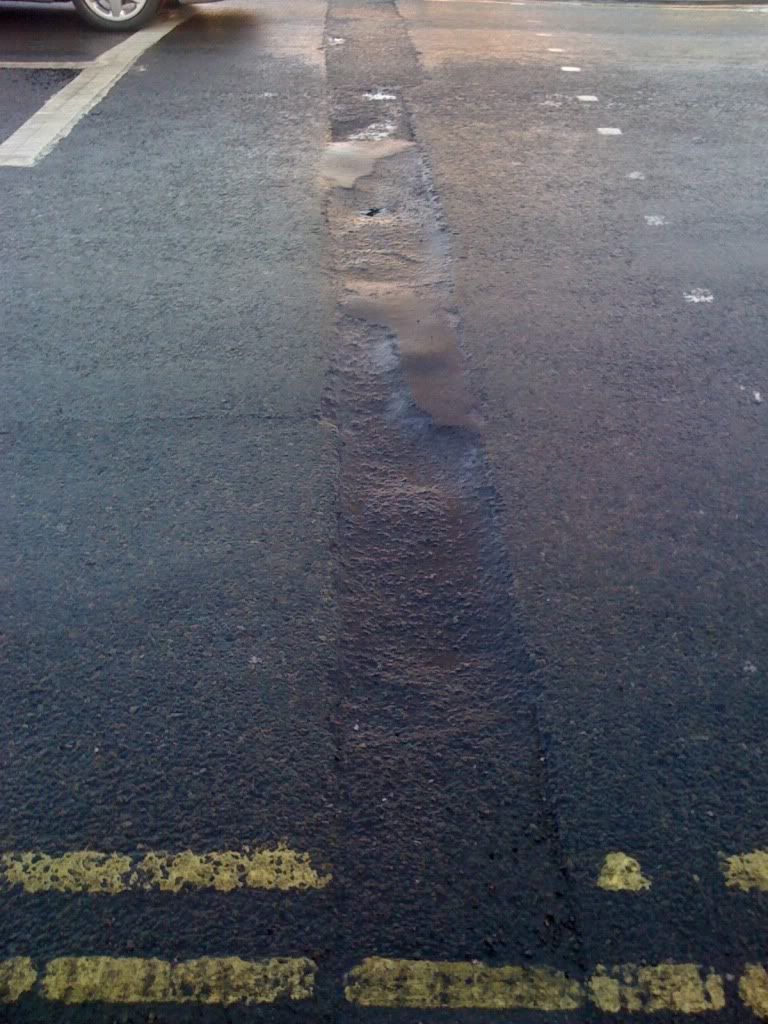 Which got filled in the next working day (literally in the very early hours of that day too):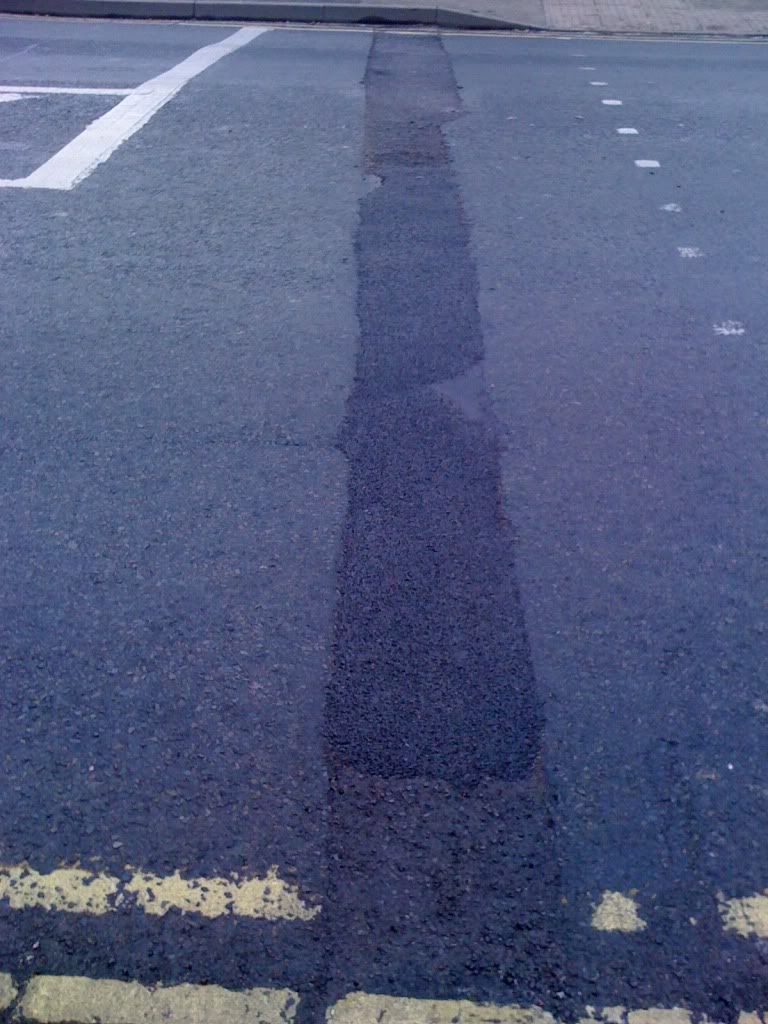 Think they realised they messed up when I reported damage to my car? Don't worry, I'm suing the council about this, no suggestions needed.
It ruined the suspension. Bushes split, grinding coming from the front, could not hold a straight line at all. This car was off the road and it was going to be expensive. Annoyingly it was going to be cheaper than buying another car (and risking that one being worse).
It took months to save up for parts alongside the extortionate bus fares.
I needed:
Wishbones
Track Rod Ends
Possibly hub bearings
Tools and equipment to test components (this was the biggie really)
All the little bits you forget about that need replacing when you do stuff on a car (or was this the biggest cost?)
Things got held up by me having a serious chest infection and taking two months to recover and I had to dig into my savings pot to do some other things.
When I finally got to taking the car apart the drivers side looked ok-ish, but everything was being replaced on both sides to ensure mirror parity. The passenger side though, whoa. The holes for the bolts in the bushes on the wishbones fell clean out. The balljoint was only hanging in by the power of the rubber protection (!). I dismantled this side like the other and things were falling to pieces. The track rod end ball joint was almost the same. Then I noticed the inner CV gaiter moved oddly. So I decided to take out the drive shaft. It fell in two. The inner CV had been completely destroyed. I think I counted about 4 pieces drop out into the oil bucket when I pulled out the shaft, then another 2 or 3 bits when I popped out the part that goes into the diff. I only got one pic: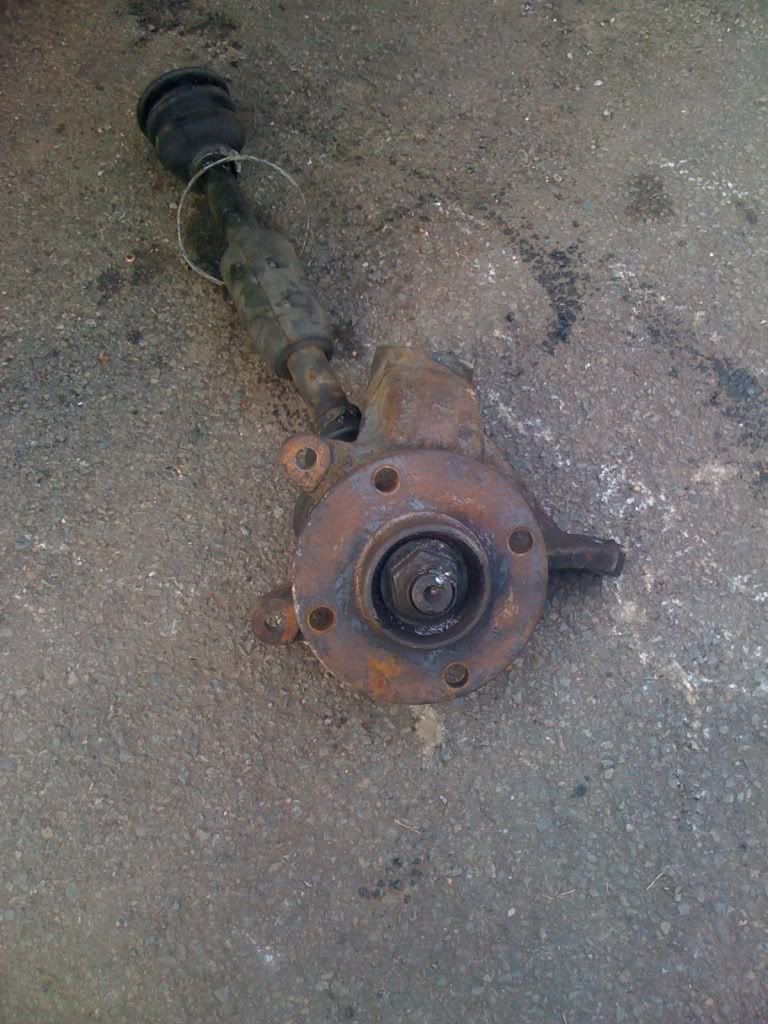 But then there's this one just for the sake of it: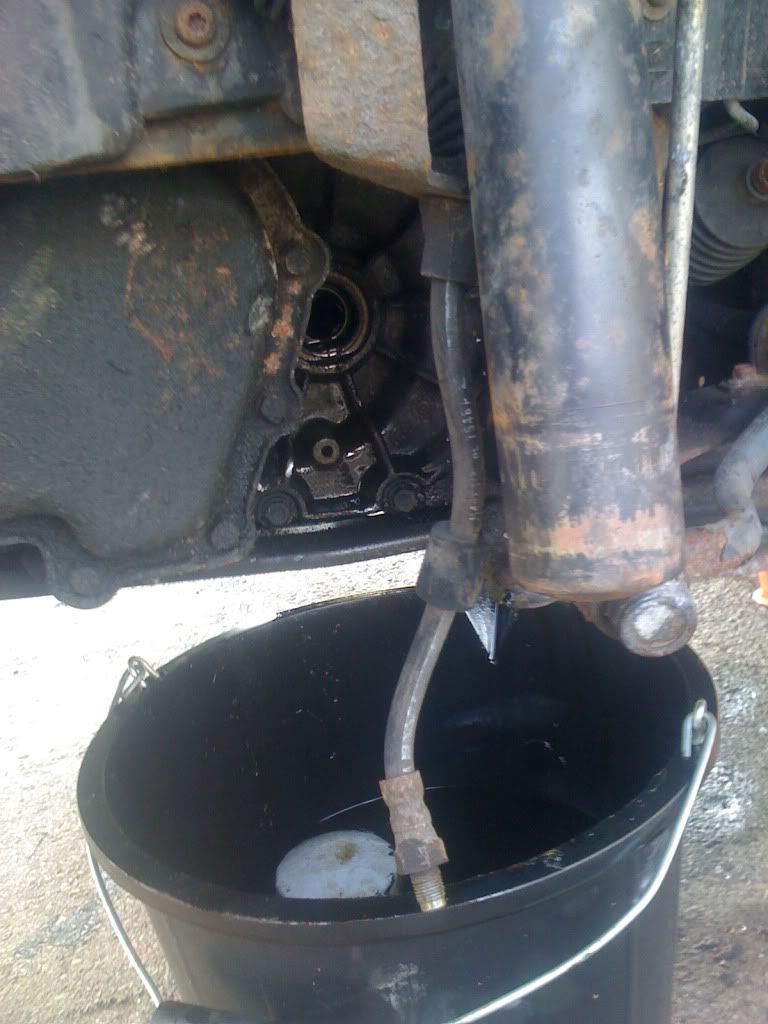 I got another hub and driveshaft from a fez that had just been dropped off at the local scrappy and looks in really nice condition for something being scrapped, gaiters perfect, put a wheel on it and no movement from it in any untoward ways, so I had it. It fit in very easily, much easier to get in than out (about 2 hours difference to be honest, being a noob to mechanics doesn't help).
So I rebuilt that side.
Then I started to put on some very nice items:
A MK1 Mondeo Servo and Master Cylinder. No ABS feed and a blocked off hydraulic clutch line.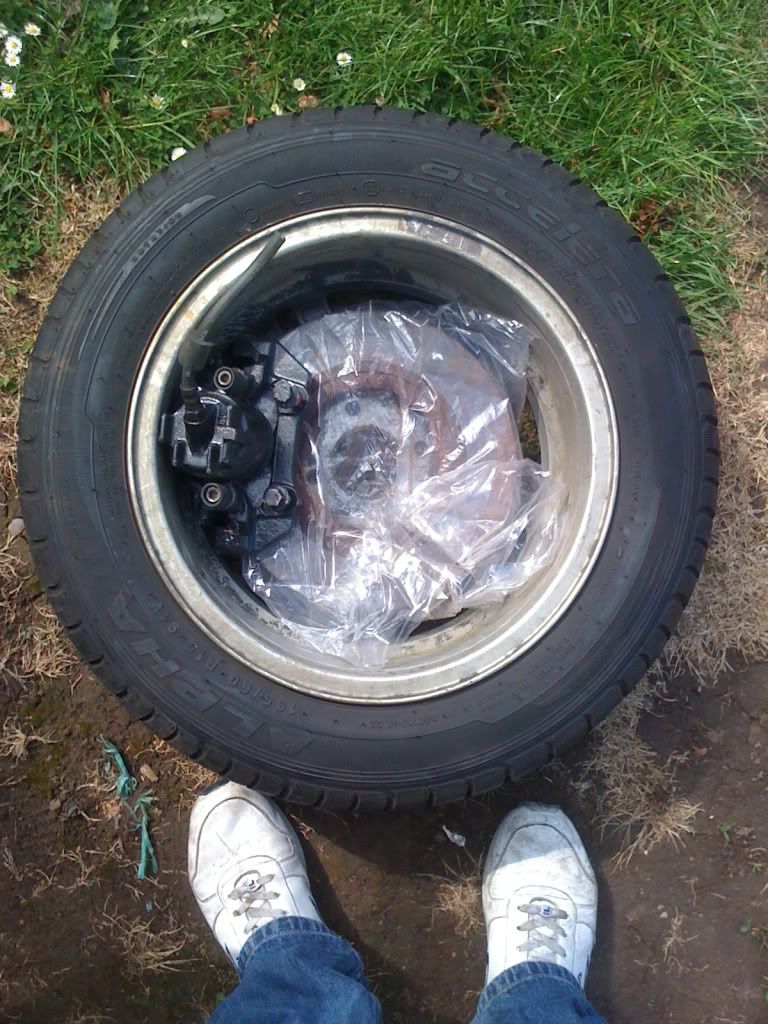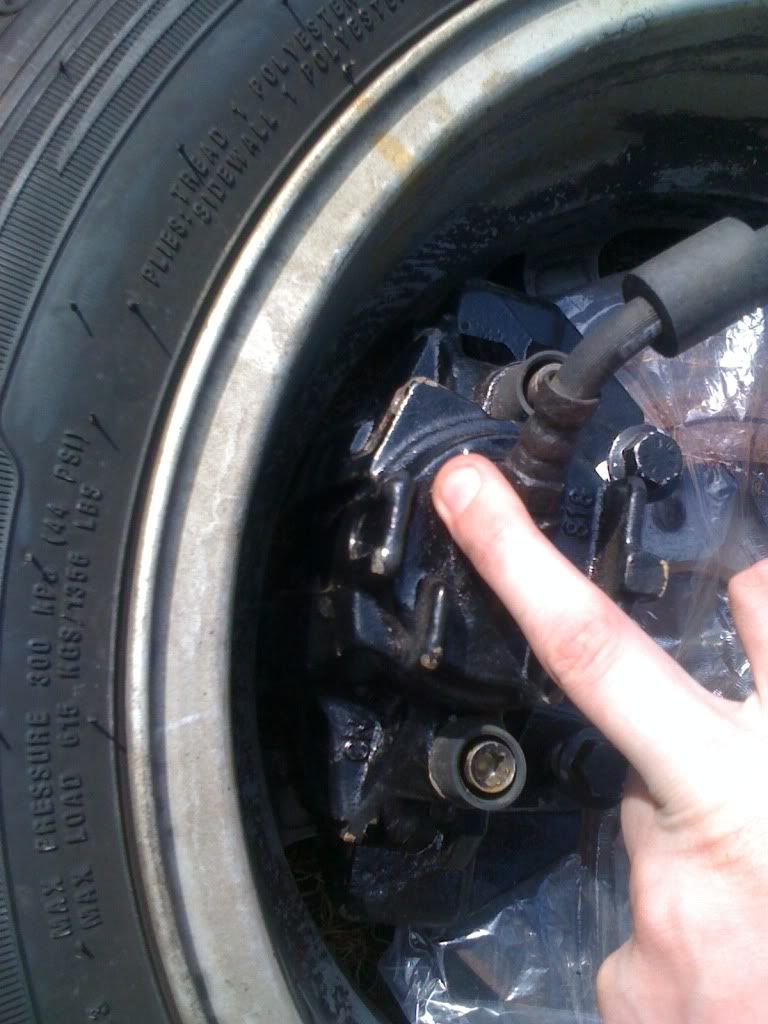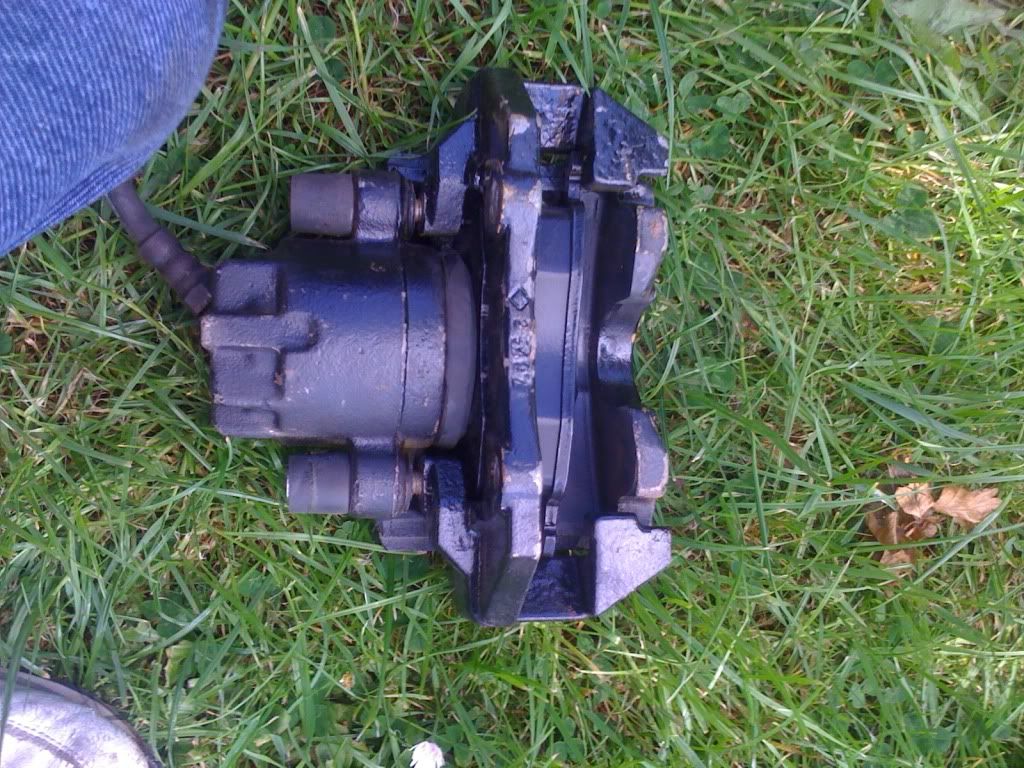 Recognise them? Yup, ST24 discs and calipers. I didn't take pics of the spacers, but these fit straight on with 5 or 6mm spacers ground down to a 130mm diameter and the mounting holes on the spindle carrier drilled out to 12mm. You will need longer studs to do so, especially if you have to further space the wheel out from the disc. Problem was I had a broken Bleeding Nipple on the drivers side. Took me 4 days of work on this to sort out due to lack of tools and experience for this kind of job. I had a panic when I finally got the new one in and the whole thing fitted to the car. Got my pressure bleeding kit out (I get funny looks when I have a wheel on the engine) and did a test bleed with some old fluid I had, wasn't going to waste the genuine Ford stuff until it was ready ready. I got some signs of fluid coming out, then nothing. Tried it a bit more, still nothing. Thought sod it, do the other front wheel to check while I think of something. Air popped out of this one, then fluid came out, ran it a while, job's a good'un on this side!
Went back to the other side, took the nipple off all the way out, poked around with a long needle, brush, everything, nothing. So I had a ciggy. Then took a needle to it again and shit myself as fluid hit the wheel arch liner while I was trying to get hold of that nipple and shove it back in. Shall we call that a success? I think we will! Unfortunately I couldn't bleed the whole system as I am outside and there was one hell of a angry black cloud coming my way. So I got everything on the car and finally put it back down on the ground on all four wheels.
And yes, that Subaru next to me has smaller front brakes than me. I've had to put 15" Focus wheels on, which have a massive offset of 52.5. This meant with the 6mm spacers behind my discs I still needed a 3mm between the disc and wheel to clear the strut
I put some 5mm's on the rears as they looked sunken in compared to the front. The tyres are very big, being 195/60/R15. But when I come to get a new set of tyres I'll go down to 195/45/R15 to match my previous rotation size. To finish the car and have it ready for driving I need to torque up loads of bolts, reattach the horn (removed to refill the gearbox oil), clean the rear brakes, get caliper retaining springs, charge the battery properly and give it a damn good clean.
My ideas for the future for this car:
To keep the damn thing running!
Install a heated front windscreen, probably a MK4 or MK5 windscreen from a scrappy and get someone to bond it in for me (fits fine but needs creativity on seals and rubbers).
Get low profile tyres (about 45)
Maybe, just maybe consider the cost of a lowering kit. 35mm seems to look good on the tyre size I have in mind.
Find electric mirrors.
Put my XR2i kit on it.
Paint the car black.
Convert the front wings to the square repeater type (plus I've got some rust at the bottom)
Tango the indicators after painting it black.
I'll be slowly adding stuff over time, money isn't easy to come by, lol.