Long Time no update, there will be one with pictures soon I promise, the next bit of work is taking place immediately after Central Day
The car is going into the bodyshop for a full refresh of all the body work and the front is being fixed, I am also having the paintwork fully machined and the grills are being professionally sprayed in a Glossy black as opposed to the Halfords bad can jobbies.
At the same time the paintwork is completed the car will be fitted with a Lower front Splitter to assist the front at speed and to stop the bumper being shot to bits again, im still undecided on the rear splitter!
Also I have just today taken delivery of custom decals/stripes for the car Courtesy of DMB
So hopefully end of april we should have a big update with pictures
I have also decided on Standard Ford Discs all round again (incredibly good value for performance) and the car will get Brembo DS2500 brake pads all round (best to be had to fit standard on Focus ST) and new 5.1 Dot Fluids and at the same time will refresh the calipers
Then hopefully before Ford Fair another fresh set of fluids and my suspension (Courtesy of Bilstein kit and whiteline or Elevate RARB and possibly polybushes)
And there was me saying no to spending more on the motor might aswell go crazy for a bit longer
_________________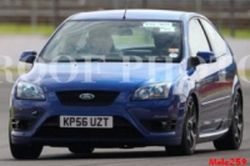 FACT wrote:
Ford is not a decision you make to like, its a passion you grow up with.