---
Most people know how to upload pictures to show on here their beloved cars, but we all remember the first time we wanted to on a forum, but wasn't quite sure how to do it.

So, the best way to do so is to get a Photobucket account. This is a free internet site (some might say a service), which allows you to put your pictures onto their server, and be able to access it anytime you go on the internet, wherever you are.

So, first things first, get yourself an account


Go to http://www.photobucket.com

Here, you will be presented with the main page, and you will see a red button saying "Sign Up Now". Click on here and fill out all the personal details asked of you, including account name and password. When you have done all this, you will be able to log into your new photobucket account


So what next? Well, your account will be empty, as it's brand new
So get a picture put in there to test it out


You will be presented with this screen or similar: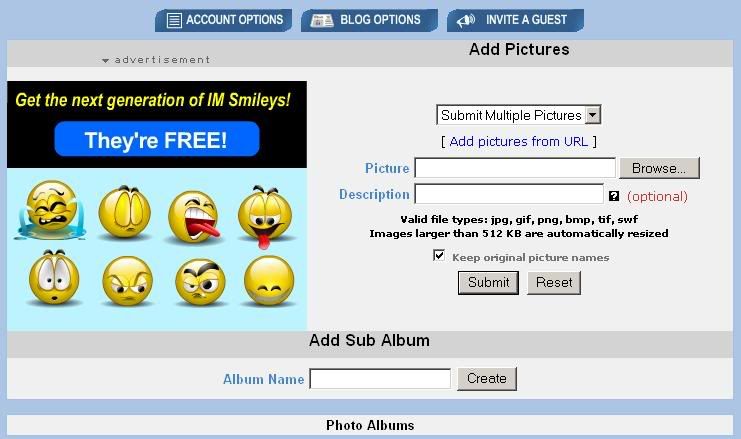 Underneath where it says "add Pictures" there are 2 boxes to fill in. Picture and description. The description box is not needed, it will just keep the file name of the original picture if you leave it blank. But where it says Picture, this is where you put the filepath. To find the picture you want to upload, click on the browse button to the right of the Picture box.

Up will pop a window, the same as if you were saving a file on a program like Word. Simply find the picture file on your computer and double click it. This will then enter the complete filepath into the Picture box, and then all you have to do is click "Submit" further below.

You will then see your picture uploaded onto your Photobucket account in the form of a thumbnail, underneath the Adding Pictures section. It will look something like this: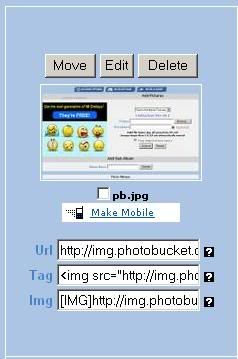 Congratulations
That's your first picture done


Ahem. Now, to transfer that over to a forum like this, all you have to do is click on the line of text that says "Img", and copy and paste it over to your post, so you will have something like:

[IMG]http://img.photobucket.com/albums/myfirstphotobucketpicture.jpg [IMG]

(without the space)

To check it's worked, click on your preview button at the bottom of the post next to submit, and FSI's forum will show you what it will look like, prior to posting.

You can then use your account to upload pictures to, and show us what the hell you're going on about


Any ammendments needed, please post up, and I'll sort it out. It's early, and I can't be awake properly yet.