Hey guys, just a small update and I shall keep these coming hopefully! TTF Si is slowly getting a very good once over before she comes back out onto the road. Basically here is whats going to happen in the next 3-4 weeks.
It's going to get a full service, spark plugs and leads have already been changed, but its going to get oil and filter change, fuel filter change, check the brakes and change anything if necessary - don't think anything needs changing from when I last looked, coolant change, check brake fluid and change if needed. Other things that will be changed that I have ordered are things like anti-roll bar drop links as the bushes on both sides are split, lower arms too as a bush in each one has failed - luckily I can get the replaced free under warranty. New tyres all round, possibly with an alloy wheel refurbish in gloss white - not sure if im going to do this now or later, aux drive belt is to be replaced, cambelt has been done not too long ago, then all other fluid levels checked - power steering be the only other one I think. Thats all I can think for general all round stuff.
Thennnnnnn!
- The whole engine bay itself is going to get a VERY good once over, wether it be cleaned, polished or painted - its the main focus at the moment, everything else is just general stuff really, well thats how I put it.
- All silver engine bay components will be taken off, cleaned up and re-sprayed silver. This includes things like rocker cover, exhaust manifold heat sheild cover, suspension top mounts, maf sensor, throttle body, inlet... ect ect.. You get the idea.
- The same goes to black bits too, not that there is alot of it, just things like engine hooks, coil pack mount, battery tray and other black things, anything plastic and black will be treated and either sprayed or just cleaned up and made shiney with help of back to black spray... maybe even lacquer.
- Then everything else will be thoroughly cleaned - header tank being one as it's FILTHY, all yellow caps, black ones... just everything lol.
- Slowly working my way back, brake calipers will be cleaned up, maybe given another coat of flourecent orange. Might replace the standard ST150 discs with some groved ones, not sure yet, I will see how I feel when I come to it, if I do, I'll be putting some fast road pads on there too.
- Front splitter will be repainted in satin black - done once already before, going to give it a few more coats.
- The whole of the underneith of the car will be checked for rust, cleaned and fixed however necessary, then it's going to get undersealed/painted with hammerite black under body sealant, might even polish the stainless steal exhaust while there lol. While under the car, everything else will be checked and fixed - things like bushes, brake lines ect ect.
- Rear turret... well we all know that rusted through, so thats going to be re-done profesionally, wether it get a whole new turret or a new top or what, I'm not sure, I will discuss it with the body shop when I take it down there in the next couple of weeks.
- 2nd rear anti-roll bar is going to be put on and then given poly bushes like the one already on there - might have sourced one, might not, but I'll get one
- Pop-out rear windows are going to be added - getting from Jon on the Isle of Wight hopefully
- FRST spoiler will be sourced and colour coded to replace my plastic colour coded one as the paint has cracked on it. Again, might be getting from Jon.
- Might paint up my skirts and arches which have been in primer for over 2 years now lol.
- Repaint rear strut-brace.
- Source 1x new poly bush for my one of my coilovers.
- General once over to check and replace anything else needed.
I think thats it, I'm sure I will think of something else later, you always do! So yeah not lots, but just lots of little bits really.
So today, I started on the engine bay clean up and paint process, couple of pics.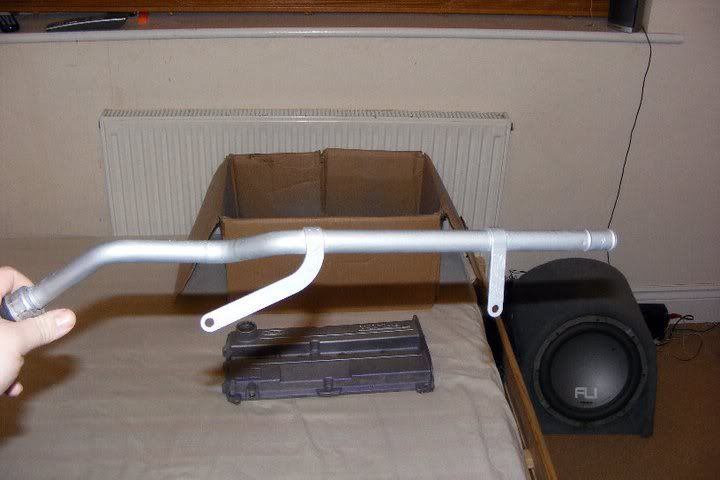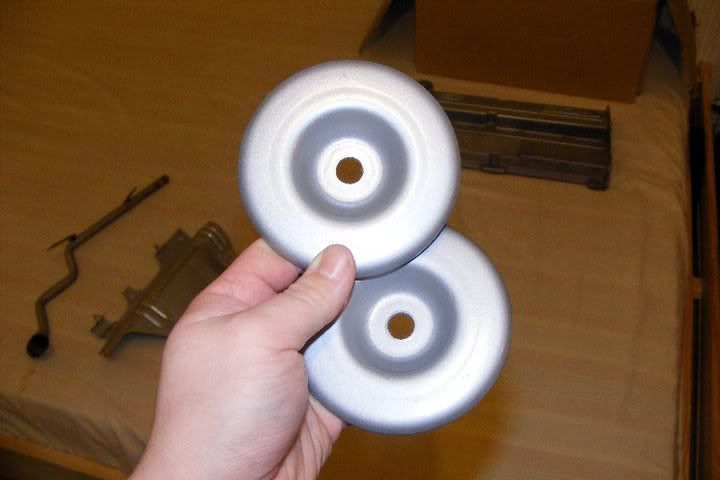 I think they came up alright! Going to lots more tomorrow
Thats it for this update, will post more pics as more gets done!