Fiesta Si 2.0 16v Tourmallard Green.
Mods so far/Spec list: (updated as of 23/02/2013)
Engine:
- 2.0 Silvertop.
- RS1800/HO inlet manifold.
- RS1800 Throttle body.
- 2.0 MAF sensor.
- 2.0 Injectors.
- K&N filter.
- Magnex stainless steal 4" cat back exhaust system.
- De-cat.
- Fully re-pained engine.
- Blue megaleads HT leads.
- DEWY ECU
Transmission:
- Standard Si BC Gearbox.
- Vibra Technic gearbox mounts.
Power:
- Unknown current power output with new inlet pipe. With the old very restrictive inlet pipe (K&N banana sucking itself shut) that was on there it was 122.2bhp... With new standard setup it should roughly be about 130BHP - Standard 2.0 silvertop power.
Suspension:
- AVO GTZ Coilovers.
- Sparco front strut brace.
- OMP rear strut brace.- Polybushed top mounts.
- Polybushed front anti-roll bar.
- Polybushed rear anti-roll bar.
- 2nd rear anti-roll bar with poly bushes.
- Camber adjustable lower arms.
Brakes:
- Fiesta ST 280mm front brake setup.
- Uprated discs and pads.
- Goodridge braided brake hoses front and rear.
Wheels & Tyres:
- White Escort GTI wheels.
- 195/45/15 tyres.
- Longer wheel studs with 5mm spacers on the rear.
Body/Exterior:
- Whole of the underside of the car is painted/stonechip protected.
- MHW Smoked rear lights < Swapped back for standard lights with red tinted reverse light.
- Smoked side repeaters.
- HID headlights; Ice white 6000k.
- Team HEKO wind deflectors.
- MK4 wiper arm and wiper blade.
- Colour coded exterior plastics (mirrors, door handles, spoiler ect).
- VW Golf MK3 splitter.
- Fiesta RS Turbo pop out rear quater windows.
- Fiesta RS Turbo colour coded spoiler.
- Inxx gas bonnet struts.
- Fiesta RS Turbo Bonnet.
Interior:
- Fiesta RS Turbo Recaro interior.
- Fiesta RS1800 door cards.
- Lockwood white dials.
- Heated front windscreen.
ICE:
- Sony xplod headunit with MP3 input and remote control.
- Alpine Type E 13cm component door speakers.
- Sony 6x9 rear speakers.
- Fli 12" active suboofer.
Things to do:
- 4-2-1 exhaust manifold.
- Throttle bodies or turbo conversion.
- Escort RS Turbo LSD Gearbox.
- UK/EURO Spec RS Accessory rear lights.
- Fit poly bushes or spherical bearings to lower arms.
There are probably a few other things too but i cant remember just yet.
____________________________________________________________
Well where do i start!
TTF Si is now mine! Yay! Toby's (Minstral) thread of the car here:
http://www.fiestaturbo.com/forums/ttf-s ... -vt169992/
Well, on friday I took a 4 hour trip on the train to Herne Bay, which is where Toby lives to pick up his Si. 3 hours to get home, it was a long ass day to be fair, but soooooo worth it!
Anyway, got to Toby's house, saw him outside and started to have a chat, then he said he would take me for a drive, he got the keys gave them to me and soon as i started it up, i was thinking 'this is lush'. So quiet compared to my little 1.3 HCS engine, its nearly silent lol. I did actually forget it was on when i went out to show my mate when i got home

Moving on, we took it out for a little run, and i could already feel it had alot more power than my old car! And Recaro seats = win! They are lush
.. Got back to Toby's house, did all the paper work ect, showed me some spare bits he has for the car that i could have, showed me the service history - alot of it. And he very nicely offered me to stay for dinner too, which i would have taken him up on that offer, but i just had some chicken and chips from a local KFC wanna-be place lol.
All in all, the car is just lovely, and Toby is such a great guy too! It hasnt actually properly sunk in yet that its my car lol, its so much better in many ways that it seems like its a dream!

So, first thing on the list was to fit/replace the spring cups, made a bit of a knocking noise when going down bumpy roads ect. Got started on that today, was going to fit the lowering springs from my old car but one side of the suspension decided the top nut wasnt going to undo and just rounded off a treat, and then so did bit where you put the hex key in. So, went to do the other side, no problem at all! lol. Took that side off, used a spring cup from there, then used one of the others Toby gave to me and got started on the Si.. one side is all done and dusted, just need to do the other side - my alen key socket just shattered when i was trying to put force against the spanner to get the top mount nut undone
Need an electric impact gun really

That was pretty much it for today, was going to give it a wash, but didnt get round to it. I'll have to do it tomorrow
Obviously its had a fair bit done to it so far as you can see in his thread. Its a genuine car too, not a bodge, just ticked over 73k on the way home, which isnt too bad
Not many pics just yet to be honest, the only ones i have taken have been off my phone. I'll post some better pics up when its had a clean
First pic i took of it, when i was filling up at the petrol station - centre caps are in the car, will be fitting them tomorrow most probably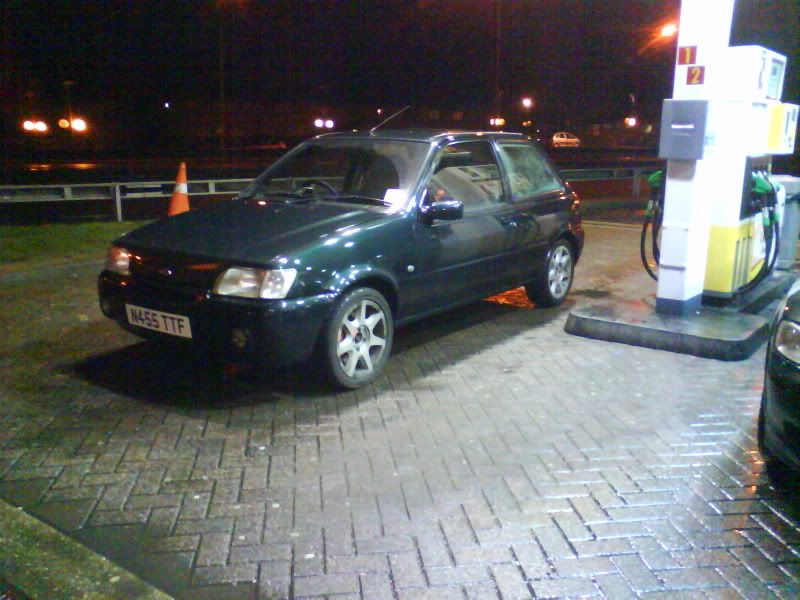 Went to ford to get a couple of bits..
Fitted wind deflectors from my old car.
Both the cars next to each other, taking the suspension off my old one.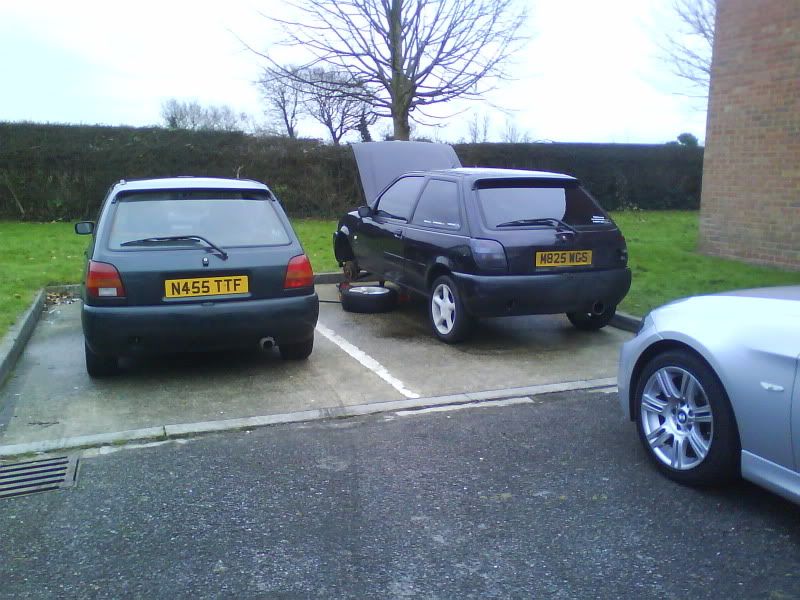 Both cars being worked on.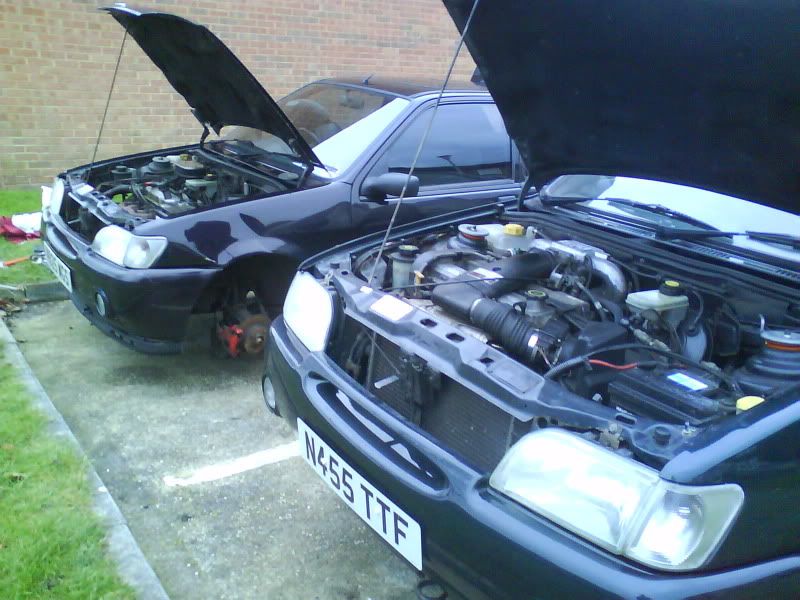 Old engine compared to new, i was saying to Toby about how the Zetec engine fills the space, and you could pitch a tent up in the HCS engine bay lol.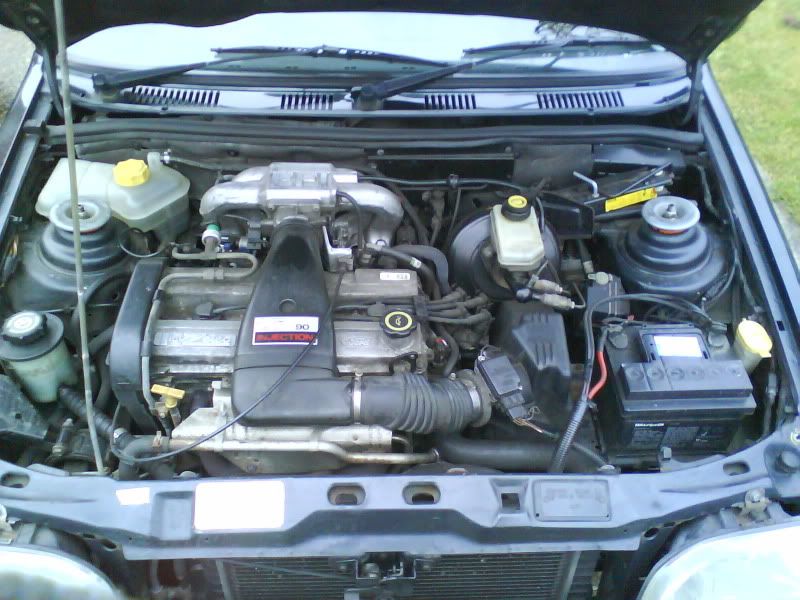 Orange calipers, more orange than the jack!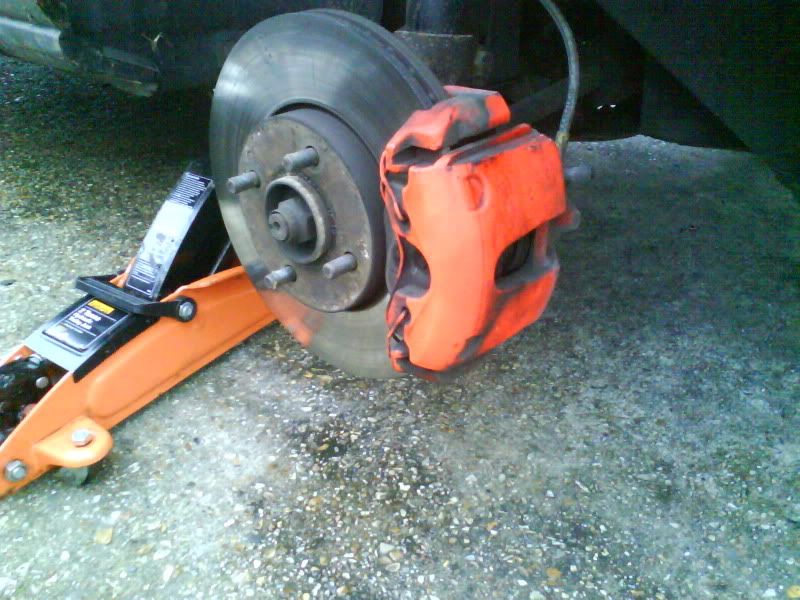 Anyway, thats it so far, will post more pics later. Overall, very happy with the car. Toby, thank you so much! And yes, she will be at the shows this year you will see her again! lol