Hey you guys!
My car batterys has died, want to replace, will a Bosch S3 be any good? Need one sharpish so gonna get it off euro car parts. On the description it says theyre recommended for older smaller cars, my cars 11yr old now so does it mean 1980s old or just not brand new? And define small?
Anyone who doesnt know my cars an ST170 and heres battery link
http://www.eurocarparts.com/ecp/c/Ford_ ... f75&000020
_________________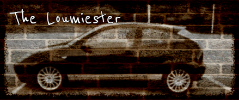 The Loumiester wrote:
Ford is not a decision you make to like, its a passion you grow up with.