Here's my guide to colour coding textured and smooth black plastics.
I'm going to use my Si door handles as an example. Handles and Mirrors ,etc, are small and therefore quick and easy to colour code.
First of all you will need to remove your chosen items to be colour coded.
Below: My Handles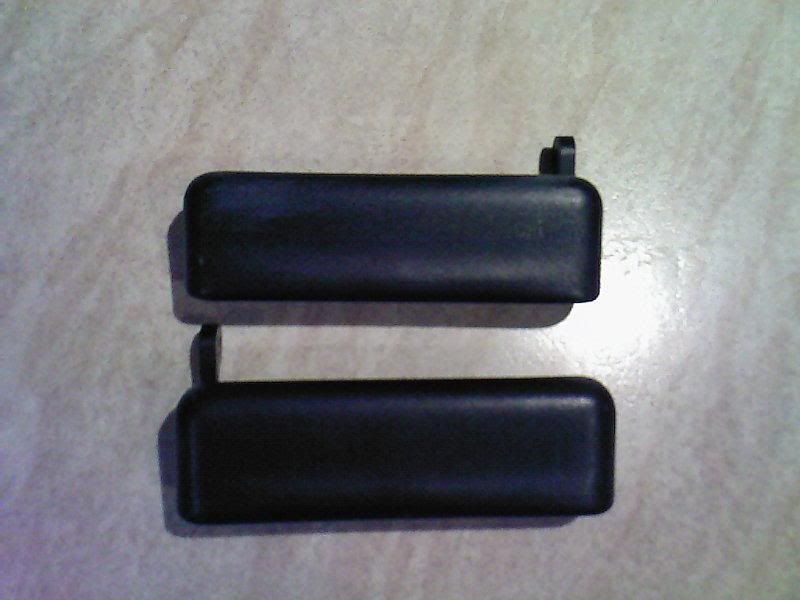 Using a piece of Red Scotch Brite and some solvent panel wipe, (which you can both buy cheap at your local Halfords) rub donw the handles. Rubbing down the plastic cleans the handles and provides a 'Key' for the primer to stick to.
Once done, dry off and mask the back of your handles to stop primer overspray.
I used 2-Pack primer from BMW as i work in a Bodyshop Approved by BMW. However you can got to a Paint shop and buy Primer. With the primer you will need Activator(Hardener) and Thinners.
Mxed in a 4-1-1 ratio(4 parts primer to 1 part activator to 1 part thinniers) stir well and put into paint gun. Before priming you will need to put a slight wet coat of plastic primer(Adhesion Promoter) on to the handles.
Once flashed off you can apply your first coat of primer. Do this coat medium to wet as you dont want to create any runs, you could use a hair dryer if you sont have infra red lamps to flash off the first coat.
the second coat shud be wet,try not to get any runs.
repeat the process for a further 3 coats, so now you have 1 medium to wet coat and 4 wet coats.
Keep heat applied to handlesfor around 30-40min.
Once baked they can now be wet flatted using P800 wet and dry flatting paper. You can get this from your local Halfords too. Dip P800 into warm bucket of water and rub primer down so that your handles are smooth.
Once completed dry of and they should be looking like this.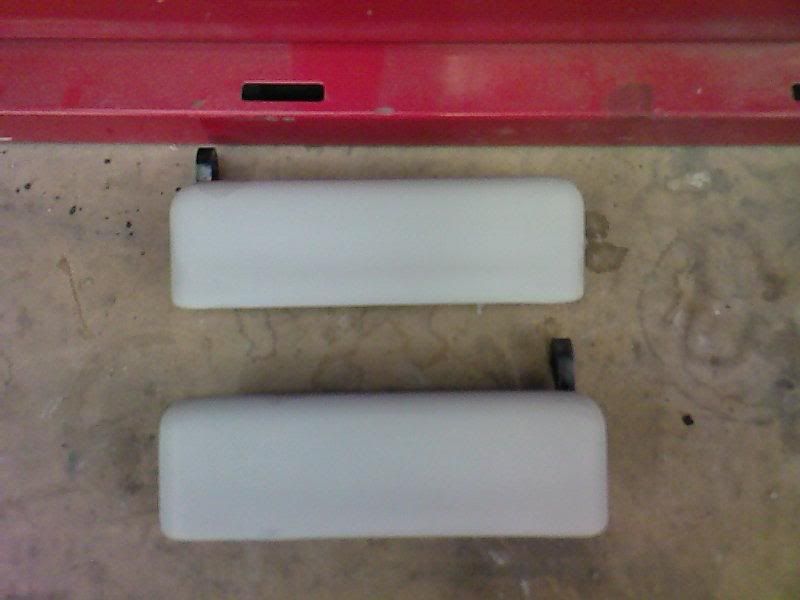 Now your ready for paint. again mask off the backs of the handles for overspray and check that all the primer is now smooth from the wet flatting.
If you want you can go to a paint shop and they mix your colour for you and you can paint away.
Dust the first coat of paint on your handles until flashed off. Keeping the handles under heat.
Repeat process until your handles are completly in colour, now once flashed off you can apply Lacquer. This is a clear coat which you mix with activator and thinners. Apply 3 wet coats of lacquer ensuring that each coat is flashed off. once done keep your handles heated for upto 40 mins ( Mybe an hour if your doin this somewhere below room temp).
Once baked they should look like this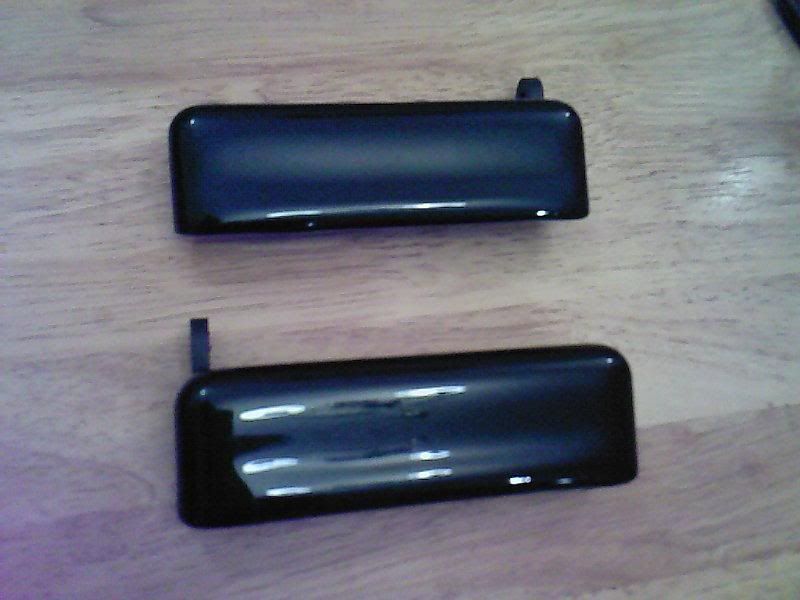 Mint!! they're ready to go back in now, but be careful when refiting as they maybe tacky and finger prints may remain in the lacquer.
Once in the car they look the nuts
I hope this has helped you. If you need further advice let meknow and i will be glad to help.
Happy Colour Coding!!