MK5 Sunroof Upgrade
This is a simple mod, which will make the roof of your car look cleaner, and is also a good replacement if your MK3 sunroof seal is shagged.
What you need:-
A MK3 / 3.5 / 4 Fiesta with a sunroof.
A MK5 Sunroof from the scrappers. (removal, see below) Mine cost a tenner.. try fit it in your toolbox if you can

And a spare 10 minutes.
To remove your sunroof, open the sunroof fully with the knob, you should see a little red tab.
Use a screwdriver or your house key to push the red tab in.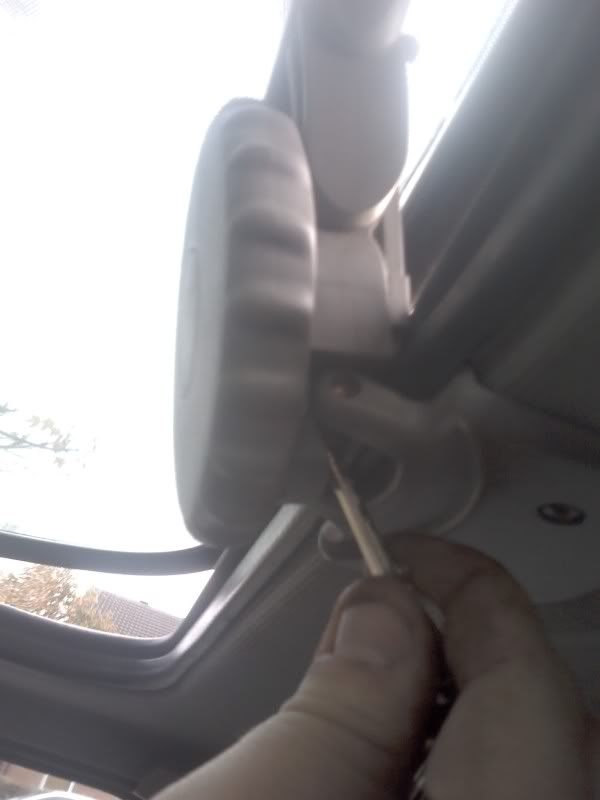 Once you have done this, use your other hand to push the sunroof out.
Now you can lift the hinges out of the slots and remove the sunroof completely.. if you have a friend to hand, get them to do it from the outside... if not, turn it and bring it inside the car with you.
You will be left with this, I would use this time to clean around the sunroof seal to make sure the drains arent blocked and get rid of any dead insects and shit.
Here is the difference between the 2 sunroofs, MK5 on the left, MK3 on the right.
You will see that the MK5 does not have the plastic tabs to hold the hinges in place.
Also, the MK5 sunroof has small plastic tabs on the side, which I can only asume is for stopping annoying buffering noises from the air... so quite fancy.
Now as haynes says fitting is the opposite of removal (although I wouldnt know, Ive never used one), get the 2 hinges lined up in the slots in the roof.. you'll need the sunroof tilted a fair bit, you'll see what I mean.
Then lower the sunroof down (don't bloody drop it), making sure the handle/knob will go inside the car and not scratching your lovely roof paintwork.
All you need to do is line up the handle onto the inside part, and it will clip in place, make sure the red tab is fully locked in.. turn the knob and make sure the sunroof closes.
Job done.
I take no responsibility if you cock anything up.
Your welcome, Paul.