MK5/Puma Digital Dials into MK3.5 Fiesta Guide
This guide will explain the wiring to wire up a set of Digital Dials as found in some Puma's and MK5 Fiesta's.
Please note: The dials may be able to be modded to fit into the MK3 dash perfectly like shown in the MK4 analog dials conversion (see fiestaguides.co.uk for some info on that) .. I have not modded the clocks to fit perfectly due to not wanting to butcher a good set of Digital Dials, and another reason being is that I am fitting a MK4/5/Puma dash in the near future!
What you will need:
A set of Puma/MK5 Fiesta Digital Dials like so (mine have white dials):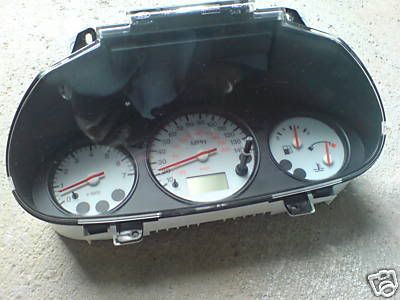 The wiring plug from the said dials and as much wiring as you can cut off!
MK3.5 Fiesta loom - The MK3 loom has different colour wires and maybe some different pinouts so I cannot garantee this list will work, but I am fairly sure it will work on all the MK3 and 3.5 looms!
Please bear in mind that Ford did play around with wires and pinouts on all the MK3 MK3.5's and MK5's so the chances of you picking up a set of MK5 clocks with different pinouts is possible. But it isnt too hard to figure out what the wires do
Wire them up as you please, you can make an adaptor board to slot into the MK3 plug or you can cut the wires and solder them up.. its up to you!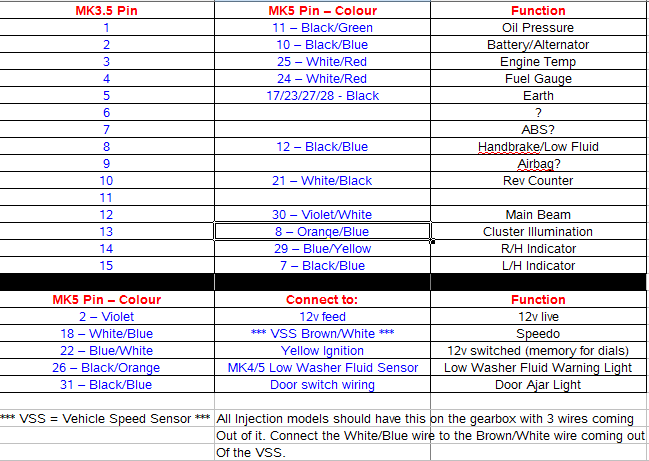 If done correctly your dials should be working and your speedo cable is now redundant!
You will notice more accurate speedo readings, and have a digital mileage readout!
The only thing to worry about (for now) is the fuel gauge will read backwards showing Full when Empty and Empty with the petrol light showing, when full.
I am going to fit a MK5 fuel sender in the tank to see if this sorts the problem out
Another thing you might want to know is, if you hold the mileage reset button with the engine running, turn the engine off while holding this button in, then turn the engine back on.. keep holding the button until "test" is shown on the screen.
You can then do diagnostics for the clocks to make sure they are working correctly and all the dials will reset themselves. You can also show lots of other information, like speed and RPM while driving
Enjoy