So as discussed in previous threads its now time to get Car Of The Month (COTM) kick started.
Now the idea of the game is very simple, you take a picture of your car related to the current months theme, then on the last full week of the month (basically last 7days) a poll will be made for you all to vote and decide the winner.
The basic rules are:
1. Pictures are to be taken within the month of the competition.
2. 1 picture per entrant.
3. Last week of the month is voting time and a poll will be created.
4. Winner picks a new theme and creates a new post for the next month.
Any questions please don't hesitate to ask.
So since I'm starting this ill pick the theme.
Landmarks, they don't have to be famous so places like a windfarm, statues or nice buildings will do, use your imagination and check out your surroundings. When posting a picture it would be nice to the location at the top.
Have fun and get snapping!
_________________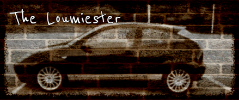 The Loumiester wrote:
Ford is not a decision you make to like, its a passion you grow up with.