Vehicle: Ford Fiesta Si Turbo
Length of ownership: Brought (Sept 2012) Collected (Jan 2013)
Pictures: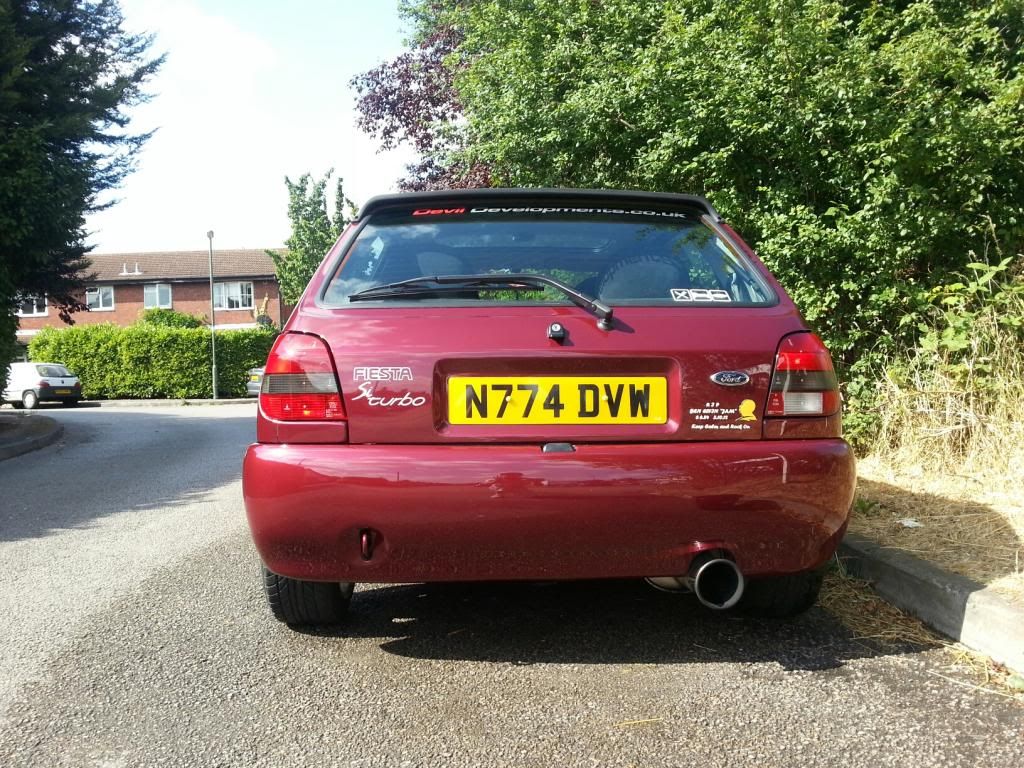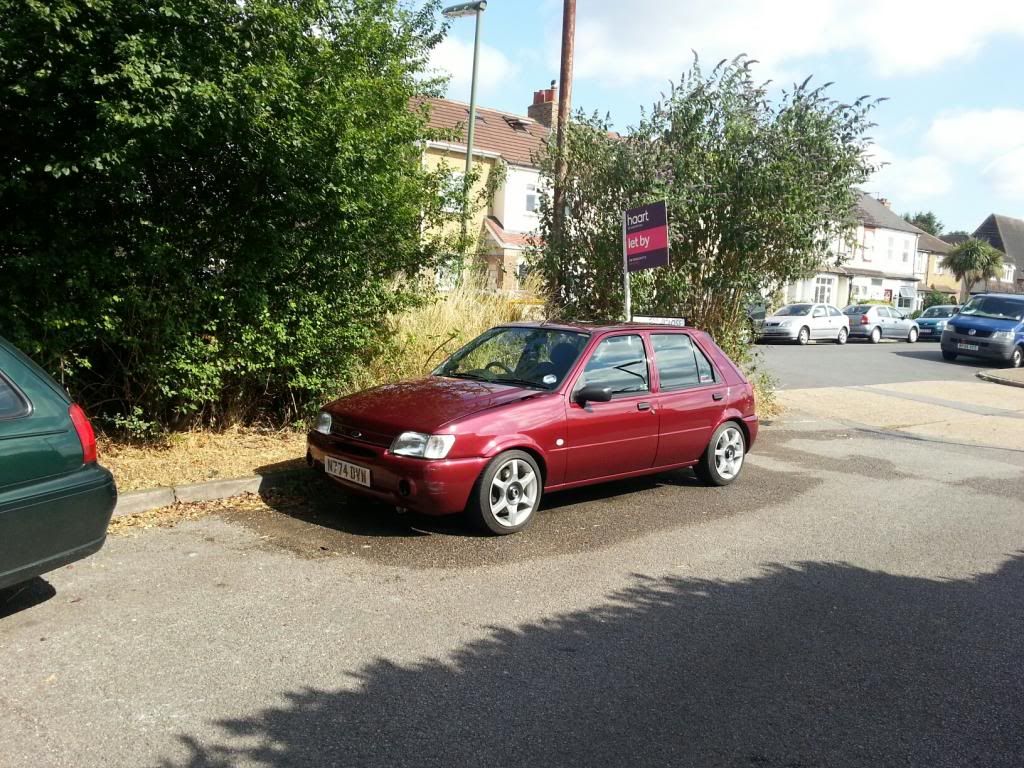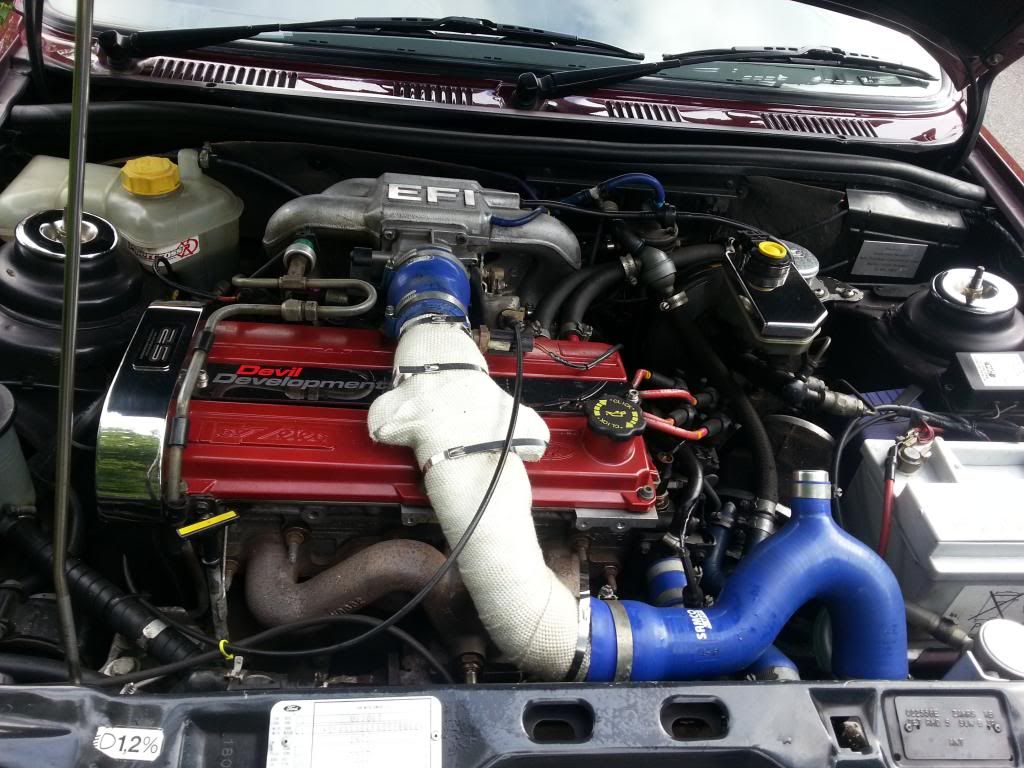 Performance:
Power - Not a standard Si! 1.6 Engine has had extensive modifications carried out for the turbo conversion - the full spec now is
~ Forged Pistons
~ Garrett Turbo
~ KMS Fuel Management/Modified Engine Management
~ ST170 Air filter
~ Custom Cams
~ Stage 2 Throttle Body (Standard 1.6 Inlet)
~ 440cc Subaru Yellow Injectors
~ Modified Fiesta RS Turbo Exhaust with 4" Rolled out Tip
~ Modified Breather System
~ Fuel Pressure Regulator
Power: 186.9 Bhp
Torque: 200lb.ft
Boost: 10psi
Speed - Due to still having the standard Si Gearbox with an uprated clutch - acceleration is good due to the low gearing! Gearbox maybe changed eventually but it is safe to say it has better performance figures then a 2.0 Si/Standard Fiesta RS Turbo
Handling/Grip - Has coilover suspension, 15" alloys with good tyres, Uprated Escort Cosworth calipers/discs/pads which improve on the standard mk3 fiesta driving experience - It is by no means the best handling car in the world but i personally find it fun to drive without being to crashy - maybe get a ZS rear beam for it at some point
Comfort: Well as it common knowledge - the SI Wingbacks are epic so comfort isn't an issue! It is a pov spec so there is no central locking, electric windows, heated front screen, boot popper and I have removed the front fogs as I plan to put cold air feeds in. Even with lowered suspension the ride is still quite comfortable over most bumps
The Stereo has been upgraded with uprated 13cm speakers front and rear, DVD headunit and 10" sub and amp in the boot which provide ample sound quality and volume
Road noise - it isn't particulary quiet thanks to the loud exhaust

- but it is not a pain in the arse and is actually slightly better refined then the sportka!
Reliability & Running Costs:
Brakedowns: Clutch Cable snapped which is standard for a mk3 Fiesta!
Garage bills/Parts cost: Only Garage bills have been for MOT and getting injectors fitted/new fuel management - a fuel hose popped off due to a clip failing but i replaced the clips myself
General maintenance: Had to modify breather but other then keeping an eye on oil and coolant levels it has been fine
Tax/Insurance/Running costs: Tax - £123.25 for 6 months - Insurance (old git now with 8 years NCB) is £586 with all mods declared
Running Costs - can return 40mpg on motorway but if you use the throttle the fuel consumption is pretty bad but to be expected for a 20 year old 1.6 turbo! Shell VPower is around £1.41 a litre so not cheap but it is not used daily
Safety & Security Crash safety: Has an alarm fitted but it is a mk3 fiesta so security isn't the best, safety-wise I wouldn't want to crash it as mk3 fiesta's aren't the safest of cars!
Good Points:
* Uniqueness of engine
* Plenty fast enough
* Looks
* Seats
* "Sleeper"
* Practical enough for daily life
Bad Points:
* Fuel Consumption isn't great around town
* Uniqueness of engine means main parts will be a pain to replace!
* Mix/Match of management needs rectifying
* Rear Top mounts rattle due to coilovers
Summary
I love it - I love the engine/sleeper looks/condition of the car - yes it is not faultless and not the most practical car but 190bhp on 10psi is plenty fast enough!
The interior is a nice place to be and I love the wingbacks for comfort - awesome seats

5door ness is not everyone's cup of tea - but for me it is ideal
_________________
FACT wrote:
Ford is not a decision you make to like, its a passion you grow up with.
RIP BEN ELVIN (JAM)
6.6.84 - 3.10.12

- Gone but not forgotten - The below sums you up chap
Ben Elvin "Jam" wrote:
Through serious illness you meet some inspiring and determined people. its the best we can do as human beings to inspire and drive the determination of others. Ben.