Vehicle:
Ford Focus ST500
Length of Ownership
: 3 1/2 months
I had some spare time and thought i'd add a review of this car
I bought it as it was a limited edition, with 4000 miles on the clock and a good price tag of aprrox £15,500 considering this was in 2008 for a 2008 model
These were a run of 500 made, They were esentially ST-3's available only in black with silver stripes as to follow the colour of the sierra rs500's colours. They were available with just about everything you could get on any normal ST if you had the cash upto sat nav, all round parking sensors
My focus in particular had the rear parking sensors, new ford sony 6CD autochanger, Bi Xenon headlamps amongst the other luxuries including RED leather recaro seats and of course as you'd expect the exclusive badging all around the car
These ST500's are the same as ST's performance wise, same suspension and engines so anyone looking to buy an ST can relate to the review
So It handles quite well as it was all tight, i found you can get it wide by use of the right foot easily enough, the car can take corners very well dont get me wrong, but because of the size and weight of the focus especially with all these electronics and extras it felt heavier and didnt steer as well as say the new fiesta, it felt a bit front heavy!
Performance of course was good it did 60 in about 6.5 and the top speed of these things is about 150, and i have no doubt it would get there on a test i did going down a long piece of runway tarmac not far from me (i only got her upto 140). The volvo 5 cylinder makes a great noise, one of the defining features of the car, you dont get much turbo noise, but the best part was simply the torque, the way i could be at 2000 rpm and put my foot down and it simply growled, the boost needed flicked over and you were off, immense!
However you got a temptation to do this everywhere, which mean money, lots of it, even in high gear at low revs i could only get upto just above 40mpg, its not economical at all, the figures feel worse than suggested
To round up
Good Points
:
Great sound track
Very good grip for a FWD car
The Recaros are fantastic, for both body holding and comfort
The torque gives an effortless drive, any gear any revs!
Good exterior looks
Headlamps have excellent range
Practicality, car boot and interior is nice and big
Bad Points
:
Not economical
Feels nose heavy
Interior is marmite choice (cause of colour)
Bluetooth and sat nav are crap
Front tyres are easy to use up
Insurance is high as is road tax (£300 soon)
Summary
:
I hoped to have this car longer as i hadn't really finished having the fun i was, like Ry buying another gti-6
Its addictive, great fun to drive, a top cruiser and the torque makes it effortless and the sound track just lush, but its expensive to run insure and tax, and some items are still Ford build quality, not upto scratch with the germans and with that great lump in the front of it, and no lsd or trick suspension to help it feels nose heavy and not sharp as i'd like
I'd obviously recommend one if you can get them well looked after and cheap, but make sure you have enough money to fill the tank, you'll need it!
_________________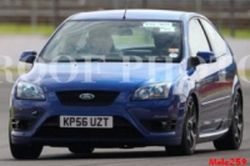 FACT wrote:
Ford is not a decision you make to like, its a passion you grow up with.