Renaultsport Clio Cup
First Registered: 11.11.03.
Acquired: July 2007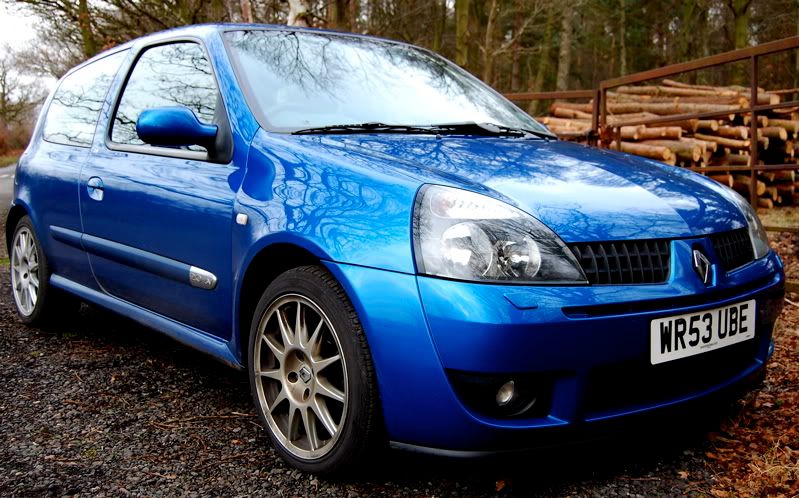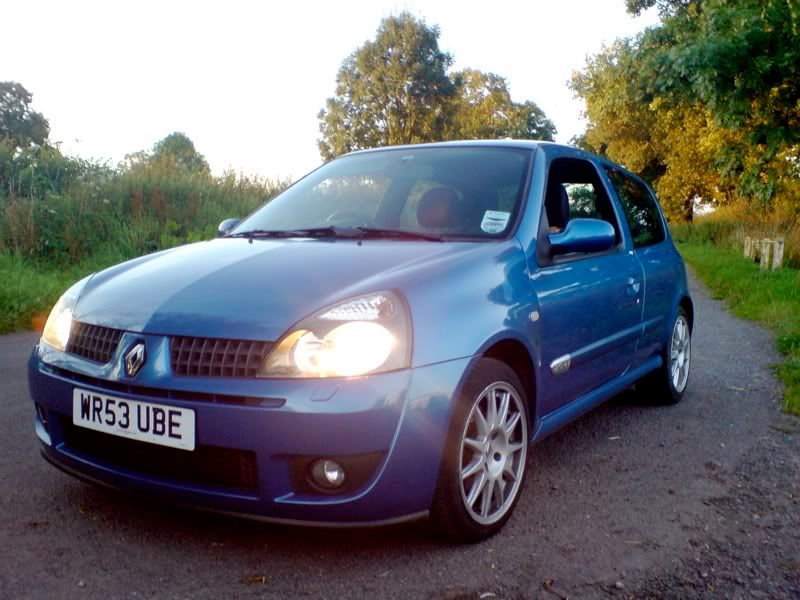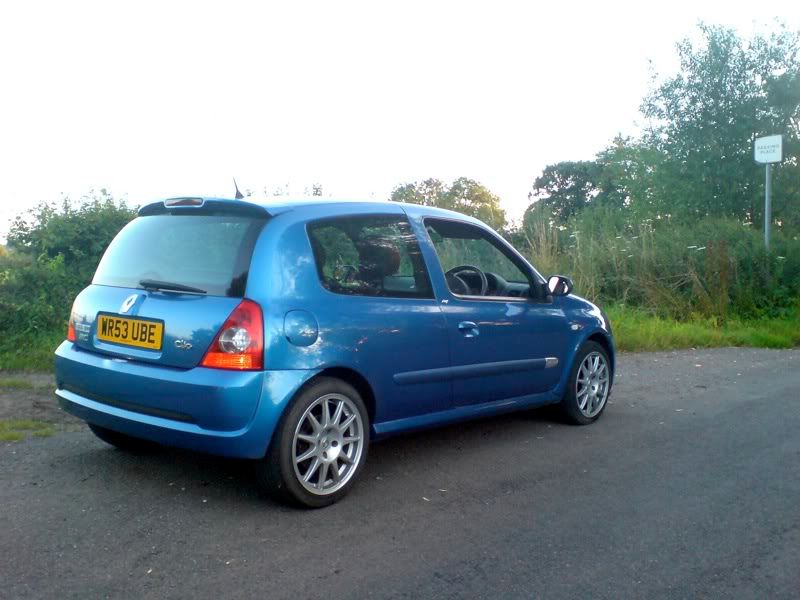 "
Britain's New GTi Champ
"
Autocar – 172 Cup v Cooper S, 7th August 2002
"
Incredibly involving to drive, and easily one of the most thrilling hot hatches we've tried this year
"
 Auto Express, 8th August
"
This is what a hot hatch should feel like. Suddenly each corner becomes a manic challenge and I'm so engrossed in the action that I barely have time to analyse why the Cup is such fun
"
 Evo – 172 Cup v 206 GTi 180, June 2003
If fact bashing is your thing, then this is the one for you. The quickest of all the front drive Renaultsport Clios and also the worst. But then that depends on your point on view. The 172 had been about since 2000. It was then facelifted almost immediately in 2001. This brought a bucket load more weight with it slowing the latter car - dubbed the phase 2 Clio - down by epic proportions. Renaultsport decided to ditch all the additional luxuries and bring the car back to just four wheels, a steering wheel and nearly 170 horses.
Items removed:
ESP Traction control removed
ABS removed
Xenon headlights removed
Climate control (became optional at the end of the run)
Lumber adjustable leather seats were removed. Normal Cloth seats were installed instead
Front head rests were changed to fixed headrests
60/40 Rear bench was replaced with solid bench
Middle inertia seatbelt removed
Automatic lights removed
Automatic wipers removed
Spare wheel removed
Front side windows and windscreen were thinned and lightened with the heat and UV protection removed
Engine covers were removed
Large proportion of the sound dampening was removed
No blanket airbags in roof
No airbags in front seats
No rear speakers
Items added:
Speedline Turinis with larger offset to replace standard 5 spoke wheels
Improved and strengthened hubs
Increase of camber and toe
Stiffened dampers
Stiffer springs
Lower ride height
Wider track
Exclusive Cup rear spoiler
Exclusive Cup front splitter
Blue inserts on the dash
2302 Mondial Blue Cups (106 came with Climate Control)
90 Iceburg Silver Cups (33 came with Climate Control)
Now 89kg lighter the Cup is a step apart from the standard 172. Evo timed the Cup with a 0-60 time of 6.5seconds and a 0-100 time of 16.9 seconds. Coming from the 106 GTi was a pleasant increase in pace with the most noticeable attribute being the colossal amounts of grip available. This wasn't a car that would deliver oversteer by the shed load, nor could it seemingly be pushed into understeer. It took many months to fathom the limits of this car by which time scary speed could be achieved and cross-country gallops could be demolished in far less time than previously. The additional torque was resplendent pushing you from one corner to another, I was finding I was gaining far more speed from corner to corner than previously in the GTi.
Sadly the car is set up rather too rigidly for many roads. It can be rather nasty and can often send the rear skipping outwards. I think the GTi had prepared me quite well for handling the Cup when it did this as feeling the car squirm and slid was just normal. However, if you were to come to the Cup from something more neutral in handling, I think a great shock would be in the midst along with a trip to M&S for a pair of new Y-fronts. General handling is phenomenal though. The turn in is so perfect and nimble, you forget you're in a modern chunky hatch and not in something that Renault would've churned out in the 80's under the guise of 'GT Turbo'. Like all other French manufacturers, they can make things go round corners well. You'll be safe in the knowledge that this doesn't deviate from the manifesto.
You never feel out of the control with the Cup through. The brakes really are something else, especially once you install some heavy duty discs and pads. The OE equipment is very good, but the brakes do start to warm and fade after hard driving. I put in a set of Carbone Lorraine pads, which were hardly what you'd call budget at £110. The power of which you could stop repeatedly was dramatically increased. For those who have witnessed my driving, you know I'm not adverse to driving enthusiastically and the time I spent stamping on the brakes, never once did they fade or even hint at fading! They did sadly destroy my brake discs. Next time I'll have to invest in some serious discs too.
The engine is good and solid. The engine note changing as physics comes into play at 5000rpm is enough to stricken anyones penis into rigor mortis. The torque lower down in the rev range does help you shift but by keeping the engine on it's toes means you can belt along as quick as many things on the road.
As far as comfort goes; if you're looking for it, go elsewhere. The crashing ride, sometimes intolerable road noise, rather poor sound system, dire seats and position and an infamous melting steering wheel all contribute to a bloody awful time for your passengers. You meanwhile will not have noticed any of this and your face donning its typical veneer of ecstasy mixed with a vague grimace will not have faltered for the entire duration of the journey. This is another car to be driven to understand why you put up with it's shortcomings.
Fuel costs on the Cup will vary depending on your driving style. My journey to and from work involves good A-roads and twisty B-roads. I can very easily average over 40 miles to the gallon with it, dropping to early 20 miles with some harder driving. My current best is 47.3MPG over the 22 mile mixed terrain trip. The car is supposed to be run on at least 98RON fuel, but there is no noticeable performance decrease when 95RON fuel is used. The Cup comes with a cat 2 immobilizor and a cat 1 alarm. The Phase 2 Clio was awarded an NCAP 4* rating so all is well if you crash, putting to rest the much banded phrase 'french cars are made of tin foil'. Renault parts prices vary massively so getting genuine parts is always a worrying moment when you call up. I recently put new top mounts on (£100) and new front dampers (£45 per corner for Cup specific dampers). Standard Lucas pads are around £50 with discs just tipping the £100 mark. A new exhaust won't come cheap and a typical fail point on the Clios. £170 for the back box alone, so assume close to £300 for a full exhaust. The cambelt is a 5yr/72k job and is very expensive on all RS Clios with air con. Budget at least £600 for an independent garage and nearer £1000 for Renault. Ouch! The V6 Clio cambelt is around the £1300 mark.
Good Points
Very cheap now for all RS Clios, especially phase 1 172s are under the £2k mark now
You can't get as new for cheaper that has the pace of the RS
Decent build quality despite typical comments
Wonderous F-series engine note
Plenty of tuning options that can push power to 240bhp
Good fuel economy for the performance of the car
Looks
Scoob owners always thinking they're quicker - Matt.
Bad Points
Can be uncomfortable, especially long journeys. Seats are terrible for me, but OK for others
Some parts can be costly and often a Renault only option
Too many RS Clios about (I'll be happy when more Cups die out!)
To summarize. Go out in one.