Peugeot 106 GTI 1998

Aquired November 2005
Mileage when bought: 64,000miles
Mileage currently: 90,000miles
Parts replaced: Alternator, heater matrix, front discs and pads, rear discs and pads, radiator, coilpack, timing belt kit, electric window switch, central boot badge, two sets of tyres, handbrake cable, gearbox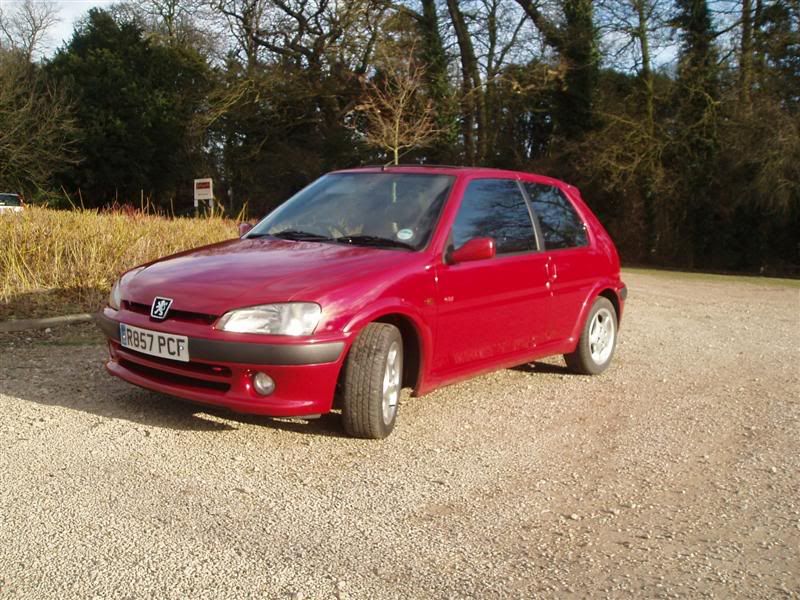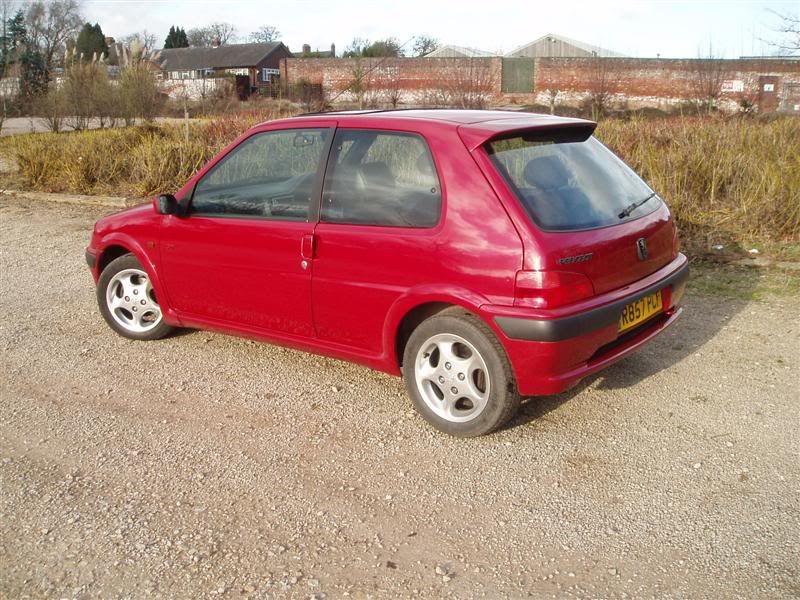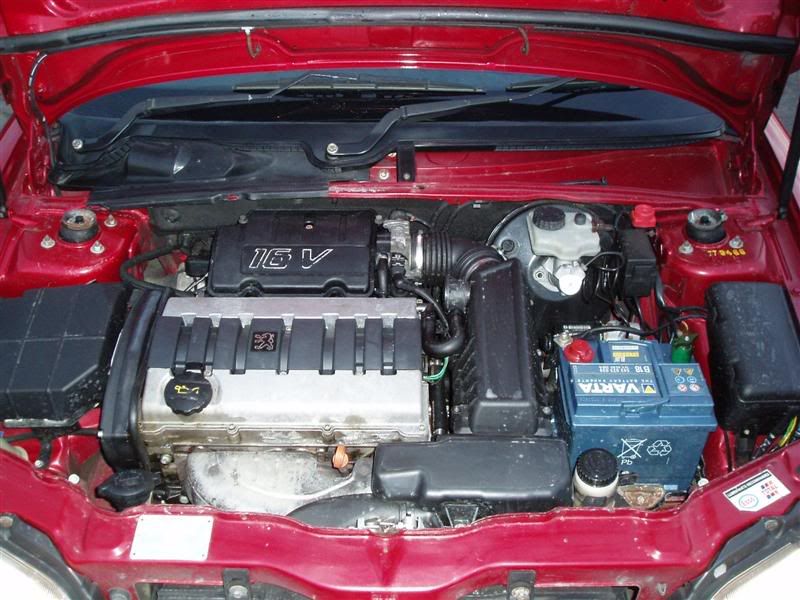 The GTi had been waiting in the wings for many years. With the massive sucess of the 205 GTis in the 80's a void was yet to be filled by Peugeot. The 106 had been in production for 5 years before the GTi derivative came along to raucous applause from motoring journalists.
The same basic formula applied to the 205 GTi had been transfered to the 106 with immense success. Throw a revvy, powerful engine into a lightweight shopping cart and tweak the handling to provide copious amounts of grins and thrills The TU5 engine previously seen in the fore-runner to the GTi, the XSi, was used but with a specially developed twin cam head and when coupled to a few other changes gave the 106 GTi 118bhp and 107lb/ft of torque. This is enough to propel the car to 60MPH in 7.4s and onto 100MPH in 22.2s.[Evo] That's enough to worry the bigger brother to the 106, the 306 GTI-6. Straight line speed isn't this cars trump card though, as it handles like little else in its class. The car handles a little
too well
as it can fool you into thinking you're a finer driver than you really are! The suspension has been set up to provide enough damping to absorb most bumps with ease at lower speeds. When pressing on through the country back roads the car gracefully glides from corner to corner with a permanent hint of oversteer. Lift off mid-corner though and that hint will turn into a fully blown slap on the backside as the rear swings out in such a controllable manner, even your Grandma could catch it.
Essentially this car needs to be driven by the scruff of it's neck. The engine will reach peak torque at 5400rpm and peak power at 6800rpm, with little happening below 4k, you really need to nail it to get the full potential from the little 1.6 engine. Throwing it wildly into a corner will do nothing to phase the chassis, if anything it enjoys it. The amounts of grip available for age of the car, without unnecessary additions like trick diffs and complex traction control like we have in modern hot hatches today, is astounding. The brakes although dinky in size do a fantastic job of halting the car and together with a good set of brake pads will take miles of abuse without a sniff of brake fade.
Obviously the 106 is a tiny hatchback so comfort for the larger set Gent would be less than ideal. I, myself, am 6' and of average build and I didn't find the interior terrible. If you're in the market for such a car, I would suggest that you go and sit in a few and take a reasonable length test drive to see if you cope with the space. There has been a lot of remarks about the size of the pedalbox on the 106 with many saying it's too cramped. Again, this is a matter of personal opinion - once more using myself as an example, I have size 11 feet and could drive the car with ease - but a test drive would be your best arsenal for argument. The GTi comes with plenty of soundproofing so engine noise is bearable along with the road noise being kept a minimum.
Creature comforts hardly list forever but a drivers airbag, ABS and power steering come as standard. Post '98 cars were treated to a half leather and alcantara upholstery and a passenger airbag being added to the options list. This was a cheap car which provided cheap thrills.
The cheap theme runs on into the servicing too. With a service every 12,000miles or 12 months needing little more than an oil change and filter changes. The timing belt needs to be replaced at 72,000miles which isn't a major job but the auxilary belt - which should be replaced as a matter of cause - could be tricky due to the poorly engineered tensioner. Genuine Peugeot parts are very cheap in todays market and pattern products are available in abundance. Personally I've had very little problems with my GTi since I've owned it. I've taken precautionary measures with certain things but really the only times I've been let down is by the alternator and the coilpack. Both things can be put down to age and the topsy-turvy French build quality.
The post-2001 GTis fall into tax band D which equates to an annual cost of £145 with pre '01 cars costing £185. The GTi sits in insurance group 13 so perhaps not first car material, but certainly one to consider once a couple of years no-claims bonus has been built up. With steady driving a respectable 38MPG could be had and around 32MPG with mixed driving.
The 106 was the last of the breed when it came to safety standards. The car received an NCAP rating of 2 stars, so perhaps you'd rather be elsewhere if you've got a juggernaut heading towards you but should the unthinkable happen you do have the airbag to give you a little something. It comes equipped with a Cat 1 alarm and Cat 2 immobilizer but being French the alarm will have more than likely discounted through constantly waking the owner up at 2am after a gust of wind, no stronger than a bout of flatulence from a debutant, dared to breeze past the exterior. No bitter personal experience here at all.
To sum up my feelings and experiences of the 106 GTi;
Good thoughts:
> Excellent performance and handling
> Value for money - with many examples finding new homes for just upwards of a grand
> A true drivers car and a piece of motoring history and it always gives you a smile
> Build quality isn't as bad as can be made out
Not so good thoughts:
> Dubious build quality in places
> Poor safety rating
> Cramped driving position may annoy some
If you're looking for a car that will provide you years of cheap and very fun motoring then you can't do much better than bagging yourself the last true Peugeot GTI.