Vehicle:
Citreon C2 VTS, 4 years old (54 plate)
Length of ownership:
8 Months
Pictures: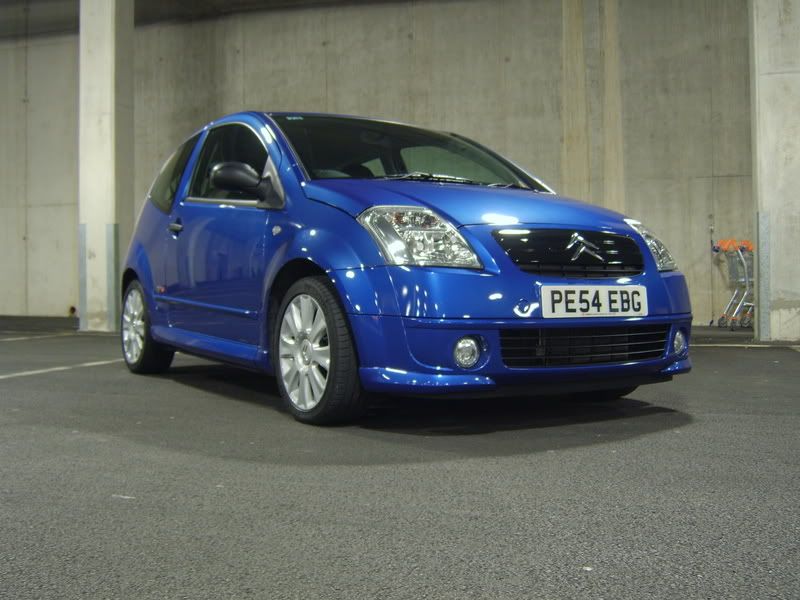 Performance:
A 1.6 engine making 125 bhp gives it a 0-60 of 8.0s and a top speed of 126mph. The VTS has a faster steering rack and uprated suspension to make it more than a base model with a bigger engine, these features are actually exclusive to the VTS and not shared with the VTR and GT models. Steering is highly responsive and it corners with confidence, the suspension is perfectly balanced for the car, giving a firm ride when needed without feeling harsh when Sunday driving. A stability control system also makes sure the car keeps heading in the right direction (more info in Safety). With front and rear brake discs it can stop quickly.
Comfort:
The car is extremely comfortable and has a very nice interior. Unlike most cars the C2 range have opted for to individually adjustable seats in the back for a comfortable ride in the front or back. The front seats have wings so you won't fall out easily, the seats are just right to sit on firm enough so you don't feel you are racing in an armchair but soft enough to still be comfortable for long journeys. The drivers seat is adjustable in height as well as the steering wheel so the driving position can be customised to exactly how it is wanted. There is an air con system which can have the car feeling like a fridge in 10 seconds. The engine is nice and quiet for 'normal' yet the purrr soon turns to a roar with a quick press of the accelerator pedal, but still its not an over the top 'I want everybody to look' noise. The standard sound system is excellent, unfortunately mine being an earlier model only had a CD player (newer models have MP3 CD), this was easily sorted with swapping for my own headunit. Swapping the headunit is no problem but does require small wiring adapter from citreon (£3), the standard speakers really come alive with the head unit and handle the extra power perfectly. The headunit swap did cause problems with my dash display/clock, a battery reset sorts this problem, it is worth mentioning that it does have a double din slot if needed. I have added an active sub to give more base but this is more personal preference than needed.

Reliability & Running Costs:
No problems with reliability to report. Currently in Tax Band D which is about right for the performance, insurance group 8 which makes it a bargain on the insurance front. I am getting a lot of miles per gallon out of this when drove nicely and it doesn't drink heavily when pushed. The is a problem exclusive to the VTS, the intake manifold nuts can work themselves loose due to the heavier manifold of the VTS. It is worth checking if this problem has been rectified (usually done under the original warranty). The sevice interval is actually 20,000 miles, which can save money.
Safety & Security:
Four-star Euro NCAP rating. ABS with EBD along with a switchable stability control. I actually decided to see if the stability control did anything as it only ever flashed once while going through a large puddle on the motorway causing a slight aquaplane. To do this found an empty car park on a rainy night and turned the stability control off, after a few sharp turns I eventually got it to skid (was hard work in itself) I then turned the control back on and for the life of me I couldn't get a skid out of it just the occasional flashing light. I don't plan for this to ever been used but who knows it could be the difference between being in a ditch or not. Comes with a full alarm and imobiliser as standard as well as a full size alloy spare wheel.
Good Points:
Cheap to buy used.
Very cheap insurance/performance ratio.
No need to modify (already has sporty looks, 16" alloys, perfect suspension etc)
High safety rating for class.
Split boot does actually make use easier.
Bad Points:
Only has 4 seats.
Rear legroom is not the best.
Small boot space.
Summary:
This is a great all-round package, very quick with sporty looks while still being cheap to buy and insure, due to the insurance group this is feasible for a new driver with no worries of the power getting out of control due to the stability control. I can say overall this is the best car I have ever owned and plan to keep it for many years to come.