I wanted one from a young age.
Vehicle: Ford Fiesta XR2i 1.6 8v (CVH) aged 18.
Length of ownership: nearly 3 years.
In its better days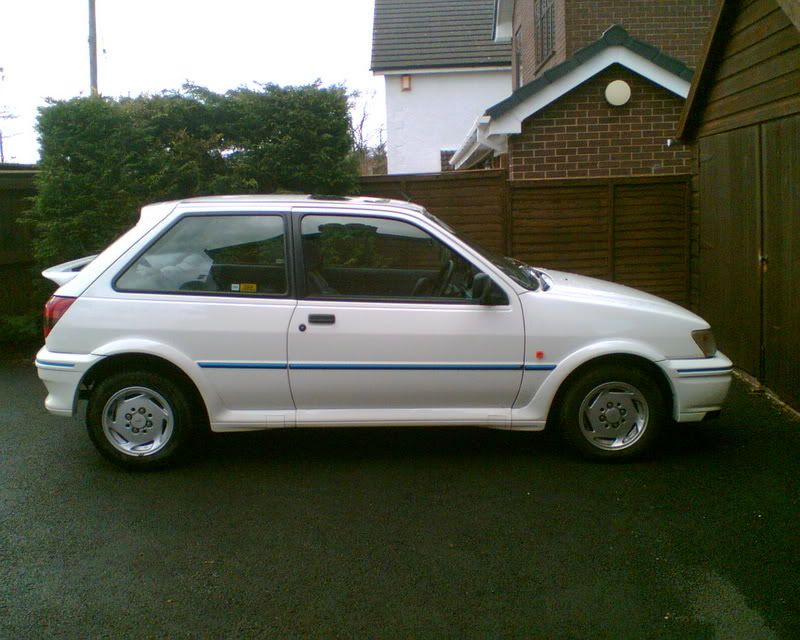 When I got it
Interior as it stands.
Performance:
Power:
It's a 1.6 cvh meaning that its thrashy and harsh. however its quite nippy for a little 8v pushing out 108bhp as standard.
The book spec is 0-60 in 8.9 seconds, some will say 8.7 others 9.0 so there you go.
Its peak torque is reached quite low down in the rev range compared to the zetec, somewhere around 2800 rpm if i remember correctly, nice for town driving, needs thrashing on open roads.
mine was running a chip but I sold it and havent noticed any difference bar increased fuel economy.
A stainless exhaust and panel filter really does loosen it up a bit revs wise.
I'm hoping to get to 130bhp via the NA route when i have some cash. that or sell it.
speed:
Keeps up with the traffic. still embarasses some cars but im under no illusions if you know what i mean. its fast enough for everyday driving but could do with being be faster for those who want.
handling:
like a boat as standard. too many turns per lock. ride height to high. floats around the corners like a fairy.
lower it 30mm, fit turbo rack or a post 93 poverty spec rack and its more responsive and fun.
grip:
I'm on budget tyres, always have poverty tyres, never felt the need for any others really, enough grip on my "Barum" tyres thank you, especially know im slightly lower. however any XR2i owner will tell you that they handle like a lada in the wet.
Comfort:
my seats were british 89/90 spec, spanish/german ones have bigger sportier bolsters, mine were the same as poverty spec but in xr2i cloth. I now have RS turbo recaros. much better. The ride isnt too bad lowered, quite suprised.
leccy windows and a 3 speed heater. thats my fancy bits. driving position aint too bad. I like to sit super close to the wheel bolt upright like a granny anyway. my face is near enough touching the windscreen in any car.
road/engine noise is bad, i have a lack of soundproofing due to flooding the car out last year. the CVH makes horrid noise anyway.
For sound i have a bluetooth sony xplod system with 4 pioneer speakers. that will do me. i can talk on the phone and use my 8gb sony ericsson to stream music. sweet.
Reliability & Running Costs:
never failed me, one flat battery.
it has however failed mots on wishbones twice and a pissing steering rack that caused me super hassle.
I get a mate to do bits I cant (most things then)
It is 18 so it is rotting slowly, it has never been welded which is suprising!
underneath is loverly.
Three people have crashed into it (one was a mobility scooter) I had the petrol cap done but it wasnt good enough and its rusting slowly again (after £500!)
petrol consumption is high, around 27 mpg.
Safety & Security Crash safety:
nothing as standard, no wonder so many were nicked.
I have a toad imobliser, crappy halford alarm and a stop lock steering wheel enclosure.
no airbags, no impact bars, no abs.
Good Points:
* Sign of the times.
* still a great looking car.
* fun and cheap.
* a B-road blaster
* gets positive attention from all walks of life. many people have fond memories.
Bad Points
* unrefined
* rust prone
* slowly falling apart (it is 18)
* gets negative attention from all walks of life. scally people want to race you.
Summary
I swear it will be a classic. currently not in demand but neither was the mk1 or mk2 a few years ago. underrated