Vehicle:
1995 Ford Fiesta Si
Length of ownership:
3 Years
Pictures: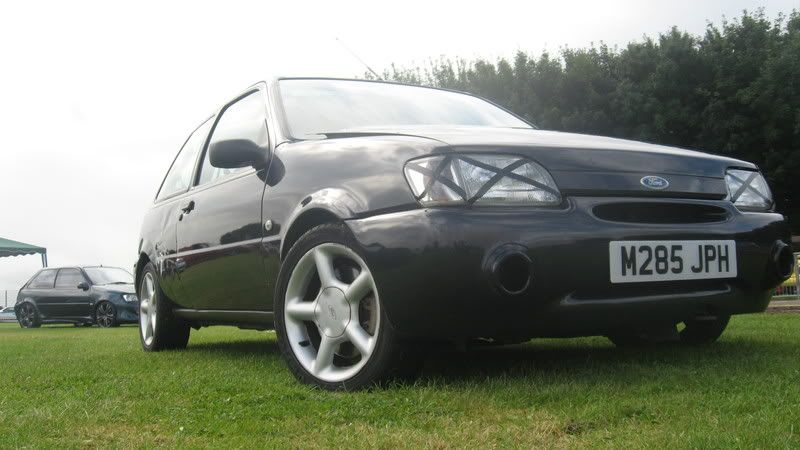 Performance:
Power
well seeing as my Si was my first car, i found the little 1.6 fairly nippy and the power for me as a new and fresh as a daisy driver, the 90bhp was never going to set the world or the tarmac in front of me on fire but it was more than ample to keep me entertained
after i had gathered some vital driving experience i progressed on in the power stakes, i opted for a 2.0 conversion, seeing as there were a few popping up on fsi, i have to say that it was one of the best mod's i did to the car! it might of only been a 40 odd bhp increase it really did transform the way the car drove, the best bang for buck mod for the Si along with other mods that you can carry out
Speed
Speed was and never has been a big issue to me, being of a certain breed of driver that tends to drive like a snail everywhere i go! but if your not really interested top end speed then the book standard 120/125mph is pretty ample.
with having the 1.6 in there it would pull that speed*, but i found with the 2.0 fitted it would pull that and more but was restricted by the 1.6 gearbox, but as i was never saw the need to change it as 120/125 was more than enough for me as i never used it
*all these are book figure or proven on a private test track
Handling
Handling is an area that i never really pushed my Si with, i did go through the stages of suspension standard > 60mm > 30/35mm
in my very limited personal opinion the 60mm handled the best, it was a full bilstein kit, th car felt very solid and stable with very minimal body roll, as the roads are so crap around my area i had to go back to a 30/35mm kit.
with this kit i could feel the difference in body roll, but never really cained it around corner like a bat out of hell to be able to comment further
Grip
the grip in my Si had never been good as when i bought it it had budget tyres and they were pretty crap!
i did try a few other brands of tyre but never really had the money for some proper ones, so my experience on this is limited, might also explain why i never went gunning it into corners!
but i blame my tyres for my lack of grip
Comfort:
Seat comfort, driving comfort/position, road/engine noise, sound system.
I have to say the seats in my Si were the most comfy seats i have ever sat in, i could go for hrs non stop and not have arse ache
I did find the driving position was pretty good, but not sure if it was my seats or what but they would self recline
The only noise that did my head in was my stainless exhaust system! my ears would be ringing after a journey! that was replaced my a standard system but i even found that to be fairly noisey
i was never really one for sound systems, so made due with my standard stuff, that combined with a after market head unit did me proud for 3yrs
Reliability & Running Costs:
In the 3yrs i have owned my Si it never let me down, the only things that ever went wrong/or needed replacing were the normal wear and tear bits and bobs
eg. clutch cable,brake pads, cam belt( i did it because i wanted it done), lower arms, bushes etc.
Never broke down in mine in over 3yrs, when i had my 2.0 conversion i had small teething issues, but they were all down to my stupidness and nothing to do with the car
i always found garage bills at the time to be pretty reasonable, i never was very good with a set of spanners so use to get the work done for me
Parts were pretty cheap and fairly easy to get hold of, general maintenance on mine was always pretty high and i kept on top of it services quite often ( 6 month intervals iirc)
Insurance was a pretty big issue for me as i had just passed and i was set on insuring my Si! so being a new driver with no driving experience and no ncb's so i was paying a pretty hight premium, but mine had extra mods on it when i bought it from a trader and i was the honest type and declared them, which stung me ever more! but come renewal time i found it cheaper to insure my Si with a 2.0 conversion and 1 ncb than to re-insure it as a standard 1.6!
Tax and running costs weren't really an issue as my car sometimes usually sat on a drive for up to 2 weeks at a time so was more of a toy!
Safety & Security
not had a crash in my Si and dont plan too, so cant comment on that, but on the alarm front the one i had fitted to my car was pants but you get what you pay for
Good Points:
*Good performance for a new driver
*Fairly cheap on insurance
*Cheap to run
*Comfy Seats
Bad Points
*Rust
*If not maintained properly will be unreliable
Summary
For someone looking for a pretty nippy car that cheap to insure,run and maintain then the first Si is a pretty good car, it has a few routes to take for mods and performance gains
with money spent in the right places the Si can perform pretty well imo