It is a little off putting seeing big power smaller engined cars but it drives nice and feels fun with its revvyness (new word).
I think alot of fords should have an extra inch on wheel sizes, the mk3 fiesta sports range all look better with 15" wheels and escorts look better with 16" wheels.
_________________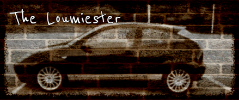 The Loumiester wrote:
Ford is not a decision you make to like, its a passion you grow up with.