Well, this evening, myself and Mike (Mike_Wall)deicided to meet in Tamworth to have a chat, and mainly so I could see how a 2.0ltr Zetec in an Si performs.
All was going well. I arrived in Tamworth only to receive a text from Mike explaining he was going to be late, thanks to the Queensway in Birmingham being closed. No problem, I took a trip to Asda to get a drink, buy some ciggies and to visit the little boys room.
Went over to McDonalds which was our meeting point. Mike promptly arrived and we got chatting. The usual thing of lifting up the bonnet to show the setup was done, and I proceeded to point out where the coolant leak I've been experiencing was emminating from.
This is the where the troubles began. Shown on the picture below you will see a number 9: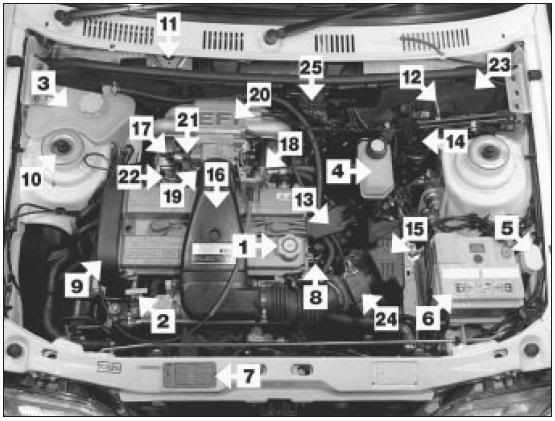 Well, the pipe to the left, leads into a larger pipe which is one of the rad hoses. This is where the leak was coming from. It was only a little leak, but alas, I was slowly losing my coolant. Mike and I had a look, and I pushed it to show him that the coolant leaked from it when it moved.
However, whilst we were pushing the pipe, it the proceeded to EXPLODE (well not literally, but....) and ALL my coolant went everywhere, over my hands (the car was still hot
), all in the engine bay, the lot.

We managed to fix it temporarily, but its still leaking as there is an inner pipe, and this was the culprit of my coolant leak - it had disintergrated on one side, very brittle, and I broke most of it off
But there was just enough of this inner pipe left to put back in either side of the 2 pipes.
Whilst this was being fixed, a white Escort pulled up next to us, to tell us there was a massive meet in Drayton Manor. So, before we set off for that, I purchased 8 litres of water from Asda, and off we went. Once we arrived, ALL the cars were leaving
So we joined the back of the convoy to see where they were going. Loads of cars were there - including Escort Cosworths.
Our troubles didnt end here though. We lost the convoy, and was following a Clio, who seemed lost. SO we detatched ourselves from him, and headed back to McDonalds.
After a ride in Mikes VERY quick Si (cheers mate
), we headed home, and stopped no less than 3 times on the way back because of my car dumping the coolant - well, it's now just water - in the road. I went through 8 litres of water - and the water that was already in the tank.

Well, that's the events of mine and Mikes adventure in Tamworth, I hope you had a good night, and a final thought: ENJOY OWNING A FORD
Des
_________________


Quote Clarkson, Top Gear, 17th July: "I'm not having a stroke... just driving a Nissan!"
Quote Ry, Mallory Park, 3rd Dec:
"Ahhhh crap... Just a bit too over eager really!"
"I used to be an adventurer like you, but then I took an arrow in the knee"